The Forbidden Kingdom is true to its tagline: The battle of eternity is the fantasy of a lifetime. The film can be perceived in two ways -- either as fantasy or as reality. Martial arts choreographer Yuen Woo Ping has got the best stunts out of the two martial arts stars, Jackie Chan and Jet Li.
This is the first time Chan and Li have starred in a film together. And they have done full justice to the hype that surrounds the film. Director Rob Minkoff has done a great job in getting the best out of the two heros.
The story goes like this: An American teenager Jason (Michael Angarano), who is obsessed with Hong Kong cinema and kung fu classics, finds an antique Chinese staff in a pawn shop. The staff is a legendary weapon of the Chinese sage and warrior, the Monkey King (Jet Li). With the lost weapon in hand, Jason unexpectedly finds himself transported to the past, to ancient China.
There, he meets a drunken kung fu master, Lu Yan (Jackie Chan), a Silent Monk (Jet Li) and a beautiful young lady bent on taking revenge, Golden Sparrow (Crystal Liu Yi Fei). The three help Jason on his quest to return the staff to its rightful owner, the Monkey King.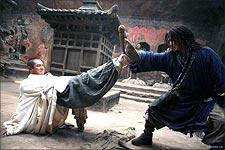 During this journey Jason learns kung fu from Lu Yan, and its true meaning.
The film has some great martial arts stunts. Scenes showing a drunken Chan fighting 30 odd people, and still escaping unhurt, are fabulous. The fight between Chan and Li is also amazing.
The background music enhances the film. The film's locales are stunning, and brings out the traditional Chinese flavour excellently.
Rediff Rating: