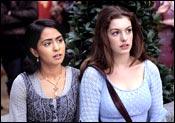 Surely we could have seen more of Parminder K Nagra even in a film dominated by the glorious Anne Hathaway? But Ella Enchanted has consigned Nagra and a number of others, including Jimi Mistry and Minnie Driver, to small roles.
One must say, however, that Mistry (The Guru, Mystic Masseur) has perhaps the most unusual role of his career. He plays a talking book!
Though Nagra's face appears in advertisements for the film, the talented Bend It Like Beckham actress, who plays a friend of Hathaway, perhaps lost some of her scenes on the editing table.
The movie offers a mixed bag of magical moments and attractions, and its best asset is the lively Hathway, who looks like an amalgam of Audrey Hepburn, Julia Roberts, and Goldie Hawn. This is the second time that 21 year-old Hathaway, whose roving eyes and spontaneous smile can repair a badly written part, appears as a princess with a common touch.
The previous film, The Princess Diaries, was quite a hit, earning about $200 million worldwide. Ella Enchanted is bound to have a good run, though it may not match Diaries.
The Weinstein brothers at Miramax, noted for their mature adult fare like The English Patient and Cold Mountain and boisterous sexy comedies like Scary Movie, are toasting Ella Enchanted as their first family film. They chose a good book to work on. If only they had employed a better scriptwriter and a director. Five writers are credited for the script, perhaps a Hollywood record.
Ella, who receives an odd 'gift' from her fairy godmother, grows up unable to resist an order. She has to work very hard to overcome the gift that is nothing but a curse. She also has to fight to preserve her own soul and help several others in distress.
The story has been turned into a sort of pantomime musical, perhaps in the hope that the slightly edgy tone, irreverent wit, and vibrant radio-rock music will make it more appealing to teens. But often the movie is more shrill and annoying than edgy, clever and magical.
Eric Idle, the narrator, takes the viewers into Ella's world marred by the curse from her godmother Lucinda (Vivica A Fox).
Ella's widowed father (Patrick Bergin) remarries when she is in her teens and the stepmother Dame Olga (Joanna Lumley) comes to her new home with her scheming daughters Hattie and Olive (Lucy Punch and Jennifer Higham).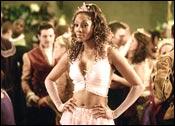 Quickly, the newcomers discover Ella's curse and begin ordering her to please them. She is asked to shoplift, surrender her own wardrobe and, what is even more traumatic, walk out on her best pal (Nagra).
But before you say Cinderella, remember that Ella is a sort of feminist, a rebel and cheerleader for the downtrodden, even though the childhood curse makes it difficult for her to be truly independent.
When Prince Charmont (Hugh Dancy) comes to town and is drawn to Ella, the stepsisters get mad.
But Ella is not going to be deterred. She not only wants to help herself, but also help the prince who could be overtaken by his tyrannical uncle Prince Regent Edgar (Cary Elwes).
Helped by a talking book called Benny (Jimi Mistry) given to her by her fairy nanny (Minnie Driver), and an Irish elf called Slannen (Aidan McArdle), Ella embarks on her quest. The book's front cover is a hologram that shows Benny whose body has been lost in a spell. He can show anyone you want to see once the book is opened, but he can't tell you where to locate the person. Ella, the film wants to say, doesn't get things easily.
Ella's journey takes her through regions created by the special effects department where elves are forced to dance and sing by the tyrannical uncle and giants are forced to work in camps.
But even as Ella pursues her goal valiantly, her stepsisters are not sitting idle.
As the intrigue and villainy increase, the film begins to lose quite a bit of its early charm.
Yet, many older children and teenagers may find plenty of amusement in it and come out of the multiplexes admiring not so much the computer work, but the spirited and charming performance of Hathaway.
CREDITS
Cast: Anne Hathaway, Hugh Dancy, Cary Elwes, Vivica A Fox, Patrick Bergin, Aidan McArdle, Minnie Driver, Jimi Mistry and Parminder K Nagra
Director: Tommy O'Haver
Writers: Laurie Craig, Karen McCullah Lutz, Kirsten Smith, Jennifer Heath and Michelle J Wolff, based on a novel by Gail Carson Levine
Running time: 1 hour 35 minutes
Rating: PG (Parental Guidance)