Despite two powerful performances -- with Cate Blanchett playing a British Queen who is trying to save her kingdom from the ruthlessly ambitious Spanish monarch and Clive Owen as dashing explorer Walter Raleigh -- Shekhar Kapur's Elizabeth: The Golden Age suffers considerably for want of a strong focus and dramatic tension.
The first Elizabeth, which was made for $35 million grossed a handsome $100 million worldwide over nine years ago, surprised many because it had an intriguing story told by a director who had never handled a big budget film in the West.
Everyone seemed to want to know where Kapur had been hiding till he was signed for Elizabeth. The new film, which cost twice that of its predecessor, does not offer enough intrigues and moral ambiguities to make it a compelling watch. It also has just a few moments that might tug your heart. And that is surprising because scriptwriter Michael Hirst (who wrote the first Elizabeth) is joined by William Nicholson (Gladiator) this time. And the bombastic music -- with AR Rahman being one of the two composers -- robs the film of whatever subtleties it might have had.
Trade publications like Variety say they would be surprised if the film has a gold rush in theatres. They don't expect it to make the kind of money the first Elizabeth did. But you never know how the new film will shape out till the box office receipts come at least three weeks after its release, especially abroad.

In the acting department, the film could get four stars out of five. Blanchett, who got ecstatic reviews for playing Elizabeth in the first film and is also getting strong reviews this time, is grand and powerful.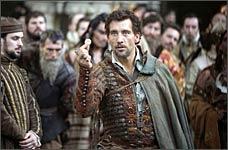 The filmmaker has said in interviews that he sees the new film as a fable for our times since it deals with absolutism and religious fundamentalism and the sins accruing from such arrogance. But you wonder at the end of the film what happened to that vision.
The fundamentalism of the Catholic ruler Philip II of Spain (Jordi Molla) and his efforts to conquer a Protestant England ruled by a woman caused great tension and suffering in Europe. But the film spends more time on Elizabeth's attempts to find love and her fascination for the roguish explorer Walter Raleigh than on the Spanish threat.   
Geoffrey Rush plays the queen's loyal adviser Francis Walsingham, who goes after anyone perceived as a threat to the Crown with a vengeance. He is convinced that 'papist conspiracy' to dethrone Elizabeth is connected to the imprisoned Mary, Queen of Scots (Samantha Morton), a Catholic and her collaborators.
But victory comes to Elizabeth and England not so much because of people like Walsingham but the bad weather which dooms the ill-fated invasion by the Spanish Armada.
While gorgeous costumes and handsome interiors, make the new Elizabeth one of the most sumptuous-looking films in recent months, it doesn't have enough of an interesting plot twists (despite filling in plenty of history) to make it a compellingly viewable film.
Even those allergic to history or knew little of British history could enjoy the first Elizabeth because we were watching a young woman, who seemed to have no real political ambition, going from prison to the throne. In the process, she has become resourceful, cunning, egoistical but also filled with self doubts from time to time.
Here, there was an opportunity to look deeper into the life of Elizabeth, one of the most colourful of English rulers, whose time also saw the rise of a literary movement that included Shakespeare.
But what we get in the end is too much of history, too much of music, too many costumes and little drama that pulls at one's heart. You wonder what went wrong. Perhaps the emphasis on the tension between England and Spain changed in the editing room with the abortive romance getting more preference. 
Rediff Rating: