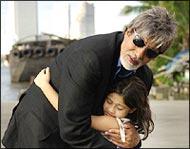 So there's this guy. He is anti-life.

But then he meets this picture perfect couple and their peachy daughter. Seeds of positive changes are sown in his resentful existence. Uh oh! Bad goons nab candyfloss kiddo leaving Mum 'n' Dad in a state of paranoia. Brooding stranger swears vengeance! 
Are you a Movie buff?
Get notified as soon as our Movie Reviews are out!
Sukanya Verma