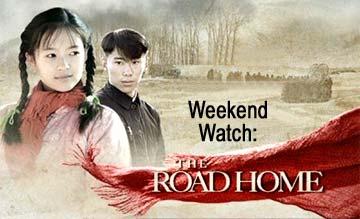 How can something so simple be so extraordinary? But isn't that how love ought to be? Unimaginably simple and unexplainably complex?
 
Gorgeous in vision, The Road Home is guaranteed to wow and overwhelm the viewer with its austere charm.

One could perceive the film as director Zhang Yimou's ode to traditional China. Or it could be his tribute to the ordinary villagers and their subconscious behaviour pattern duting the time of the Cultural Revolution (1966-1976). But by and large, The Road Home or Wo de fu qin mu qin (the Chinese title) is targeted at your heart. 
There is no grandiose background score trying hard to provoke your emotions. There are no dramatic lines to be exchanged between the hero and the heroine. None of the oriental condiments like fancy martial arts, designer outfits or splendid palaces. There is not a single hyper bone in the film.
 
It is, in fact, a tender village romance between an 18-year-old and a 20-year-old school teacher. What makes this love story special is its treatment.

The film begins on a snow-clad morning in Sanheutun, in north China. Luo Yusheng (Sun Honglei) is a well-to-do engineer and a native of Sanheutun who, like most youngsters his age, leeaves his country home to pursue a career in the cities. He returns to his village after his father dies. His grief-stricken mother, Zhao Di,  has one wish. She wants her husband to be carried from the hospital back home the traditional way: by foot. Yusheng is reluctant to do so because he isn't sure there are enough men to do the task.

All this time, the movie maintains a stunning black and white tone, with a tinge of greyish blue, suggesting a sense of hardness in the otherwise feather-light romance.

Through Yusheng's voiceover, we are transported back in time, when his parents are young.
Zhao Di has the enviable reputation of being the most beautiful girl in Sanheutun, which she indeed is. With her perky eyes and daisy smile, the 18-year old, played by Zhang Ziyi, is a sight to behold. As per custom, the village women bring meals for the young schoolteacher, Luo Changyu (Zheng Hao). Zhao Di prepares rich delicacies everyday and puts them in a distinct porcelain bowl, hoping the teacher will recognise it and eat only what she has cooked.

She also spends time outside the school, as women are not allowed in, carefully listening to every word Changyu tells his students. She has no interest in academics but is mesmerised by Changyu's fluency. Her little-girl fascination with Changyu brims through her eyes and rosy smile when he visits her home for a traditional lunch. She makes him his favourite
mushroom dumplings. He reciprocates with equal fervour by wolfing down the steamed treat like a hungry child.
She feeds him dumplings. He compliments her red jacket and quietly slips a red hair clip in her trembling hands. They never proclaim their love. But you just have to watch them look blushingly into each other's eyes and smile like children every time they cross paths to know love is in the air.

When Changyu has to leave for the city on some urgent call, Zhao Di waits hopefully with a grave expression in her otherwise dazzling disposition. Changyu's delay compels her to leave for the city even though her blind mother protests. But she can never make it outside Sanheutun as the biting cold gets to her.

When Zhao Di wakes up after lying unconscious for two days, she is informed by her mother that Changyu sneaked out from an important meeting to be by her side. For this defiance, he is kept away from Zhao Di for two years. She waits for him on the same road. He returns as promised. The road symbolises the steadfastness of their love and togetherness for Zhao Di. She doesn't want Changyu to ever forget the path that led him to her.

When the flashback is over, Yusheng understand his mother's wish and fulfils it.
 
Brilliant shades of red, pink, yellow occupy the screen throughout the flashback. Though the cinematography by Hou Yong is excellent, it doesn't merely capitalise on the picturesque beauty. A lot of attention is paid on making a screenplay, which would read ordinary on paper, come across as symbolic and larger than life on celluloid. Even a hair clip lying on the door appears to be telling its lost tale.
Even when the camera focuses on Zhao Di preparing dumplings, it seems to be revealing the tender desires of an eager heart. There is another spectacular scene in the film wherein a potter fixes Zhao Di's precious piece of porcelain. The intricacy of this art against the parallel of Zhao Di's broken heart is articulated awe-inspiringly in the film.

Iranian filmmaker Abbas Kiarostami reportedly inspired director Zhang Yimou during the making of The Road Home. In the film's web site, Yimou is quoted as saying, 'What really counts is not the circumstances we live in or the historical moment but the deepest wishes of the director, what he or she wants to show, the way of showing it, the underlying principles. In such respects, Iran shows us the way forward.'

Working with a relatively new cast proved to be a lucky gamble for Yimou as Zhang Ziyi is nothing short of spectacular. Her surreal presence as a woman and child-like innocence make her a terrific choice for Zhao Di. The actress went on to work with Yimou in other smashing projects like Hero and House Of Flying Daggers, which explore the arrogant facet of her
personality. It is however her portrait of Zhao Di that leaves a classic impression.

A film of this stature deserves international recognition. The cinematic adaptation of Shi Bao's novel, Remembrance, was a roaring success at the international film festival circuit. It won at the Fajr Film Festival, Florida Film Festival, Sundance Film Fest and Golden Roost Awards.

Alas, the DVD has nothing substantial to offer other than subtitles in English, Spanish, Portuguese, Chinese, Korean, Thai and Malay. The film, however, is such a satisfying experience that even a hard-boiled cynic will not complain.

Seamlessly poetic and quietly intense, The Road Home is cheers to love and a toast to cinema.