This goofy send-up of the Doris Day-Rock Hudson romantic comedies of the sixties is intermittently hilarious. Down With Love is so faithful to the original genre that you may find it difficult to separate homage from absolute slavish imitation. But before you decide on the latter, pay attention to some of the racier sequences.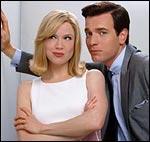 In one, Renee Zellweger and Ewan McGregor are shown on a split screen, talking to each other on the phone. As they talk, in double entendres and endless innuendo, they mime a variety of sexual positions with ingenious uses of everyday toiletries.
In another, McGregor's character, a playboy by the name of Catcher Block, tries to drive Zellweger's Barbara Novak to the limits of desire. At the end of it, he walks with difficulty to the balcony and empties ice water over himself.
There are explicit suggestions in these scenes that Day and Hudson would never have made. They are only suggestions, but they verge on the hardcore. The director, Peyton Reed, may be a fan of those innocent romps, but he also seems to be having a great deal of fun at their expense. And if the story is part Mills & Boon, it is also part Hustler (the magazine).
From the title sequence, reminiscent of Steve Spielberg's Catch Me if You Can, to the musical numbers that the film hinges on, Down With Love is an unexpected delight. It takes up a moribund genre and remakes it with gusto.
The plot is as clichéd as such as the movie would necessarily have to be. Block is a Lothario, 'a woman's man, a man's man and a man about town'. His mission: to make Novak, author of a put-men-down book titled Down With Love, fall in love with him and so expose her as a fraud -- a woman who pretends to be liberated when all she wants is a husband and children.
But while that scenario is clichéd, it is not boring. There are enough twists and surprises along the way to keep you guessing and watching. And it is nothing like the hackneyed Kate Hudon-Mathew McConaughey film, How to Lose a Guy in Ten Days, which had a similar storyline.
Zellweger is wonderfully watchable, and in as fine voice as she was in Chicago. She borders on caricature at times, but then so did Doris Day, hair perfectly coiffed, make-up impeccable even in the middle of the night.
McGregor is less successful as a playboy and heartbreak hotelier. As I watched him cavort in an endless succession of narrow ties and suits, I couldn't help remembering the junkie from his debut film, Danny Boyle's gritty Trainspotting. I couldn't help thinking he was more convincing in that early role. At least there, his Scottish accent was justifiable.
Reed's labor of love is an enjoyable outing, especially for its improbably sets -- the Chrysler building, the Empire State and the Statue of Liberty are all neatly arrayed in one skyline -- retro design, excellent music (with lots of Frank Sinatra and Flora Purim) and fabulous costumes.
CREDITS
Cast: Ewan McGregor, Renee Zellweger
Producers: Bruce Cohen, Dan Jinks
Director: Peyton Reed
Screenwriters: Eve Ahlert, Dennis Drake
Cinematographer: Jeff Cronenweth
Composer: Mark Shaiman