After a string of outrageous comedies, we have another one, Dhoom Dadakka.
Produced and directed by Shashi Ranjan, this Dhoom stars veteran actors Anupam Kher, Gulshan Grover, Satish Kaushik and Satish Shah, as well as Shaad Randhawa, Aarti Chhabria, Sammir Dattani, Shama Sikandar and debutant Zac.
The film starts with Mungilal (Kher) losing his standing as the top don of Mumbai at the All Asia Mafia Meet because he doesn't have an heir. This opens up the field for Mungilal's arch nemesis Fursat Lala (Grover) and his son, Zac (yes, it's as ridiculously funny as it sounds).
To keep his position intact, Mungilal is forced to search for his estranged sister as she has a child named Kamal. The search takes Mungilal and his sidekick Jignesh (Shah) from Bangkok to Mumbai, where they hire a detective, Johnny English (Kaushik).
Within no time, three people show up at Mungilal's Bangkok estate claiming to be his long lost niece/nephew. They are conman Ranbir (Sammir Dattani), wannabe actor Rahul (Shaad Randhawa) and item girl Shivani Sawant (Aarti Chhabria). To figure out who is the real Kamal, Mungilal and Jinesh hatch crazy plans to test them, which lead to hilarious situations.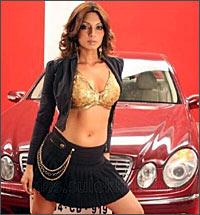 The first half of this film is fast paced. And the laughs keep coming. Satish Kaushik, as the clueless detective, has some of the best lines. The other performances are loud and over the top, but it works.
Or at least it does until the interval.
The second half disappoints big time. It's almost like you've stepped into another film. The pace film suddenly becomes slow. There are unnecessary endless chases and the forceful interjection of emotional scenes. And the main story line -- the search for Kamal and Mungilal's sister -- just vanishes into thin air.
To top it, the movie ends abruptly. The good thing is that the second half is not too long though it certainly feels like it.
Music by Roop Kumar Rathod is not bad. Karange Dhoom Dadaka is a foot-tapping number.
Anupam Kher, Gulshan Grover and Satish Shah give solid performances. Jackie Shroff, in a guest appearance, attempts Marlon Brando's Godfather act, which is funny. Bhavana Balsavar, as Mungilal's estranged sister, is hilarious even though you get to see her for just a few minutes.
Not a movie for all unless comedy is your poison.
Rediff Rating: