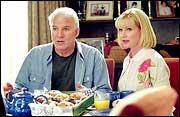 Steve Martin proves once again, following the surprise hit Bringing Down The House, that old-time comedians can still make the box-office laugh. His latest film has less than half a dozen decent jokes, but the continuous laughter at the previews in New York proved it has the potential to be a hit.

Though a better script could have helped Cheaper By The Dozen, it offers mild entertainment and at least two fairly engaging performances. The more discriminating fans may find the film to be just a big screen sitcom that doesn't bear a second viewing.

The film is based on a semi-autobiographical bestseller of the same name published five decades ago that was turned into a hit movie. Someone in Hollywood thought the subject could appeal seriously to significant number of moviegoers today.

That a couple has 12 children to look after looks unrealistic by today's norms. There are several other situations in the film that strain logic. The mother in the movie writes a book that is sold seemingly without sweat and becomes a bestseller. There are indeed surprise bestsellers in the real world, but each of those books, including Cold Mountain, has an interesting story about how they were sold and marketed.
But director Shawn Levy doesn't make an effort to make  his characters realistic.     

Tom (Martin) and Kate Baker (Bonnie Hunt) have the unenviable task of uprooting their 12 children from a small-town to a small city in Illinois, when Tom gets the job of coaching the college football team.

The kids start protesting. With each passing day, their resolve to sabotage the move gains strength. They are upset that they have to give up their friends and the neighbourhood. 

Tom has a good heart, but he is not good at disciplining his children. He nevertheless has the major responsibility of ruling his rebellious children, since their mother is busy promoting her book.

The oldest daughter Nora (Piper Perabo), agrees to help run the family but she also brings along her boyfriend, Hank (Ashton Kutcher). A comic crisis is added with the dilemma over where Hank would sleep.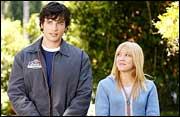 In the city, the already edgy children have to face a variety of challenging situations. Some of the encounters are not funny (at least to the children), but they are supposed to make us laugh.

Filled with predictable situations and lines that are mostly unfunny, the movie prods on in the last quarter, looking for a way to reach an end.     
  
Martin and Hunt effortlessly produce laughs from even the most contrived and commonplace situations. Kutcher draws some attention from the younger artists but the rest of the cast goes through the chore without too much of an effort to make it all bright and interesting.

CREDITS
Cast: Steve Martin, Bonnie Hunt, Tom Welling, Piper Perabo, Hilary Duff, Ashton Kutcher
Director: Shawn Levy
Writer:  Craig Titley, based on the book by Frank B Gilbreth Jr and Ernestine Gilbreth Carey
Running time: 1 hour 38 minutes.
Rating: PG for language and some thematic elements.
Distributor:  20th Century Fox