There is something to be said about restraint. A lot, in fact. We aren't very aware of the stuff in Bollywood, struggling to tone down our item songs, and here, we have a nice little film like Black & White, positively brimming with it. For one, it features newcomer leading man Anurag Sinha, armed with less than 50 lines of dialogue in the entire enterprise and made to emote with his dramatically intense eyes. It's a striking, somber debut and one that should be appreciated.
Even more constrained than the leading man, however, is here the director. Subhash Ghai, he of the wide-brimmed hat -- always synonymous with mega-budget cinema and much celluloid excess -- now trades in the blockbuster gimmickry for an earnest, well-intentioned message movie. Black & White is a commendable effort and -- while over-simplistic in a clear effort to reach the most audiences -- proves to be most valid considering India's increasingly disturbed religious climate.
If the promos haven't already made it clear, let us spell out what the film's first few scenes tell you, in conveniently expository dialogues: Anurag plays a fidayeen suicide bomber sent from Afghanistan to India, aimed at making Independence Day celebrations more explosive.
Delhi's Chandni Chowk, where he goes, is a land the filmmaker paints in broad communal-harmony brushstrokes, yet this film impressively negotiates hardcore cliche territory without really getting grating, and manages to – thanks to skillfully written dialogue – make the maudlin and idealistic points without much grandstanding around them.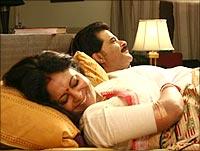 Our young Afghan bomber is faux-christened Numair Qazi, and made to assume the identity of a now deceased young Muslim by that name, a young man who lost both parents during the Gujarat riots. As Qazi, he finds shelter in the home of the genteel and respected poet Gaffar bhai, one of the most popular men of the ilaaka.
The other most popular Delhi-6 resident is Urdu professor Rajan Mathur, played by Anil Kapoor, who is quick to take the sullen Numair under his wing. Mathur is quite an interesting character, one who refuses to take the Koran at face value and constantly maintains the peace at all costs, hushing up his feisty wife Roma (Shefali Shah) even while knowing that the race-issues she vociferously digs up are completely relevant.
As he sits pensively and sketches the Red Fort -- his target -- in a little diary, a cop comes up and whacks him on the head, dragging Numair into interrogation as a terrorist suspect during anticipatory arrests prior to I-day. Of course his last name being Qazi has quite a bit to do with this bit of seeming unfairness, but to be fair this is profiling as facial as is it racial, the terrorist continuing inexplicably to look the part, all scraggy stubble and kurtas and dark shawls.
Anyway, that really is more than enough about the plot. This is a rather well-crafted film for the most part, cinematographer Somak Mukherjee doing a great job capturing the essence of Delhi, well-framed shots of small alleyways contrasting with the sleek and spiffy Metro stations. Sukhwinder Singh's soundtrack might not sound all that overwhelming in isolation, but works very well with Ghai's film as a whole, creating a nice vibe overall.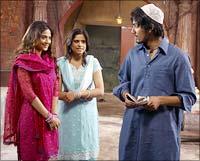 The performances are quite impressive. Sinha has smouldering eyes and pushes them to the fullest, his no-nonsense deep voice occasionally going the distance to make sure this character is developed more than adequately. Shefali Shah is in full form when she has her feathers ruffled, but is decidedly annoying when in lovey-dovey Bangla mode. Newcomer Aditi Sharma is a bit of a chore, but the rest of the ensemble is refreshingly unfamiliar to the big-screen and, mostly, quite competent.
The ever-excellent Anil Kapoor gets to sink his teeth into a fine role and delivers a strong performance, with more than his share of emotionally high-strung moments. Kapoor's character goes through the most in this film, and the actor handles it all in his stride, making a couple of scenes rather dramatically his own -- even as he seems to be stepping back and letting the story do the talking in the rest of the film.
The story, that is, and the poet. Gaffar Bhai is the film's masterstroke, Subhash Ghai casting theatre veteran Habib Tanvir in the role of the passionate poet. He is a man who scribbles poetry till midnight but is unfailingly polite, and knows when the television cameras need him to strike a pose. Habibsaab is obviously brilliant -- oh, that voice, that voice -- and gives this film the gravitas it so desperately strives for.
In some ways, it is a loopy film, naive in the way it approaches certain technicalities – especially the police inspection – and there are moments when it veers far from reality.
Then again, Black & White almost always seems to know exactly what it's doing, and if an independent message movie needs to be dumbed-down in order to reach out to the most people, that seems fair enough. For it's part, the government should immediately make the film tax-free.
Oh, and finally, I don't know if it's just me, but the thought of Anil Kapoor alongside a tiny girl, panicked crowds, terrorism hanging in the air, and the girl's stuffed toy, automatically brings a lump of panic to my throat.
This is a film of urgency, make no mistake, and both protagonist and screenplay talk only as much as is required. As for the director himself, he doesn't even make the obligatory cameo. It is the sentiment that plays hero.
Rediff Rating: