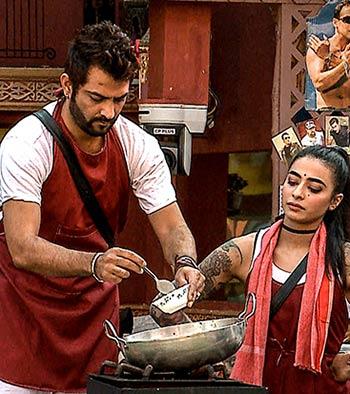 On the 100th day inside the house, Lopa and Rohan are left with a sour taste in their mouths.
A Bigg Boss fan recaps the previous day.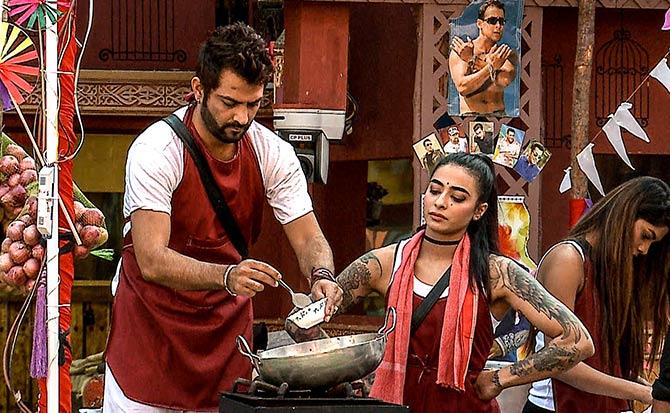 IMAGE: Manu and Bani cooking their dish.
Manveer, Manu, Lopamudra, Bani and Rohan have finally completed 100 days in the Bigg Boss house.
On this momentous day, Bigg Boss introduced the Bigg Boss dhaba task wherein the housemates were divided into two teams -- Lopamudra-Rohan and Manu-Bani. Both teams were asked to cook some food in a time frame.
In the first challenge, the dhaba cooks had to come up with a Chinese dish.
While Bani and Manu cooked up paneer fried rice, Lopa, who was unable to get her hands on some Chinese sauces in the store room, rustled up some kind of paneer dish.
Manveer, who is the sanchalak of the task, announces Manu and Bani's dish as the winner, which definitely leaves a sour taste in Lopa's mouth.
Next up, the contestants are asked to make an Italian dish and this is where things go a bit south, as have most other tasks gone in this season.
Bani and Lopa rush inside the store room to get the ingredients and once again Lopa loses out on picking the pasta packets as Bani picks them all.
Lopa starts blaming her for doing it on purpose, but Manveer snubs Lopa, saying she got equal opportunity. So she mustn't blame Bani.
Manveer and Rohan get into an argument over the issue.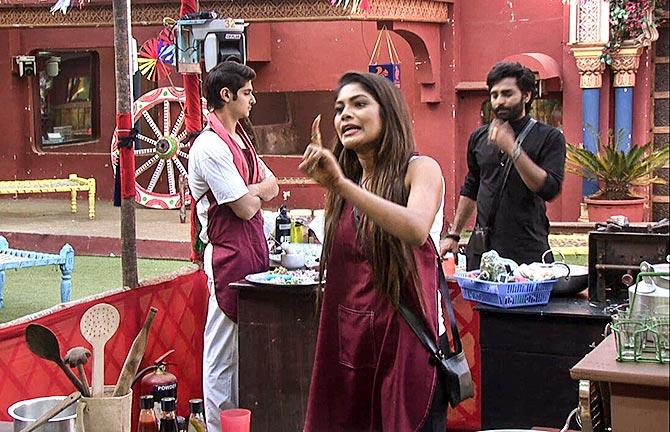 IMAGE: Lopa gets into an argument.
Amidst all the arguments, both teams cook their dishes. This round too, Bani and Manu win with their yummy pasta.
In round three, the participants are asked to make desserts.
When Lopa and Bani go to the store room to pick up ingredients, they find only one packet of sugar, which Bani takes.
Lopa has no other option but to pick up chocolate sauce and syrup to make up for the lack of sugar.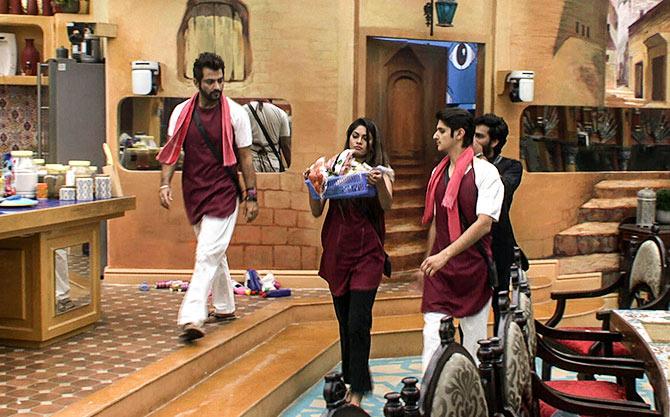 IMAGE: Failing to pick the right ones, Lopa grabs all the ingredients.
She decides to cook chocolate sauce halwa, but fails miserably as the proportions of the ingredients go wrong.
Not just that, when Lopa gives the halwa to Manveer to taste, he makes a weird face and calls it zeher (poison).
And no guesses who wins round three? Bani and Manu!
Manveer's 'zeher' comment didn't go down well with Lopa who threw a tiny tantrum about his 'harsh' word.
In the evening, after the completion of the task, Bigg Boss has a surprise for the housemates -- celebrity restaurant owner Zorawar Kalra.
Zorawar enters the house along with two chefs to celebrate the contestants' victory and to cook a scrumptious meal for them.
Zorawar's praise for Manveer's beard and hairstyle puts the 'Indiawala' on cloud nine.
The episode ends on a high note as the contestants gorge on the delectable fare that Kalra's sous chefs cook up!