Oh, hello there. I know you, don't I? You're the one planning a weekend movie, deciding to skip a decidely weepy-looking Yash Raj Film for one of those assembly line Priyadarshan movies because, after all, how bad can an Akshay Kumar film be? Not to mention Paresh Rawal and the rest of the usual slapstick suspects, united here to remake Manichitrathazhu, a Malayalam superhit with a definitely interesting plot.
The reason I know you, old friend, is because I'm on the same page. And having sat through said offering, I'm asking you to watch any old rerun of Ranvir Vinay Aur Kaun on television instead. Bhool Bhulaiyaa is a long and inexplicably boring film and here are three reasons why you should skip this:
1. The Amisha Patel Theory -- This is an old rule of thumb that has never, ever steered me wrong: Any film with Ms Patel in it -- even a small side role or a minor arc -- is automatically patently unwatchable. Just ask the once-infallible (well, to himself anyway) Aamir Khan. A-list stars or box office success for a couple of them don't matter, Ms Patel seems to go weak at the knees after looking at the super-weak scripts, and we'd do well to stand clear of inevitable disaster.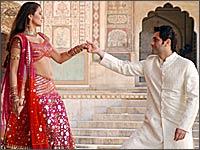 2. Slapstick murder mysteries are hard to do -- Priyan, you've apparently been most faithful to the Malayalam version, and I like the opening shots in this film. Moody enough to be rather un-you, I thought. But then starts your buffoonery, which you've reined in but retained, which makes the first half extremely, extremely boring and, more lethal still, the second half utterly ridiculous -- which is where I presume you're trying to scare the audience. Like we saw in Darling, Priyan, don't try to take on too many genres. We're neither amused nor remotely frightened, or excited. Giggling, sure, but at the most inappropriate moments. It's enough to make one long for your painful climactic chase sequences. Well, almost.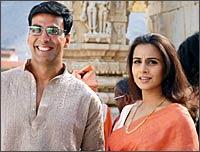 3. 45 Akshay-free minutes -- Now this is pure fraud. Ashay has ruddered your 'filmed-by' ship rather well over the years. No matter how inane the film, the superstar gives it his all and manages to get the audience chortling. And here you bring him in right before the interval, by which time we're already wishing the armrest was one fluffy pillow. Akshay still does okay, but the awfully misbalanced script doesn't give him enough room.
It's a bad film. It's boring, it's predictable, and any film that lists a red Rajpal Yadav and Akshay pulling up his dhoti while running as its extreme highlights, well, needs to be shunned.
I'm not even going to talk about the badly acted climax and the awful choice of actors therein; this film doesn't deserve analysis. Skip it.
Rediff Rating: