Onir's first movie My Brother Nikhil received a lot of critical acclaim for its sensitive dealing of AIDS. But when I try to remember the music from the film, the only song I remember was Le chale, which was a very nice, soul-stirring melody. Like My Brother Nikhil, the music of Onir's next film, Bas Ek Pal is soft, situational, moody and poignant.  
Bas Ek Pal, based in Mumbai metropolis is about five people -- Juhi Chawla, Sanjay Suri, Jimmy Shergill, Urmila Matondkar and Rehaan Engineer -- each of whom has a secret. They are bound inextricably by an incident that changes their lives forever. Sounds interesting? It is, as is the music of the movie.
One look at the track listings on the album cover is sure to raise your expectations for the songs have been sung by some of the best names in the business -- Sunidhi Chauhan, Kay Kay, Atif Aslam and Zubeen Garg. Amitabh Verma, who wrote the lyrics for My Brother Nikhil pens the words here again. The movie also has three music directors -- Pritam (of Gangster and Dhoom fame), Mithoon and Vivek Paul (who also gave music for My Brother Nikhil). The album also has three remixes done by Eric Pillai.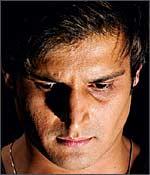 The album starts out with Hai ishq yeh kya ek khata, performed by Sunidhi Chauhan and Kay Kay. This is a track to watch out for. It's a fast dance number and has a very zestful let-your-hair-down appeal to it. It has some fantastic use of guitar and it could make for a wonderful Hindi Salsa song. It's bound to get popular on TV as well as on the radio. Looks like another winner from Pritam.
Tere Bin is the song which has been playing on the channels and radio. It is slowly becoming a favorite with many. It's about the ache of being away from the one you love. If it sounds a little Aadat-ish it is only because Atif Aslam the singer of Aadat and Woh Lamhe has sung this brilliant song too. Composed by Mithoon, its lyrics are by Sayeed Qadri.
The Tere Bin remix could have been better. It remix does not quiet outdo the slower version, the way Aadat remix did.
Next up is Zindagi hosh mein, which has been sung by Kay Kay and Zubeen Garg (of Ya Ali fame). It's a sad song that talks about being lost and nothing really going right. It somehow reminded me of  Tanhayee from Dil Chahta Hai. Although they are completely dissimilar in tune and lyrics, they somehow have the same flavor. There is also a remix of this song, performed by Zubeen alone. It is relatively faster and is probably ideal for radio.
Bas Ek Pal, the title song of the movie is a cool song performed by Kay Kay and Dominique Cerejo. The song is interesting because it conveys how love can make life difficult and miserable but the tune is still upbeat. There is no use of violins or heavy music.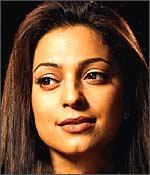 This song also appears as a faster remix, which is barely okay
Ashq bhi is a romantic number rendered beautifully by Sunidhi Chauhan and Kay Kay. The song has made some very interesting strings and is vaguely reminiscent of the Goan setting of My Brother Nikhil. It is song is a soft number with good lyrics and a Latino influence.
Sunidhi Chauhan and Kay Kay have sung brilliantly throughout the album. They have modified their style to convey the feel and emotion of every song. Dheemi Dheemi is an excellent example. It is song with a faraway dreamy effect. The saxophone is used liberally to convey the romanticism of the words. It's a slow and a soft song.
A special mention should be made of Kay Kay. I've always thought of him as a versatile singer, whose talent hasn't been fully tapped yet. This album is an exception. It uses his voice in a very nice way, showcasing all variations and emotions his voice can convey. I expect people to identify Kay with songs from this album, the way they associate him with "Yaaron" in the film Rockford.
Don't pick this album if you're looking for typical filmy fare. It's a very different album with a distinct identity of its own; much like the film I suppose.
Rediff Rating: