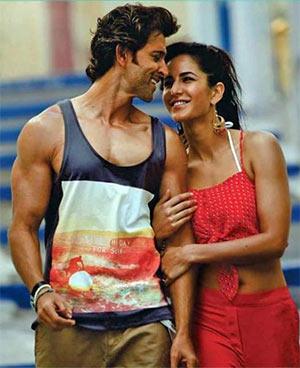 A worse official remake of an already bad original, Bang Bang is more noise and less sound, rants Paloma Sharma.
What's the first thing you think about when you hear the words Bang Bang? Fire crackers, gunshots, Rinoku Kikuchi from The Brothers Bloom?
Well, director Siddharth Anand is here to change all of that.
From now on, all those who have watched the film will no longer think of Bang Bang as a sound. Instead, Bang Bang will now be associated with a phrase loosely along the lines of, "WHEN WILL IT END? MAKE IT STOP, MOMMY! MAKE IT STOP!"
With a run time of almost three (billion) whole hours, it is funny how Anand's official remake of Knight And Day has so little to offer.
An even lesser percentage of that is original or at least differently played out, which is a shame because the parts that weren't copied were the ones that were most entertaining, even if they were utterly ridiculous.
Considering that Fox has given the filmmaker permission to copy -- and I say copy instead of remake because a remake would be interpreted differently, not just adjusted to the cultural standards of the population it is being remade for -- there is hardly any point in attempting to write out a synopsis. One could just as easily put it this way:
Katrina Kaif plays Harleen, a dumbed down, Twilight-version of Cameron Diaz's already manic pixie, June Havens, to Hrithik Roshan's Rajveer, a taller version of Tom Cruise's Roy Miller, except that Rajveer has K3G-type sanskaar and deshbhakti as well.
Bang Bang opens with army officer Vikram Nanda (Jimmy Shergil) walking into the MI6 headquarters to see/interrogate/have a pizza party with Interpol's most wanted criminal, Omar Zafar (Danny Denzongpa) aka Kancha 2.0, who pulls an Agneepath before you can say "What, men?" and sets Vikram on fire -- all this while Vikram's mother is listening on the phone, on the other side.
Vikram burns. Mother cries. Revenge is hinted at.
But who will carry out this brave deed? Who will avenge his brother? And who will flaunt his abs (with more make up than the heroine's face) and travel to exotic locales to save the world?
Who?
The suspense is killing me.
Not.
Harleen is a receptionist at a bank in Shimla who lives with her dadi (who happens to be a total rock star, by the way) and is a total plain Jane (cue: multitudes of women laughing in the background).
Bored of her boring life and non-existent personality, Harleen decides to find a date online. She ends up waiting for hours in a cafe to meet her cyber suitor when Rajveer passes by.
Rajveer thinks it is totally alright, while one is on the run from the world's most dangerous gangsters and pretty much all the international police authorities, to go into a cafe in order to court a lady under false pretence, drag her into your twisted world of ever present danger and then use same ever present danger as an excuse to drug her, lie to her and be a passive aggressive kind of person because "I'm trying to keep you safe".
Can you smell the love in the air?
Or did my dog just fart?
Bang Bang feels overdone in its soppy dialogues and undercooked in its direction. The film employs an already overused storyline and backs it up with a background score so garish that Singham's music seems like a better alternative.
Although Tu Meri and Uff are fairly enjoyable songs, the makers of the film probably confused it with a Dandiya Nights programme and added more song-dance sequences than were necessary.
However, given that it is Navrati, one must just learn to ignore such trivial things in the same way that one must learn to ignore the VFX, least it triggers repressed memories of 2002's Jaani Dushman.
Say what you like about Rohit Shetty but Bang Bang will make you appreciate his talent when it comes to directing car chases and related accidents.
Hrithik Roshan, while an amazing entertainer, ends up bringing too much intensity to the role, even when the scene doesn't require it. Or perhaps he's just being a good teammate and making up for Kaif's lack of intensity.
Katrina Kaif shines in certain scenes, especially the comic ones, where she's portraying a normal girl in a big, bad world, just trying to make it work -- a slight reminder of her work in Namaste London -- but she becomes disinterested as soon as emotional scenes come into play.
I may be wrong but I have a sneaking suspicion that Kaif is smart enough to know that no sane woman listens to lines like "Tum ladkiyaan kitni cute hoti ho" while in the middle to expressing opposition to another person's statement without punching them in the face.
Bang Bang is far too focused on its fancy toys to look into things like character development, storyline or logic. At least Knight And Day had surprises along the plotline. Bang Bang cannot even manage that.
The film will use almost any excuse to have its protagonists reveal more skin than is necessary, and it fails to make both parts of its genre work -- action could do with better camera work and romance could do with less Stockholm Syndrome.
Anand's Bang Bang is idiotically titled and the title forces awkward dialogues to remind of it. The film could consider the following alternate titles:
Yawn Yawn
Abs Abs
No No
A worse official remake of an already bad original, Bang Bang is more noise and less sound.
Rediff Rating: