Rajkummar Rao is solid in what we've come to recognise as strictly Ayushmann Khurrana territory, observes Sukanya Verma.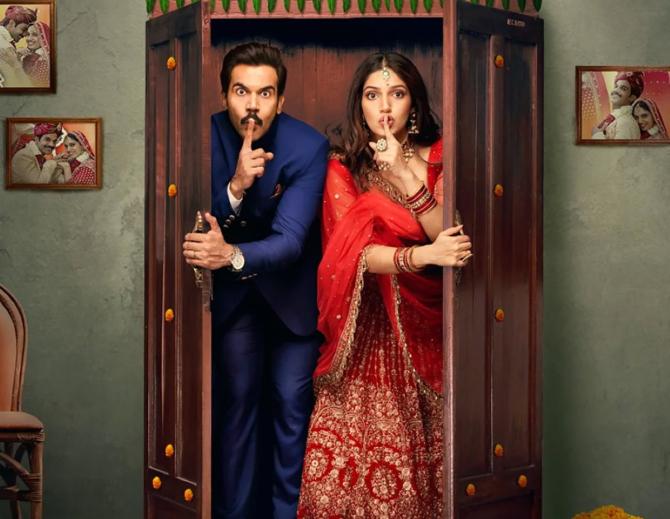 From 'is gay' to the difficulty of 'being one' in a terribly repressive society, Badhaai Do takes a baby step forward in queer-themed stories.
Earlier, in films like Bombay Talkies, Kapoor & Sons, Ek Ladki Ko Dekha Toh Aisa Laga or even Shubh Mangal Zyada Savdhan, a character's sexual identity and struggle formed the big reveal or premise for conflict but in Harshvardhan Kulkarni's light-hearted take on marriages of convenience, Shardul Thakur (Rajkummar Rao) and Suman Singh (Bhumi Pednekar) confirm their homosexuality at the onset.
Only the conservative, judgemental community they live amongst cannot catch a whiff of this.
Hailing from a big, fat North Indian family (led by a crackling-as-ever Seema Pahwa) of Haldwani eager to see Shardul settle in marital bliss who is the only male cop in an all-women police station of Dehradun. It includes a noisy crèche too.
His Burt Reynolds moustache and rippling biceps bursting out of his khaki seams assert a machismo he wears like a shield to dodge suspicions.
Compared to him, Suman is far more comfortable in her skin and has developed a sense of humour about her youth-obsessed father (Nitesh Pandey) and maun vrat-undertaking mom (Loveleen Mishra).
A creepy dating app experience ensues in the two crossing paths.
Shardul straightaway sees an opportunity for jugaad.
Both are over 30, which makes them a relentless target of their families nagging them to tie the knot.
Suman's previous unpleasant experiences -- an ex who settled for a heterosexual marriage and a suitor who died two days before the wedding -- has made her wary.
But when a fellow member of the LGBTQ+ community proposes the two marry and live like roomies, Suman sees the arrangement as a mutually-beneficial situation to live and let live.
Except when has the great Indian family ever stopped at that?
Just when Suman has found a soulmate in Rimjhim (Chum Darang) and Shardul is making headway with a lawyer (a rakish Gulshan Devaiah), aunts and mums butt in and decide it's time for a baby.
'Bachha woh gond hai jisse shaadi bani rehti hai,' explains a know-it-all relative and dispatches Shardul's slow-witted mummy (Sheeba Chaddha) to orchestrate this goal.
Chaddha, fabulous as she is, labours to pull off some of the gags that are too heavy-handed even for her.
Badhaai Do makes light of the hypocrisy its protagonists embrace to escape scrutiny while addressing the pressure that compels them to test the extent of it and realise their natural parenting instincts.
Indian law forbids a same-sex couple from adopting and Badhaai Do has something moving to say about that as well as the struggle of coming out.
Though Shardul and Suman do not share a romantic relationship, their journey from bantering partners sharing a roof to allies who know exactly how it feels, touches a chord.
It's a shame the movie doesn't exploit their equation more satisfyingly.
Suman and Rimjhim's breezy meet-cute is one of the things Badhaai Do does get right.
It may not always be at the centre, but their ups and downs as a couple underscores the language of love is the same everywhere even if it's a decidedly PG rated.
Having non-starry presences as love interests adds to the realism and freshness of the imagery.
Badhaai Do throws in the quandary of confronting a heavily patriarchal setup where the expectations of men are no different from those in heteronormative setups.
Shardul's chauvinism is particularly jarring when one presumes his sexual choices will make him more sensitive.
As is his quack of a brother-in-law's (Shashi Bhushan) -- reeking of inappropriate humour and demeaning slurs.
What I found myself wondering though is does it make it okay for a man to hit his partner just because he is also a guy? Badhaai Do doesn't say.
Shardul is much more complex than the rom-com tone implies, one that slumps into disappointingly farcical towards its dragged-out end.
Nevertheless, Rao is solid in what we've come to recognise as strictly Ayushmann Khurrana territory.
Unafraid to go in dark places and lay bare his emotionality, he succeeds more than he lets on.
Bhumi Pednekar packs a punch in equal measure.
If only Badhaai Do wasn't busy pandering to the overdone small-town parivar's humour and hullaballoo and elaborating on its there's more to being queer than being queer.
For now, it's one baby step at a time.
Rediff Rating: