You cannot shoot your best friend in the butt --- even accidentally. Unless you want to suffer the kind of juvenile and uninspiring butt warfare the two Miami cops enjoy in Bad Boys II. The sequence is supposed to be one of the more humorous scenes in Bad Boys II, yet another of those summer movies that cost a small fortune, in this case a reported $120 million.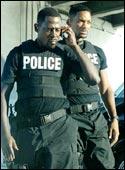 If you think you've had enough of super charged but mostly mindless summer sequels, the over-heated, extremely lengthy and mind-numbingly exciting Bad Boys II should be avoided.

On the other hand, many viewers might actually enjoy half a dozen chase episodes including a genuinely hair-raising and brilliantly photographed free-chase sequence in LA, and the prolonged sparring between the two cops, energetically played by Will Smith and Martin Lawrence.

You cannot help but admire a few chase scenes involving the attractive Syd (Gabrielle Union). But once the repetitious tone starts setting, you may get the feeling that this overblown film needed a ruthless editor who wasn't intimidated either by the star presence or the clout of the producer and director. 

Reprising the characters that launched their big-screen careers eight years ago, Lawrence and Smith team again with director Michael Bay and producer Jerry Bruckheimer in the sequel, which arguably has the largest body count for a big budget film this summer. It is also for good part unrelentingly fast paced. Bay has no idea of any speed limit, and Bruckheimer seems to have no reservations about blowing up money.

Given the potent mix of comedy and action coupled with Bruckheimer and Bay's extraordinary luck, Bad Boys II might do good business for the first two or three weeks.

Bruckheimer and Bay also collaborated on international super hits like The Rock and Pearl Harbour. Giving a boost to the careers of Smith and Lawrence who have gone without a hit in more than three years, Bad Boys II could open big, pushing Pirates of the Caribbean to the second place, which was also produced by Bruckheimer.

The new film revolves around narcotic detectives Mike Lowrey (Smith) and Marcus Burnett (Lawrence) assigned to investigate the huge flow of a drug called Ecstasy

into Miami. They soon have to confront a big time and vicious druglord called Hector Juan Carols 'Johnny' Tapia (Jordi Molla). The dangerous assignment becomes even more complicated when Mike falls for Marcus' sister Syd (Union) who is working undercover for a federal agency.

Syd naturally has her own agenda that makes her even more vulnerable and dangerous to Tapia.

Though Mike and Marcus are also pursuing the same criminals Syd is after, they fail to convince her to work with them.

Apart from the brilliantly choreographed chase sequence in the beginning, there are some humorous moments too. Like when the two partners and life-long friends have a chat about their lives and suddenly see it being accidentally broadcast on the screen of a convenience store.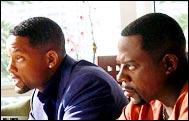 But as the film progresses, the jokes sound either too stale, or repetitive and the action over-extended. The momentum is further derailed when Tapia kidnaps Syd.
With tighter editing (and perhaps chopping 30 minutes of the film), Bad Boys II could have become a lean and taut comedy as well as suspense drama.
The scenes involving Joe Pantoliano as the boys' tension-prone captain struggling to gain peace through New Age are rather funny. They, however, lose their appeal because of the messy script. Another flaw in the script is the character of Hispanic druglord Tapia. His role is filled with clichéd observations and scenes.
I suspect there are millions out there who dig a movie like this. This brand of viewer will have a good laugh and adrenaline-pumping time.
CREDITS
Script: Ron Shelton, Jerry Stahl
Director: Michael Bay
Starring: Will Smith, Martin Lawrence, Jordi Molla, Joe Pantoliano and Gabrielle Union
Running Time: 146 minutes
Rating: R for violence, sexual situations and language
Produced by: Columbia Pictures