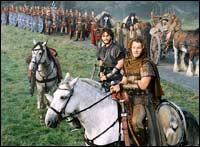 By no means is King Arthur a crowning achievement for director Antoine Fuqua. It is also not something he can be really proud of, except that he now commands a far bigger fee (reportedly $5 million) than what he would have got four years ago to direct mindless extravaganzas such as this one.
Fuqua showed a lot of grit and intensity in Training Day. But in King Arthur he has let the fights director and special effects department take control for the most part. Though I must add that he extracts decent performances from most of his actors.
All those who love battle scenes and are charmed by the appeal of its young actors and veteran villains will enjoy King Arthur. Those, however, looking for a new and well-focused interpretation of Arthurian legends and expecting a rousing period film like the Richard Burton-Peter O'Toole classic Beckett will be disappointed. Also, those who still remember the spectacular but also superbly acted Camelot may want to rush home and head for their DVD collection.
What the new film desperately lacks is the inner turmoil that not only made films such as A Man for All Seasons, Beckett, and Camelot stirring entertainment, but also lent them respect and box-office success.
Seasoned moviegoers will not miss Fuqua's homage to one of the most gripping and morally intriguing battle movies of all times, Akira Kurosawa's Seven Samurai, in the sequence where half-a-dozen knights are the only help a beleaguered Arthur can get. Here is yet another reason to revisit Kurosawa's classics to understand the difference between the two.
The film will not surprise the more savvy viewers. After all it is yet another big-budget film from the extraordinarily lucky producer Jerry Bruckheimer. Bruckheimer has hits like Pearl Harbor and Pirates of the Caribbean to his credit. His latest blood and gore extravaganza too looks like it is poised to be a hit. The initial gross offers ample proof of the same. But King Arthur may not come anywhere near half the earnings of the Pirates.
In his version of the British legend, Fuqua gives us a rugged pre-king Arthur (Clive Owen) and a not-so-noble Round Table, along with a ravishing Guinevere (Keira Knightley), a fiery rebel Merlin (Stephen Dillane), and a bitter, vengeful Lancelot (Ioan Gruffudd). The nasty King Cerdic is played by the wonderful Swedish actor Stellan Skarsgård, who, despite a pulse-quickening performance, is still underperforming in the film.
Screenwriter David Franzoni has worked on more accomplished films like the Oscar-winning hit Gladiator and the underachiever Amistad directed by Ridley Scott and Steven Spielberg, respectively. Both filmmakers were considerably more up to their task than Fuqua is in King Arthur.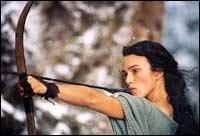 Franzoni has turned a mythical Arthur into Lucius Artorius Castorus (Owen), a Roman-British general for the Roman occupying forces in Britain. Artorius reaches a critical stage when he must choose between his unreliable and treacherous Roman overlords and his British countrymen who are being persecuted by Cerdic.
Despite many strong reservations against the Fuqua movie, it is difficult to ignore many of its actors, particularly the underused British acting giant Ray Winstone, who plays the philandering and boorish Sir Bors.
In his first appearance in a lavish action drama, Owen (who has been shining in low-budget films such as Robert Altman's Gosford Park) offers a strong presence and plenty of tragic air. How we wish his character here could have packed in more intrigue and moral crisis.
CREDITS
Cast: Clive Owen, Ioan Gruffud, Ray Winstone, Keira Knightley, Stephen Dillane, Stellan Skarsgård
Director: Antoine Fuqua
Writer: David Franzoni
Running time: 2 hours 10 minutes
Rating: PG-13 for intense battle sequences, some sensuality, and occasional raw language
Distributor: Touchstone Pictures