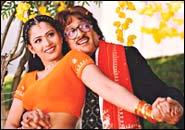 Ace comedian Dr Rajendraprasad, basking in the glory of his riveting performance as an idealistic father in Aaa Naluguru, plays an ugly jingle composer to perfection in the Telugu film, Andhagadu.
But debutant director Rama Rao's amateurish treatment could scuttle the veteran actor's dream of tasting success with a unique plot yet again.
Rajendraprasad plays a typically self-pitying role -- a big loser in love who, in desperation, decides to appease the 'devil' to find a suitable match.
He mistakes a girl (Damini) for the devil, but later realises his mistake. The director, with interesting scenes and a valid sub-plot, could have made a winner out of the age-old plot of 'a good soul is more precious than looks.'
Dr Rajendraprasad, known for his hilarity, has been trying different roles. He does his job commendably in the film, but goes overboard with a few actions.

Kannada actress Damini delivers an okay performance, but her role is poorly etched.
Veteran actors Chandra Mohan and Sudha play the hero's brother and sister-in-law trying to find a suitable match for the protagonist; they express their anguish quite well on a few occasions.
Comedians Venu Madhav and M S Narayana try to breathe life into caricatures, and manage a few laughs.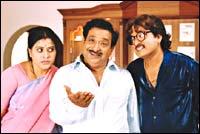 Director Rama lacks the skills to knit a taut screenplay. His camera is often amateurish, and the editing isn't impressive. 
The K Subhaas story looks good on paper, but, due to inherent plotholes, lacks the punch to adapt smoothly to a movie.
Music director Sri, impressive in Aithe, is quite pedestrian here. The cinematography is poor, particularly the ill-lit light sequences. Debutant producer Dande Srinivas sounded very confident, but it seems his confidence is misplaced.