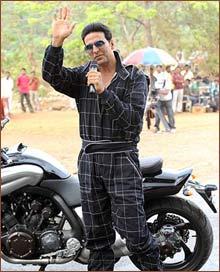 Sukanya Verma feels the fourth season of Khatron Ke Khiladi just does not bring out the best in Akshay Kumar. Post YOUR reviews here!

Priyanka Chopra isn't so entirely lame that I'd wish her to, you know, *poof*. Her stint as the hostess of Khatron Ke Khiladi's third season, however, led to second thoughts. The usually spunky star didn't exhibit any authority or zing, essential to keep a reality show from slipping into epic boredom and abysmal TRPs.

And so the return of Akshay Kumar does trigger a sense of 'at least the guy knows what he's doing.' After all, he has successfully hosted the first two seasons. At the same time, it's important to wipe out the memories of his role in the sloppy Indian edition of Masterchef.  

Turns out Khiladi Kumar isn't aiming to impress. He goes about the motions, stunts and interactivity aided by lackluster dialogues, sluggish spontaneity and a distracting wardrobe. Quite a letdown that is, considering how accessible, involved and entertaining he appeared in the show's previous installments. Perhaps he'll warm up to the contestants over a period of time but there's no indication of its certainty in the opening episodes of Khatron Ke Khiladi: Torchaar, season 4.

Keeping with the show's daredevil disposition, AK's introduction is fairly audacious with the star snugly lounged on a hammock suspended mid-air from a helicopter only to leap onto a truck, followed by a huge explosion, cut to 13 stunt-performing contestants popping out from the back. Welcome to South Africa!

The format is more or less the same except for the most ridiculous inclusion of two unidentified local women parading as Sheila and Munni to dole out 'Jeet ki jhapi and Preet ki puppy.' What's the idea behind making these two sparsely clad women running in Slo-Mo to Sagar's theme piece? It's not funny. It's not sexy. It's not cool. It's plain absurd and a whole new level of ugh-ness.

Day 1 involves getting acquainted with the 13 female celebrity participants, mostly a mix of models, television stars and Bollywood starlets paired with a non-celeb male partner. The stunt, Mard tangewala, requires every team to latch to a horse-led carriage that drags them on the ground by a rope while the other knocks down strategically placed cones along the course. A messy task for sure. Yet when the prize is a lucrative one like cash, car or spot in a Thums Up commercial, it's well worth the risk, right?

After chanting Gayatri mantra with AK, the skimpily-clad girls and their adequately buff partners flex

their toned physique to take the challenge head on. Here's the line-up: Models Diandra Soares, Aliesia Raut, Dina Singh, Poonam Pandey, singer Mauli Dave, video jockeys Bani and Mia, reality show veterans Kashmera Shah, Sambhavana Seth, TV bahus Smita Bansal and Aashka Goradia, Bollywood actress Aarti Chabbria and finally a sports personality, Anjum Chopra.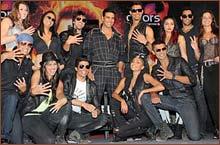 It's an interesting stunt, no doubt. But to watch it repeatedly, like 13 times, is an exercise in overkill. And to make matters even drearier, Akki comes up with corny ones like, 'Kitna mazza aata hai jab do mahilyein ladti hai mere liye,' occasionally followed by a severely irksome Micromax monster laugh. He's better off spewing gyaan on how a worked-out body doesn't mean a thing if one's core muscles aren't strong enough. If that's a dig on one of his gym-enthused contemporaries, it doesn't show.
Just when it appears that Sambhvana of Bigg Boss fame is slated to be the TRP-boosting factor of the show, the no-show of her teammate leading to a characteristic outburst and unexpected ousting makes you believe otherwise. Unless of course, she resurfaces to spice things up as the proverbial wild card entry.
Day 2 features a dual set of challenges. In Khiladi up, Tu Meter Down, the men, two of them at one time, have to get on top of a considerable height, above the sea, jumping to and fro between a suspended platform and car to nab the given flags and finally that elusive Thums Up bottle. Whoever places the soft drink in its slot first wins the round. Six such winners are then awarded with a safety band. The losers then compete in round two, namely Kulfi Jamai with terrifying factors like ice cold water coming in full force at the celebrity participant via a claustrophobic pipe while the partner struggles to release her from a deliberately locked up state.
It's an unpleasant mission and AK's at his cranky best. Whether it's scoffing at a player's Jat origins or rebuking Smita Bansal's sniveling reluctance to perform and subsequently fail. It doesn't matter when all KKK 4 has on its platter is a bunch of disinterested participants, a bored host, their non-existent camaraderie and a dozed-off script.Bottom-line: nothing to root for.

At present, the action-based reality series is in dire need of a crisp interface and Akshay Kumar in his true element, discerning enough to judge the atmosphere and turn about the momentum with part-humour and part-force.
What did you think of Akshay Kumar's stint in KKK 4?
Rediff Rating: