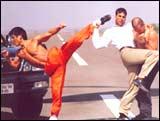 Bang-bang-bang-bang-bang-bang-bang-bang-bang-bang-bang-bang-bang-bang-bang-bang-bang-bang-bang-bang-bang-bang-bang-bang-bang-bang-bang-bang-bang-bang-bang-bish-baff-boof-kaboom-dishum-bish-baff-boof-kaboom-dishum-bish-baff-boof-kaboom-dishum-bish-baff-boof-kaboom-dishum-bish-baff-boof-kaboom-dishum-bish-baff-boof-kaboom-dishum-thud-dud
The first 45 minutes of Aan: Men At Work are a series of punches, kicks, bullets, machine-gun fire, shattered glass, smashed skulls, torn arms, broken ribs, blood, death, one item number on model Gauhar Khan (rather lost in the swarm of sexy videshi dancers), and then some more fights and kicks.
And just when you think this Madhur Bhandarkar-directed, Firoz Nadiadwala-produced fight fest will at last get down to telling the story, along comes the interval.
Akshay Kumar, Suniel Shetty, Paresh Rawal, and Shatrughan Sinha are cops — the good guys. Jackie Shroff, Irrfan, Rahul Dev, a Mumbai home minister, two Korean muscles, a rival don called Raghu, a bad cop played by Ajinkya Deo, Vijay Raaz, Rajpal Yadav, Shri Vallabh Vyas as a havala guy are all villains.
Funnily, with so many villains, the enemy keeps changing until you deduce that the four cops will take on the entire system and beat it black and blue!
Of the cast, Akshay Kumar is good. Ditto for Suniel Shetty. Paresh Rawal is fun until he lasts. But I have no clue what Shatrughan Sinha is doing in this enterprise. He looked like he was suffering from a bad hangover throughout the film.
And let's not forget the girls. Lara Dutta has precisely four scenes and one song. Preeti Jhangiani has three. Raveena Tandon, playing a character that does not make any sense, has maybe four scenes.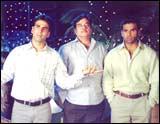 The editing is interesting. Since Aan is digitally graded, it looks good. But the sound is so loud, it gives you a headache.
The action is ripped off every Hollywood film you know and is relentless. The tuneless songs, mercifully only three, are played just partially in the first half. The script is like a train that keeps going on and off the track after being late for 40 minutes.
Trade forecast: The film should do well in B and C centres. In multiplexes, the fall should begin by Monday.