2.0raises the bar for Indian films, taking them a step closer to Hollywood blockbusters, says Saisuresh Sivaswamy.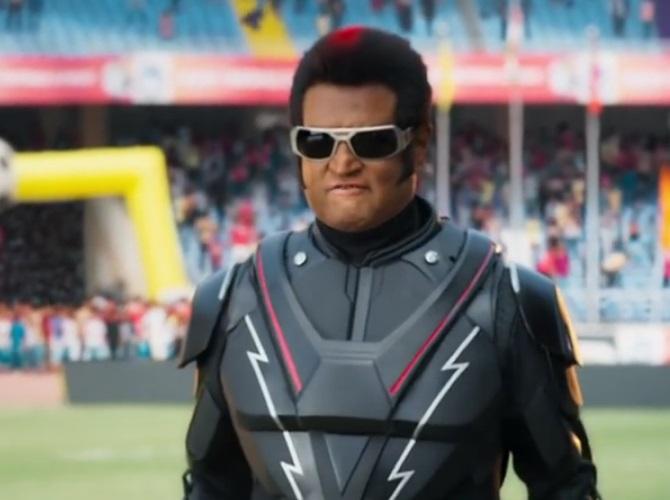 There isn't much of a difference between the trailer of director S Shankar's most-awaited film, 2.0, released a month ago, and the trailer released on Saturday, November 3, at a star-packed event in Chennai.
The difference is around 45 seconds of footage, that's all.
But the trailer takes forward the message in the delivered in the teaser -- The World is not just for humans, which conjured up visions of aliens in bird form played in the most evil manner by Akshay Kumar, who sucks up cell phones across the world.
'Beyond science?' a voice of authority can be heard asking in the teaser, 'how do we fight it?'
'Each and every user of cell phones is a murderer,' he declares menacingly. 'See how they run in panic when they see it.'
Which sets an interesting back story for Bird Man's character.
Why is he angry with innocent cell phone users?
What wrong could they have possibly done to him?
Could it be, could it be that he lost someone close to him to an illness generated by cell phone's radiation, applied for a ban on the device which was naturally rejected, and hence decided to use his evil genius to take them down? Maybe.
Could it be that his privacy was violated by hackers, and not finding any redress he decided to go after the cell phone users? Again, maybe.
2.0's trailer too has a message. 'Technology connects us, it serves us, in 2008 it will target us.'
Which, given Shankar's filmography, is a little unusual.
There have been two recurrent themes connecting many of his films. A citizen turns vigilante to save society (from 1993's Gentleman to Kaadhalan to Indian to Anniyan), and the heavy use of VFX and CGI in his films, mainly in songs, be it the Kannodu Kaanbadhellam's skeleton song featuring Aishwarya Rai in Jeans or Maya Machindra in Indian.
It was almost as if he was perfecting the CGI and other technology.
Remove Boys and Nanban from his work, and you find that these two themes would inevitably lead to Endhiran/Robot, where a simple scientist has to save the world through technology, thus connecting the two dots.
So why has Shankar decided to sound the alarm on technology in his 25th year as director?
Is he tipping his hat to the zeitgeist, where there is no dearth of warnings of the spread and use of technology, or its cutting edge feature, Artificial Intelligence? Stephen Hawking has said it, as have Elon Musk and Tim Cook.
Or, does the Bird Man's hatred for cell phone reflect the director's own misgivings over the instrument which controls much of our lives, and which he famously abhors using?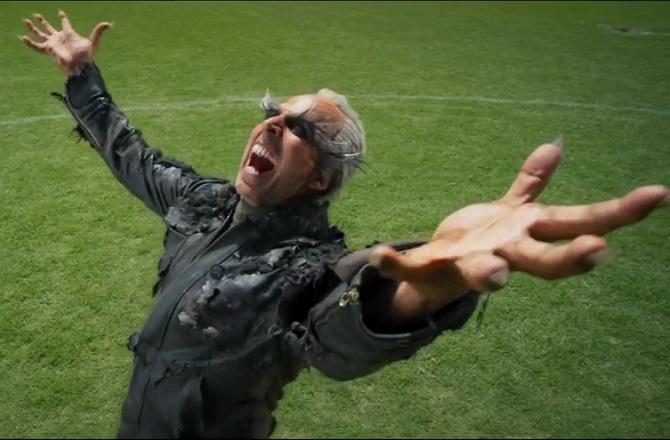 Either way 2.0 raises the bar for Indian films, taking them a step closer to Hollywood blockbusters.
So will there be a 3.0?
Will the scientist Vaseegaran kick off an Indian Avengers team that speaks in Tamil?
Questions and more questions spring up in your mind on watching the trailer.
Comparisons to Hollywood are inevitable, and the director too seems comfortable doffing his hat to it. So you have Chitti doing a 'cuckoo' much like Christoph Waltz's Oberhauser in Spectre.
Or Akshay Kumar's Bird Man reminding you of Michael Keaton's Vulture in Spider Man: Homecoming.
There isn't much of Amy Jackson in either the teaser or the trailer to get a hang on her character. And given the pointers to the story, there can't be much for her to do in the film either.
Aishwarya Rai was central to Endhiran, which Amy clearly isn't in the sequel.
Endhiran's last scene told you that a sequel would be made, too bad if you missed it.
But don't miss the trailer's last scene (Hint: It comes after the credits), or you will miss what in my view is the best scene in it.
Clearly, Shankar has saved his best for the last.