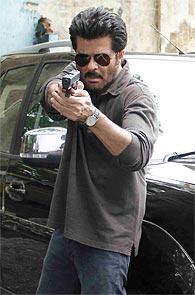 It may not have the finish of the original but when you look at the bigger picture, Anil Kapoor's new television show 24 is a step in a desperately needed direction, writes Sukanya Verma.

The state of Indian television is no secret.

Things have dumbed down to the extent that the idiot box is visibly dominated by unending soap sagas -- of long-winding titles, household politics, women dressed like Diwali decoration and absurd scheming/sentimentality.

If such content occupied only a section of television programming, it wouldn't hurt so much.

Sadly, the alternative is no great shakes either.

And so when Anil Kapoor announced his decision to create a Hindi version of America's acclaimed thriller/drama series, 24, everyone thanked the Television Gods for finally having shown some pity. The sleek teaser only raised our hopes.

So does 24 provide a much-needed breakthrough? Is Kapoor's Jai Singh Rathore any match for Jack Bauer?

Before we get there, let me tell you at the onset, although well versed with the 'real time' concept and round-the-clock plot points, I haven't keenly followed the original. Maybe an occasional episode here and there, but that's about it.

The desi take, directed by Abhinay Deo and written/adapted by Rensil D'Silva featuring Milan Milap Zaveri's dialogues features an impressive line-up of stars ranging from Kapoor (who featured in Joel Surnow and Robert Cochran's show's eighth and final season), Anupam Kher, Shabana Azmi, Mandira Bedi, Tisca Chopra and Anita Raaj.

Aired on Friday and Saturday between 10-11pm (on Colors), 24 is set around Anti Terrorist Unit officer, Jai Singh Rathore's endeavours to uncover the mole in his team, prevent the assassination of a young prime ministerial candidate and rescue his kidnapped daughter. All the events are somehow connected to each other.
Having seen the original's pilot, I noticed a conscious effort to approach the story at a unique pace and screenplay. Expectedly, the production values are on the plush side. Director Deo's flair for such is evident in his big screen debut, Game and the tradition continues on television as well.
The parenting tone in India is quite different from that of US and that switch comes off a tad awkwardly in Jai, his recently reconciled wife Trisha (Tisca Chopra) and teenage daughter, Kiran (Sapna Pabbi).
Even her silence speaks, there's something rock solid about Tisca's presence, I enjoyed her interpretation very much. She times her minute-by-minute growing anxiety with clocklike precision. Not everyone on board else understands the significance of this seemingly minute detail.
As for Kapoor, the 56-year-old actor/producer makes an instant impression with his ageless dynamism. He doesn't go for the mild-mannered tough guy route of Kiefer Sutherland; his Jai is a blend of ingrained aggression and emotional fatigue. His effortless chemistry with close pal Anupam Kher comes across in small screen and lends 24 its first brush of emotionality.
But it's the action that's most effective. Whether it's the shootout at the preview theatre or the deftly executed plane explosion and simultaneous ejection of a lady assassin tied to a parachute (God Bless CGI!).
What's also great is that there's no meandering. Accustomed to see needless stretching, only to accommodate one commercial break after another, in 24, events roll out fast and furiously and sum up on a split screen to highlight the numerous subplots involved.
The political family: The Singhanias resemble the Gandhi model, even if Neil Bhoopalam who plays the potential PM insists it isn't so. Till now in the series, his relationship with his understanding sister and controlling mother as well as a dark secret that's out to tarnish his reputation are the crux of his story. Bhoopalam's understated intensity works but Anita Raaj is the one who surprises with her surprisingly poised turn as his mastermind mommy.
The kidnapping: Rathore's rebellious daughter and her equally vain friend fall prey to a bunch of cute charmers turned nasty henchmen while the girls' worried parents trace their whereabouts.
The investigation: Rathore and colleagues (Kher, Mandira Bedi, Adhir Bhatt) are trying to crack an assassination conspiracy. May not have the scale of Madras Cafe but gets intriguing as it progresses.
The plotting: Two sisters, a man who's had a plastic surgery, a vicious boss, an airplane bombing, the sinister face of 24.
What doesn't work? The dialogues. They're clunky, contrived, filmi and, at times, little more than a tacky translation. And this shortcoming ruins some potentially strong scenes or disconnects from the steadily brewing tension.
While somewhat underwhelmed by the debut episode, I was hooked to the fast-paced, unflinchingly fierce (chopped finger, et al), action-packed momentum of the second. 24's premise is such, every episode inches closer to a disclosure. It may not have the finish of the original but when you look at the bigger picture, Anil Kapoor's new show is a step in a desperately needed direction.
Rediff Rating: