Aamir Khan, brilliant 11 times over.
The first time any of us saw Aamir Khan on a big screen, it was as a child in Yaadon Ki Baarat, 41 years ago.
He has made many an impact since, having starred in some truly excellent films as well as some total turkeys, but it has been a career with enough reasons to celebrate.
In a special series to celebrate Aamir's 50th birthday on March 14, Raja Sen/ Rediff.com brings to you his favourite Aamir performances.
Do vote for YOUR favourite at the end.
1. Rangeela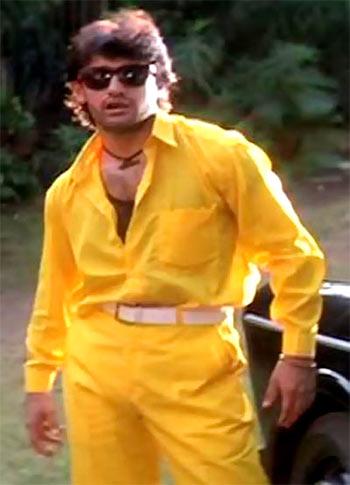 Image: Aamir Khan in Rangeela.
There is a lot to be said for a man who can pull off a canary yellow suit.
Khan, stuffed to the gills with street-smart panache, comes off nearly invincible as Munna, the ticket-hawker, but remains irresistibly childlike when it comes to asking a girl out.
He starts off playing the character for laughs, but by the time the romantic stakes are raised, Khan is giving us all lumps in the throat. This is the ideal Aamir performance: A highly balanced, pitch-perfect one where he doesn't miss a beat -- as well as a sprightly, evocative one where he comes across as strikingly unselfconscious.
2. Dil Hai Ki Manta Nahin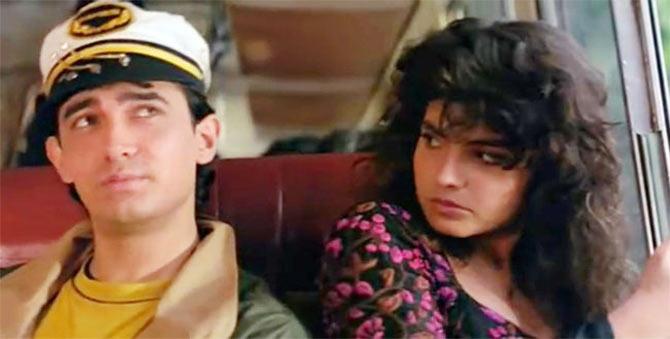 Image: Aamir Khan and Pooja Bhatt in Dil Hai Ki Manta Nahin.
The deck is stacked against Aamir Khan's character in this staunchly loyal It Happened One Night remake: He's a scavenger, he's out to exploit a plucky princess-type, he's self-important, and he has a name far too undashingly square for a hero.
Yet Aamir -- as the eternally amused Raghu Jaitley -- blasts the princess and us, the audience, with an overwhelming charm offensive right from the get go, and it's hard not to be taken in.
This is old-school raffishness, and Khan plays it smooth as silk.
3. Dil Chahta Hai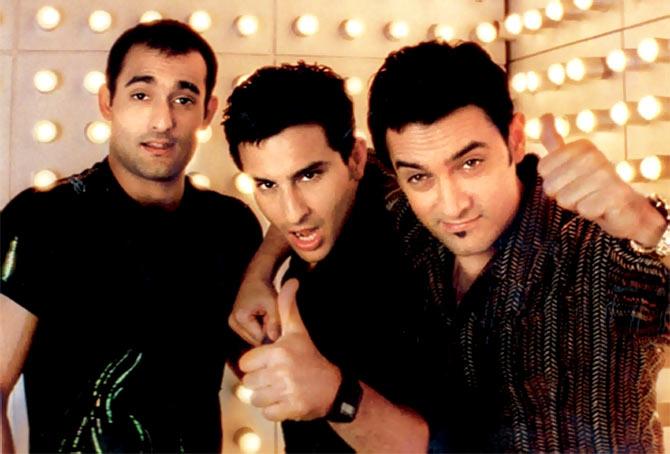 Image: Akshaye Khanna, Saif Ali Khan and Aamir Khan in Dil Chahta Hai.
It's always special when a character nails the vibe so right that we want him around in our own lives.
The thing about Aamir's character in Farhan Akhtar's industry-rejuvenating debut was that we have friends like Akash, we want friends like Akash, we're driven up the wall by friends like Akash, we can't do without friends like Akash.
The character Khan brought alive -- a rascal with a spot for a beard, a penchant for trouble and a very big laugh -- is a hoot.
4. Andaz Apna Apna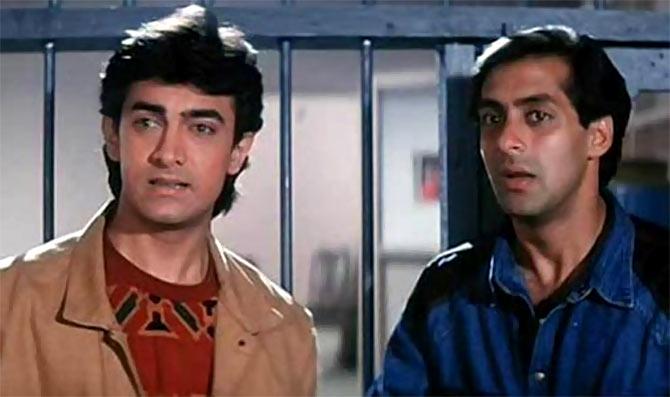 Image: Aamir Khan and Salman Khan in Andaz Apna Apna.
Amar sits across from a girl named Raveena while commenting smugly on his friend Prem, and what he believes is his drunken dementia.
The girl breaks to him the news that she isn't Raveena, the heiress, and that Prem, hysterical with joy outside their window, has bagged said millionairess.
As a suddenly aware Amar, Khan's eyes droop before his insistent smile can, following which he convulses unsubtly into giant sobs.
It's genius.
And that's just one great Amar moment in Andaz Apna Apna; there are hundreds.
20 Reasons why we love Andaz Apna Apna
5. Lagaan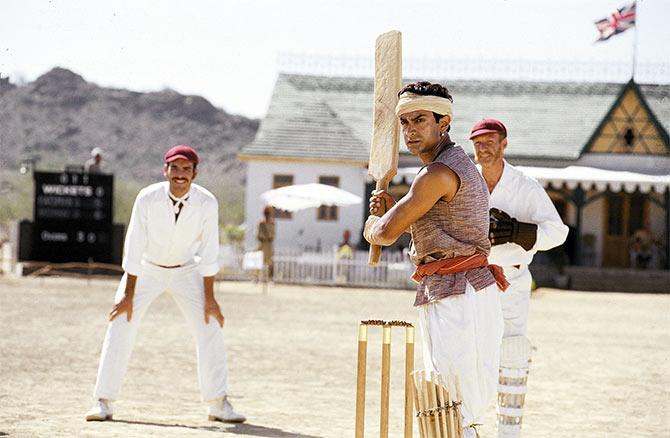 Image: Aamir Khan in Lagaan.
It's the kind of movie that makes you remember when and where you first watched it.
Lagaan is the one cricket movie that dug deep into our hearts -- hearts conditioned to root for an underdog team -- and struck gold.
Khan has a motley crew of too-quirky characters and some cartoonishly exaggerated ones around him, but his Bhuvan -- who grounds the film -- makes for a terrific rabble-rouser and a truly inspiring captain.
Celebrating Lagaan, 10 years on
6. Jo Jeeta Wohi Sikandar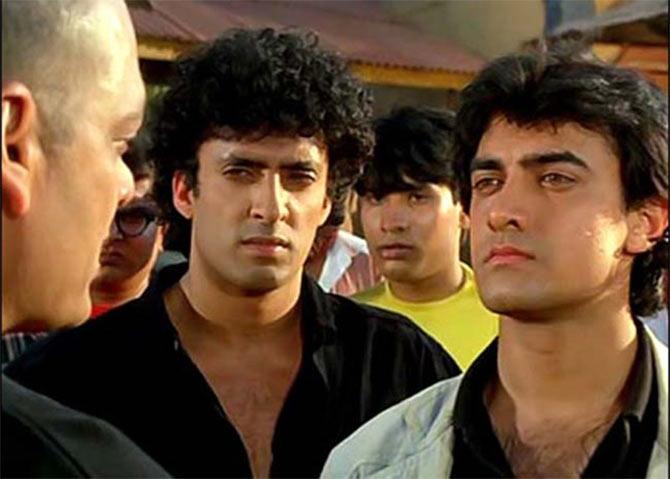 Image: Mamik and Aamir Khan in Jo Jeeta Wohi Sikander.
Watching Mansoor Khan's boarding school bicycle race film today is as much fun as it was when it came out over two decades ago, and this is mostly because of just how good Aamir is, so spontaneous, and with such an infectiously gleeful energy.
His Sanjaylal Sharma is an absolute scamp, a no-good wastrel but one delightful enough to hold the focus of the world around him.
A classic called Jo Jeeta Woh Sikander
7. Raakh
Image: Aamir Khan and Pankaj Kapur in Raakh.
One of Khan's earliest and most intense roles came in this lesser-seen Aditya Bhattacharya film where he plays a tightly wound young cop who unravelled like a yo-yo.
Khan hasn't often played fury very realistically, and this morally grey part allowed him to really tap into a darker, lesser-seen side -- something he does to frighteningly good effect in the film. He's great on the edge.
8. Rang De Basanti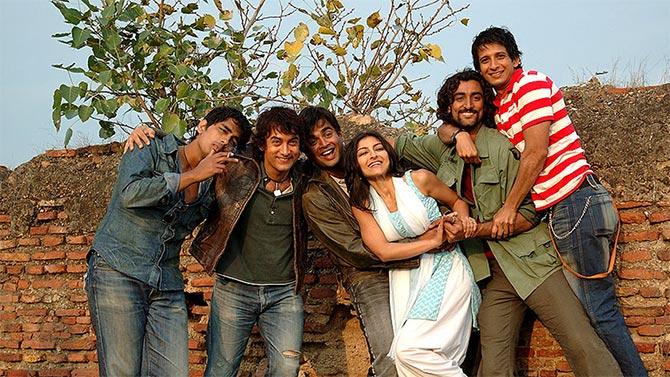 Image: A scene from Rang De Basanti.
Rakeysh Omprakash Mehra's much-celebrated 2006 smash saw Aamir play one of the pack instead of the absolute frontman, the star blending into an ensemble and letting every player have his part, including -- unsuperstarly enough -- handing the climax to another actor.
Each actor does well, but it's Khan's DJ who wins us over from the start, irrepressible and bouncy and full of reckless energy, wearing his heart on his rolled-up sleeve.
9. Qayamat Se Qayamat Tak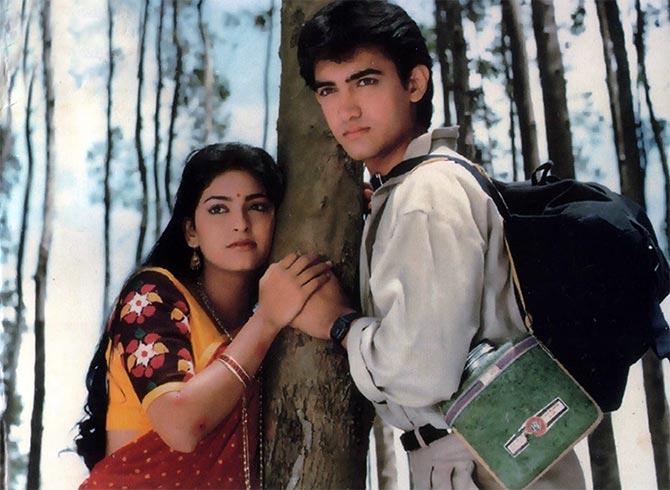 Image: Aamir Khan and Juhi Chawla in Qayamat Se Qayamat Tak.
Khan's rightfully celebrated debut as a leading man, this Mansoor Khan film, in many ways, set the mould for the modern Indian hero when it came out in 1988.
He's charming and chocolatey and fresh-faced and breezy; more boy than man and that's what made him so vibrant, so relatable.
Khan carries this Romeo role off with a seemingly unrehearsed, natural ease, quite a wonder for a first-time hero.
Celebrating Qayamat Se Qayamat Tak
10. Sarfarosh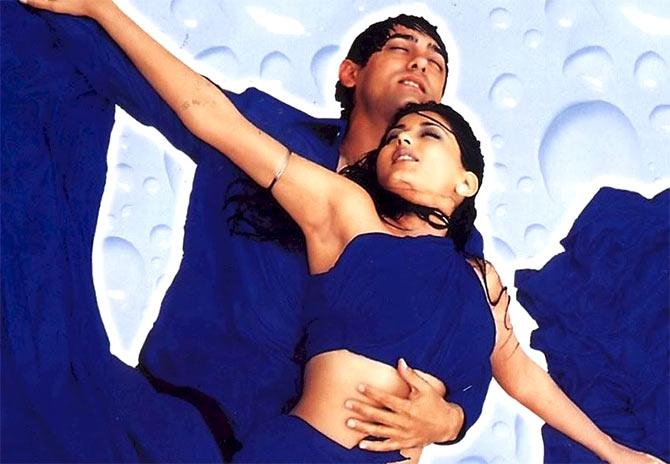 Image: Aamir Khan and Sonali Bendre in Sarfarosh.
The primary reason we look back at John Mathew Mathan's Sarfarosh with fondness is because of Khan's unflinchingly solid cop act that runs through the movie, forming its unbending spine.
Much is wayward around him -- Sonali Bendre is a pest and Naseeruddin Shah hams it up real large -- but Khan's Ajay Singh Rathod stays consistent and gritty enough to hold the film together.
Special Mention: Dhobi Ghat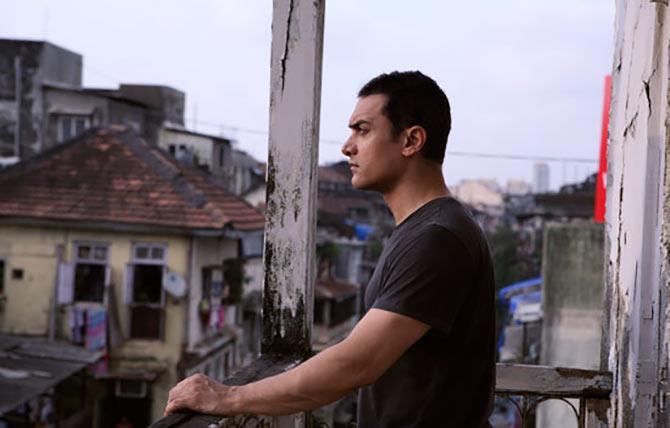 Image: Aamir Khan in Dhobi Ghat.
There is a significant caveat to this unique performance: Aamir is visibly uncomfortable acting in English, so his dialogues sound clunky and jarring.
And yet -- in a wordless scene where he almost sees a ghost -- panic and revulsion are writ so deep on Khan's face that he gives us a truly pure movie moment.
As I'd said in my review, that scene is one of his best ever.
So what are you waiting for? Vote now!