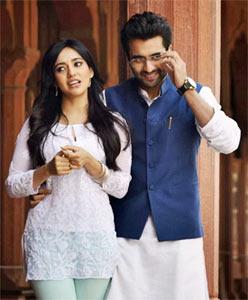 Youngistaan neither says something new nor does it reinforce time-tested wisdom in a way that you actually want to pay attention to it, feels Paloma Sharma.

The civilisation is ancient, the nation is young.

Development is the want of the hour. Progress -- both in the mind and outside of it -- is inevitable.

Change is coming. Elections are around the corner.

There is hope in the air. So excuse me while I plug my nose.

Following in the footsteps of the recent feel-good films that Bollywood has churned out for the (urban) youth, Youngistaan neither says something new nor does it reinforce time-tested wisdom in a way that you actually want to pay attention to it.

As if the natives of Switzerland, America and Australia weren't traumatised enough by Bollywood's beloved peepols prancing about their respective countries -- singing, dancing in impossibly tight and colourful clothes, getting drunk and in general, making asses of themselves -- debutant director Syed Ahmad Afzal makes sure to shoot the first 15-20 (agonizing slow) minutes in Tokyo, Japan where Abhimanyu Kaul (Jackky Bhagnani) and Anwita Chauhan (Neha Sharma) are living together.

Aside from merely living together, they also embrace each other an awful lot while going about the most mundane tasks in life, and smile and rub noses every time they forget their dialogues.

Abhimanyu's friend and fellow game-building colleague, Zafar (Kayoze Irani) is a permanent fixture in their apartment. Like the proper friends of every respectable Indian living abroad are, Zafar is also a Hindi-speaking Indian.

One morning, after a night of drinking, partying and scaring those poor, innocent Japanese people with their thumkas and jhatkas, a severely hung over Abhimanyu receives a phone call saying that his father, Dashrath Kaul (Boman Irani), is on his death bed.

His father, incidentally, is the Prime Minister of India.
Before breathing his last, Dashrath Kaul tells Abhimanyu things that could shake up the ruling party, the Akhil Bhartiya Kranti Party (ABKP), and get a lot of important people in trouble, and leaves him in the trusted care of his PA and advisor, Akbar (Farooque Sheikh).
Once his father passes, the ABKP supports Abhimanyu's candidacy as the acting Prime Minister until the next election, which is six months away. In compliance with his father's wishes and against those of his girlfriend's, he accepts.
The party's seasoned politicians believe that Abhimanyu will be their fall guy until the next election and take the blame for a highly unpopular government. However, Abhimanyu has plans of his own.
Perhaps it is because the mainstream filmmakers of this country have been suddenly instilled with a strong belief in the youth of this nation that we have so many films targeted at my generation or perhaps it is because of our newfound purchasing power -- either way, I ask for forgiveness for being a cynic well in advance. After Sixteen, Student of the Year, Yaariyaan etc, I've seen way too many of these tamashas.
Youngistaan was supposed to be a political drama but ended up being a romance for most of the two hours and 14 minutes. It focuses more on the personal life of the Prime Minister instead of his professional one -- which is not a bad idea either, except the director fails to choose between focusing on how Abhimanyu makes his politics work and how Abhimanyu makes his relationship work.
While the script might have appeared to have potential on paper, it just doesn't seem feasible when to translated onto celluloid.
Youngistaan makes tall claims of political awareness as well as being pro-youth and pro-change but it absolutely fails to grasp the basics
of geopolitics and international affairs.
The Prime Minister of the Republic of India simply does not give a Manoj Kumar-esque speech at the Headquarters of the United Nations, explaining the meaning of Namaste.
E-voting is highly unlikely to be implemented without several debates in both houses of Parliament and several, several years of adjournments.
Furthermore, the makers of Youngistaan practice perfect political correctness when it comes to the side stepping one of the most important youth issues -- reservation -- since it means getting into that murky history of caste in which we are all complicit. Director Syed Ahmad Afzal doesn't need to concern himself with all of that, of course. There's always Prakash Jha to deal with those things.
Youngistaan does not realise that Abhimanyu having a child with his live-in girlfriend without a wedding in sight is a little too far fetched in a country where Khap Panchayats are openly supported by politicians and 'intellectuals' alike. Even if the youth is the majority voter (and that's a big 'if'), the film conveniently forgets that a majority of the same youth was born and raised in a highly conservative atmosphere where fraanship still means having a girlfriend/boyfriend.
Just because we have smartphones today, doesn't mean we've gotten any smarter.
Youngistaan separates the most integral issues that India is facing -- caste murders, female foeticide and infanticide, and lack of health and sanitation -- to name a few; and expects things to magically change.
Jackky Bhagnani and Neha Sharma play two shiny, upper-caste, Hindu, urban, rich people who live a life of privilege but never stop to acknowledge it, instead acting on their Messiah syndrome as they go about touring villages, eating in poor people's homes and teaching malnourished children at the local shed/school.
The fact that Abhimanyu is yet another dynasty PM is treated more lightly than the weighing scale treats Nicole Richie.
Bhagnani has significantly improved from his F.A.L.T.U. days and isn't quite faltu anymore, although he still retains the title of being the poor man's Ranbir Kapoor.
There are moments in this film where Bhagnani actually believes that he is the PM of the country, and then there are moments where Sharma believes that she is not a Neha but an Anushka. The bubbly, independent, modern North Indian girl category has claimed yet another victim.
Youngistaan might make you slightly sentimental if you've been a cinema lover for a while because it features the late and inimitable Farooque Sheikh in quite a few scenes.
Apart from that, the film drags its legs until the interval. Abhimanyu's much hyped election campaign is given only 15 minutes or so of screen time and several subplots do not make it back, full circle.
There are moments where Youngistaan seems to make sense. You really want to believe that someone like Abhimanyu, someone young and full of new ideas, can change the country.
You feel hopeful about both India as well as the film.
When you hear the soundtrack, you think that maybe it is in these soothing sounds that Youngistaan will find its salvation.
There is a wish in you to see it succeed but that only lasts for a total of five minutes, after which you're just waiting for The Viral Fever and All India Bakchod to make a spoof of this film; and if I may be cheeky enough to say so, it seems to be funded by the well wishers of certain princes of politics.
All in all, Youngistaan makes claims like Modi, implements policies like Rahul and has a persistent cough like Kejriwal, and I certainly wouldn't vote for it.
Rediff Rating: