''I will miss her camaraderie, her humour, love for food and passion for film.'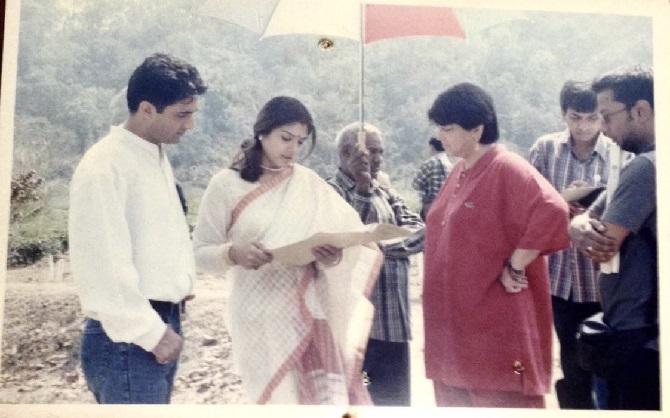 Film-maker Kalpana Lajmi passed into ages on Sunday, September 23, morning from chronic kidney disease and liver failure. She was 64.
Kalpana Lajmi left a deep impact on many lives.
Dipannita Sharma: R.I.P #KalpanaLajmi ...extremely talented & evolved. May you & #Bhupenda forever be together & happy in the afterlife, away from the judgements of small minded mortal beings,who wouldn't ever understand what you meant for each other. Prayers with for the family.
Soni Razdan: Our dear beloved friend Kalpana Lajmi has gone to a better place. RIP my darling Kalpan. I shall miss you so terribly.
Raveena Tandon: You will be missed Kalpanaji. Was not your time to go..but may your heart now be at peace. Those days while shooting Daman will be a treasured memory. #KalpanaLajmi Om Shanti.
Nandita Das: Deeply saddened by the news of Kalpana Lajmi leaving us. I had promised to meet her in the coming week, after the Manto release. No greater pain than losing one's child, so my deepest condolences to Lalitaji.
Raj Babbar: Deeply saddened. In #KalpanaLajmi ji's passing away we've lost a great soul. While doing #Rudali with her, I couldn't stop admiring her immense capability to empathise. Always, a great friend Kalpana ji, you will be missed very much.
Boman Irani: Deeply saddened by the news this morning. Your boundless energy will be missed....and will always cherish your films and contribution to the Indian Cinema, #KalpanaLajmi Ji. Sincere condolences to her near and dear ones.
Esha Gupta: I hope nothing but peace for you, RIP Kalpana ji. #Kalpanalajmi
Hansal Mehta: Just heard about Kalpana Lajmi passing away. Had worked with her as an editor when she made Darmiyaan. Will always remember her with fondness and respect for being a fearless woman and a powerhouse of a person in a male dominated industry. Rest In Peace dear Kalpana.
Huma Qureshi: Deeply saddened... at around 4:30 am today morning #KalpanaLajmi passed away .. May she rest in peace.
Adil Hussain: Very very sad to hear that #KalpanaLajmi who made such beautiful films as #Rudaali has passed away. May God give her peace.
Poonam Dhillon: Saddened to know about the passing away of talented director @KalpanaLajmi RIP.
Annu Kapoor: Deeply saddened by the sad demise of Kalpana Lajmi, an eminent director and niece of genius Gurudutt. Worked together when she assisted Shyam Benegal in Mandi 36 years back. May her soul rest in peace
Ranvir Shorey: Saddened to hear of Kalpana Lajmi's demise. A warm and affectionate human being who made a huge contribution to socially relevant cinema in India. Will miss her. Respects.
Abhimanyu Singh: Saddened by the demise of renowned film-maker #KalpanaLajmi. Her creations will always be unforgettable. Condolences to the family.
Dev Benegal: Sad to hear about the passing of #KalpanaLajmi from @mitrakalita. Kalpana & I worked together as assistants. She was a powerhouse who made men uncomfortable because she stood fiercely for her rights, her point of view & to tell stories her way... I will miss her camaraderie, her humour, love for food and passion for film.
Vivek Agnihotri: Got up to hear the sad news of Kalpana Lajmi's demise. One of my first friends in the industry. So full of life. OM Shanti.
Onir: RIP #KalpanaLajmi . My first exposure to a film shooting was while working as a song director and editor in Daman. Remember many evenings of food and music in her residence along with Bhupen Da. Learned a lot while working with her.
Adnan Sami: Extremely saddened by the news of Kalpana Lajmi's demise. She was a lovely person full of life & humour. Will miss her. May she rest in peace.
Mamata Banerjee: Saddened by the passing away of acclaimed filmmaker, producer & screenwriter Kalpana Lajmi who stood for breaking new ground in Indian cinema with films like Rudaali. My condolences to her family and admirers.
Tarun Gogoi: Deeply anguished by the passing away of acclaimed film maker, director & screenwriter #Kalpana_Lajmi.She was known for her devotion, boldness & undaunted spirit in the Indian film industry. Her films Rudali & Daman will remain eternal. May her departed soul rest in peace.
Vasundhara Raje: The passing of #KalpanaLajmi, a diverse and versatile filmmaker is a great loss to Indian cinema. My deepest condolences to her family.
Naveen Patnaik: Saddened on the demise of #KalpanaLajmi, noted filmmaker and an icon of independent cinema in the country. Her films are vividly remembered for their women-centric stories and her presence will be missed in Indian cinema.
President of India: Sorry to hear of the passing of Kalpana Lajmi, a film-maker of rare sensitivity. The repertoire of her work, from depicting strong and resilient women to cinematic renditions of Assamese life, was remarkable. Condolences to her family and well-wishers #PresidentKovind