'If you can do new things everyday, your mind will be challenged.'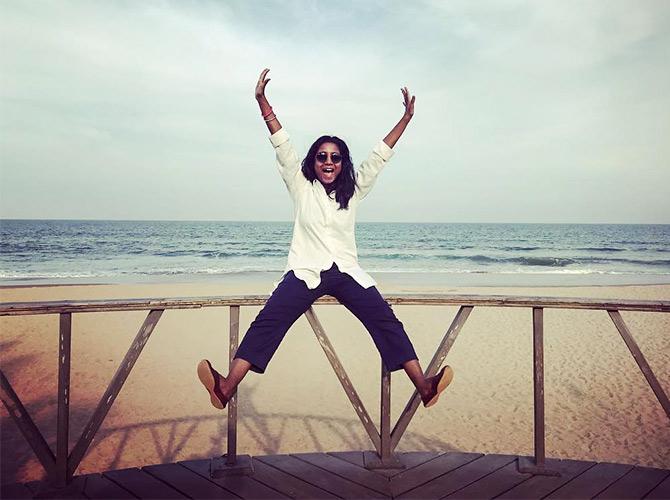 Photograph: Kind courtesy Shilpa Rao/Instagram
Music has always dominated Shilpa Rao's 'simple' life.
"We didn't have a fancy childhood," the singer says. "My parents still ask me, 'Why do you spend so much? What is the need for it?'"
Shilpa -- who has sung Malang (Dhoom 3), Gustakh Dil (English Vinglish), Bulleya, Aaj Jaane Ki Zid Na Karo (Ae Dil Hai Mushkil) and Phir Kya Hai Gham (Hichki) -- leads a "normal" life, she says.
"My parents taught me how to do things that really matter to me the most rather than doing things that are necessary for survival," she says, and that is her biggest life lesson.
Rediff.com's Jahnavi Patel met Shilpa at her spacious apartment on the 12th floor of a high-rise in Andheri, north west Mumbai.
Jahnavi could see the lifeline of the city -- Mumbai's famed local trains -- as well as planes lined up at the airport from Shilpa's window.
Did you always want to be a singer?
Dad used to teach me music, as a kid.
I didn't want to be a musician, but he was constantly after me to have formal training in music.
So I met Hariharan uncle in Mumbai and he sent me to Guruji, Khaansaab (Ustad Ghulam Mustafa Khan) to learn. That's when I started feeling strongly towards music.
I am doing what I do because of these three people.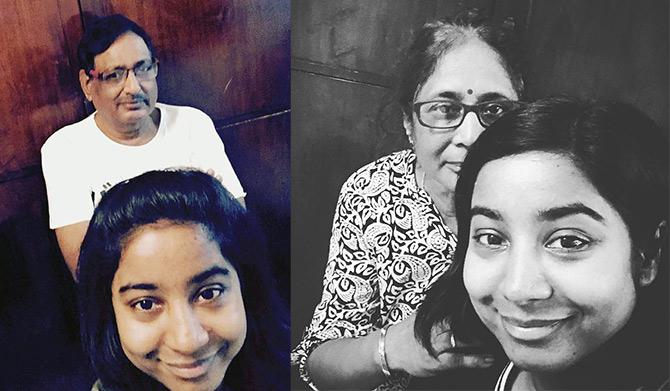 Photograph: Kind courtesy Shilpa Rao/Instagram
It is not very often that we see parents encouraging their children to take up music as a profession.
My parents are weird!
My father never saw this as a hobby.
My parents keep pointing to basics like work on your craft, practice more.
I started taking Urdu lessons to get the diction right and understand the meanings.
It's really important to have somebody in your life to keep you grounded.
It could be your parents, siblings, friends, a mentor... it is necessary to listen to them and give them that freedom to tell you that you are doing something wrong.
Having a yes-man around you is not good.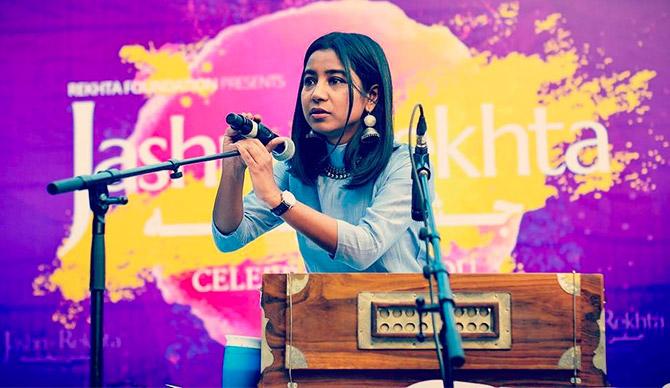 Photograph: Kind courtesy Shilpa Rao/Instagram
After Ae Dil Hai Mushkil, you took a two-year break and returned with Hichki this year. What have you been doing during this time?
I love to collaborate with people, so I keep doing that -- be it Karsh Kale or Coke Studio Pakistan or Parikrama, Agnee, I keep making a lot of collaborations.
I jam with other musicians or perform at festivals.
I have also started doing ghazal recitals. I would sing ghazals in Delhi for an hour-and-a- half; I did it at the Jaipur Lit Fest too. I find it very satisfying.
Everyone has their own side project, and it's important to have that because you can get too blinded by Bollywood.
Singers are doing Bollywood as well as their own thing. They are writing songs, making videos... in their own capacity, of course.
Have you ever felt a dearth of work?
No, there is work for everybody. You just have to jam with the right people.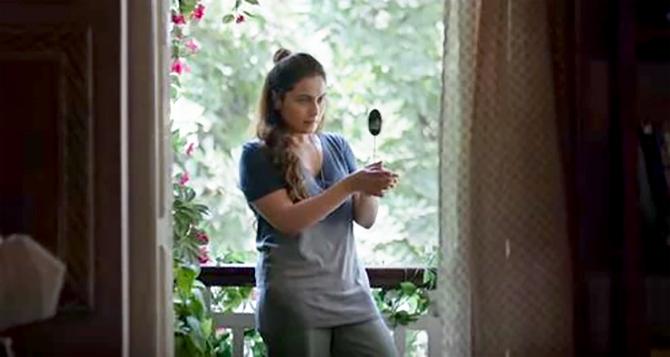 IMAGE: Rani Mukerji in Hichki.
Female singers have said they don't have enough parts to sing in a song. Has that changed?
It has always been the same.
I remember my first song from Anwar (Tose naina lage). My father heard it and he was like 'You just have six lines'.
I said that's okay, as long as it has an impact.
Even if a female singer has four lines, sometimes you remember just those lines.
You give me two lines and I will make it count. That's how you still stand strong.
Leaving a mark in a song is more important.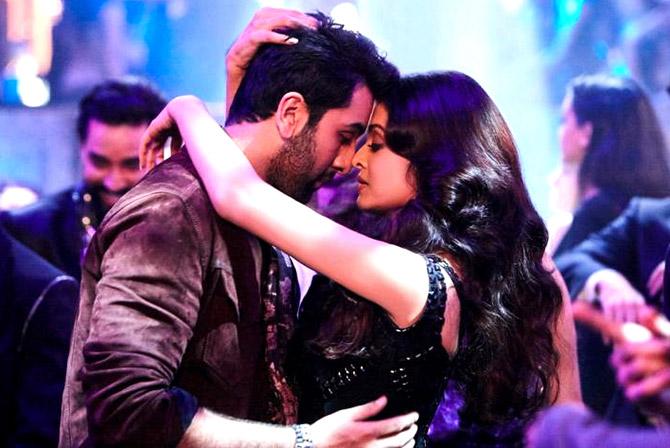 IMAGE: Ranbir Kapoor and Aishwarya Rai Bachchan in Ae Dil Hai Mushkil.
You have been a part of Coke Studio Pakistan. Tell us about your experience.
It was really good. It pushes you to limits that sometimes you don't get to, like singing a full song in real time without any cut.
I had done it for Karsh's episode (Coke Studio India) and I did it there. It is something I had never done before. It really challenges you.
If you can do new things everyday, your mind will be challenged.
It was amazing working with those musicians in Coke Studio Pakistan; the warmth that they have, their love for music is exceptional.
WATCH: Shilpa Rao sings, and takes us through her chartbusters. Video and Production: Hitesh Harisinghani/Rediff.com. Additional video: Afsar Dayatar/ Rediff.com
How do you select a project?
You don't select a project, it comes to you and you have to make it your own.
So if someone asks me to sing a song, if I am not bringing my perspective to it, what is the point?
Till that doesn't happen, there is no uniqueness that you can demand from a singer.
What are your strengths and weaknesses as a singer?
I am not consistent -- that's my plus as well as my minus point.
Sometimes people want new things from you.
So every time you do something, inconsistently, something new comes up.
But it is also bad sometimes.