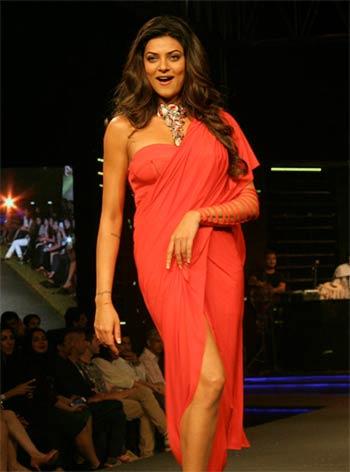 'My older daughter Renee wanted to become an actress since she was two!'
'I just have one condition: she must complete her education first.'
'When my daughter joins the film industry, she will not say I don't know anything other than acting.'
Sushmita Sen shares her plans.
Former Miss Universe Sushmita Sen steps into the limelight again with television show Comedy Superstars, which she will judge with Sonu Sood and Shekhar Suman. It will premiere on August 22 on Sab TV.
The last time we saw the gorgeous actress on TV was the 2008 reality show, Ek Khiladi Ek Haseena.
Sushmita tells Rediff.com contributor Rajul Hegde what to expect:
What kind of comedies do you like?
I don't have any favourites but I like situational comedies, not forced ones.
I am a Tin Tin girl, and grew up on Archie's comics. Then I was introduced to Mr Bean.
When I laugh, someone has to hold my chair! They have done that on Comedy Superstars.
What is it like to judge a comedy show?
As a performer, we look for applause. But judging a show comes with a lot of responsibility, as we have the job of making or breaking somebody's dreams and career.
There will be no public voting. The panel judges will make sure the contestants are rewarded in a fair way.
The contestants were so wonderful, there were times I wondered whether I would be to pull off those performances! The most painful part of the journey was to bid adieu to contestants.
When can we see you do more films?
I can't chase things.
But yes, I want to do Bollywood films. I just finished my Bengali film, Nirbaak. It's making festival rounds now. In Nirbaak, there are four love stories with a common thread weaving through them.
Will we see you in a telly soap in future?
Everything is an opportunity for me. If something clicks, I will definitely do it but it should feel right.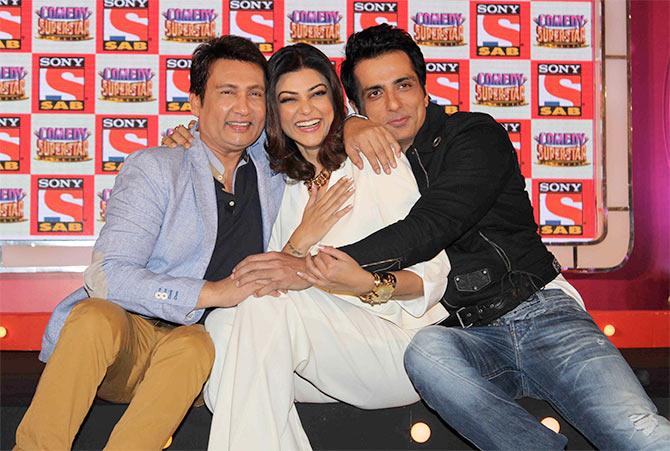 Image: Shekhar Suman, Sushmita Sen and Sonu Sood
Do your daughters want to become actresses?
My older daughter Renee wanted to become an actress since she was two! She will turn 16 on September 4.
I just have one condition: she must complete her education first.
I had passed my 12th, and immediately entered Miss India, followed by Miss Universe.
Although God has been very kind to me, it took me 10 years to stand on my own feet and think independently. Before, when I saw people with PhD and Masters degrees, I would feel bad about not having completed my studies. So it's my desire to see my children get good degrees.
When my daughter joins the film industry, she will not say I don't know anything other than acting.
Has any actress impressed you in recent times?
Kangana! Kangana! Kangana!
First, I was blown away with Queen.
After that, Tanu Weds Manu 2.
Hats off to that kid! She is a brilliant actress.
What are you thoughts on the pornography ban?
I am completely against child pornography.
But before banning something, one should think of the consequences.
We are living in the age of Google and YouTube. You are telling someone that yeh aap hamaray desh mein nahi dekh saktay. Kyun bhai? (you're saying you cannot watch this in our country. Why?)
Should we go to another country and watch it?
Educated people are leaving our country and moving out. That really troubles me.
Sushmita Sen's photograph, top: Reuben NV