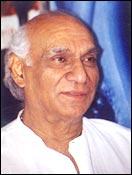 Y
ash Chopra's
Veer-Zaara
is probably the most awaited film this year. And the director knows it only too well.
No wonder then, he's teasing the audiences with only bits of information. First, he held back the name of the Shah Rukh Khan-Preity Zinta-Rani Mukerji starrer.
Now, he appears tight-lipped about the story.
The film is scheduled for a November 12 release.
While putting finishing touches to this ambitious Indo-Pak love story, Yash Chopra takes time off to discuss the recipe for his abiding success with Subhash K Jha.
From
Dhool Ka Phool
to
Dhoom,
there has never been a success like yours.
God is kind. There's no other reason for this. I don't deserve this success. There's no formula for success, except a pure soul.
Look at Lata Mangeshkar. Like her, I'm completely focussed on my work. I have never looked back. I have always taken risks.
When my son Aditya directed Dilwale Dulhaniya Le Jayenge in 1995, the overseas distributors started acting tough. So we opened our own offices abroad. Today, we have our own overseas network all over the world. God gave me so much money for DDLJ that I decided to invest it in a dream studio. That is on the verge of completion.
Now, I am ready to release my first film in seven years. And I'm as nervous as a newcomer. I don't know what expectations people have from me.
Why this long gap?
Aditya made Mohabbatein, which took a lot of time and energy. Then, we started looking for a script for me to direct. But nothing seemed to excite us. There's a complete bankruptcy of screenwriting in our cinema. I wanted a very earthy and Indian subject.
I was tired of television promos. All the semi-clad girls look the same. Of course, Dhoom has them too. But I'd personally not make a film like that.
With Veer-Zaara around the corner, I'm as nervous as I was when I directed my first film Dhool Ka Phool [1959]. Then, I was judged as B R Chopra's younger brother.
In 1973, I was nervous again when I branched out on my own, to produce and direct Daag. I knew I was doomed if it failed. I remember the first trial show 12 days before its release. People praised me. But I could see the hesitation about the controversial subject -- a man with two wives. And my leading man Rajesh Khanna had as many as eight flops before Daag.
But to my relief, the film was a superhit.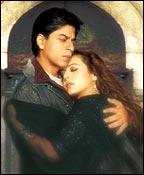 Why so much secrecy about Veer-Zaara?
Perhaps people are more curious than we are secretive about our film. (laughs)
The truth is, while we were shooting Veer-Zaara, there was constant debate and argument between Aditya and me. Veer-Zaara is one of the most difficult films I have ever made. We had no time to think of anything else but to complete the film.
We needed to shoot in Punjab during a particular season. By the grace of God, we got all the stars' dates. When we returned, we completed the indoors shooting. So people presumed we were secretive about the project because of its sensitive [Indo-Pak] subject when, in fact, we never got time to make announcements.
After completing the film, Aditya -- who conceived the project, as well as wrote the script, story and dialogues -- and I started debating on the title. We first thought of calling it Yeh Kahan Aa Gaye Hum. But Veer-Zaara went better with the mood of the film. The film's lovers [Shah Rukh Khan and Preity Zinta] are not bothered with the strife around them. For them, love is the only religion.
We never knew it would evoke such curiosity. Now, we don't intend to publicise the film until the music release on September 18 .
Why did you choose a cross-border romance?
I'll tell you something. I had finalised another script. Even the casting was done. Then, Aditya came up with another idea. He told me he could not direct this subject, that I had to do it. He narrated a few scenes, and I was hooked.
Though it is a film about cross-border love, there is not a word of politics in it. Forget politics, there isn't even a slap or raised voices in Veer-Zaara.
It is a very intense, humane and emotional story. Veer-Zaara is a humble tribute to my home in Punjab. It is my tribute to the oneness of people on both sides of the border.
Every religion preaches peace. Then why the bloodshed for the sake of religion? Why are we destroying each other? The film stars Shah Rukh, who is like my ghar ka hero. He has given his career's best performance in Veer-Zaara. Though he is cast with two ladies, it is not a [love] triangle.
Shah Rukh's love interest is played by Preity Zinta. I wanted a girl whose look and personality could be transformed. She has always been presented as tomboyish and Westernised. In Veer-Zaara, I wanted to change her into something different. I took four or five screen tests. I hope I have succeeded.
The music is composed by the late composer Madan Mohan. How did that happen?
My close friends believe, 'Yash Chopra is fond of committing suicide.'
But there is no creativity without challenge. I have never made a film that is a remake of a South Indian or Hollywood film. Yes, I failed with two of my favourite films, Silsila and Lamhe. But they enthused me to take up more challenges.
With Veer-Zaara, I have taken on another challenge. Whether we have succeeded with the experiment or not is up to people to decide. The music of Veer-Zaara is not what I would call a routine music score. It is not just music; we are actually trying to create history.
The tunes were composed by Madan Mohan and kept away for use in the future. Unfortunately, he died young. When I planned Veer-Zaara, I approached a number of music directors. Lekin baat kuch bani nahin [Nothing worked out].
Then, Madan Mohan's son Sanjeev Kohli -- the CEO of my company -- suggested I listen to his father's unused tunes. From the hundreds of tunes, we selected about 30. They were dummy recorded and the results were impressive. The music fitted my theme completely. We have finalised nine tunes, and two bonus tracks for Madan Mohan's fans.
Almost 30 years after his death, we have recorded his tunes in his -- and my -- favourite voice: Lata Mangeshkar's. When she came for the recording, she had tears in her eyes. She said, 'Madan Mohan was like my brother. You are like my brother. I feel I have gone back in past.'
You share a very special rapport with her.
Lataji has always been kind to me. She can never say no to me. She will sing for my films. And since we are creating history in Veer-Zaara by reviving Madan Mohan's tunes 30 years after his death, how can she not be there?
And she has sung like an angel. That a lady at 75 [Lata turns 75 on September 28] can sing like this is unbelievable. Unhone hamari jaan nikal lee. Woh log khush naseeb hain jinhe Lataji ke saath aaj bhi kaam karne ka saubhagya mil raha hai [she took my life away. Those who work with her today are very lucky].
People call her an avatar of Goddess Saraswati. I don't know who said this but whoever it was, he was right when he said that when others sing they follow music, but when she sings, music follows her.
When she sang for Dhool Ka Phool, I was in awe of her. Today, I am much closer to her but the awe remains. I am a very small player in the story of the Indian film industry. She has given so much more. The two of us have come together with lyricist Javed Akhtar to pay a homage to one of our greatest composers.
You are also starting your own music company.
You know the old saying: Necessity is the mother of invention.
I never intended to start my own music company but the music business is in the doldrums. Music companies are dictating terms on how music albums should look and sound. To keep my head high, I have started my music company with Veer-Zaara.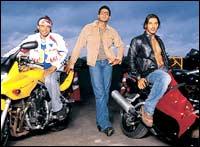 Even Dhoom's music has become a hit though there are no romantic songs. People wondered how a film like this came from my banner. But Dhoom has nothing to do with me directly. To keep the company going, we need talent from outside. We let directors come to our banner with their own sensibilities. We have to make three or four different kinds of films every year. That's the only way to grow.
Your productions, Hum Tum and Dhoom have been big hits.
That is Aditya's domain. He handles the creative side of our productions. I handle the financial aspect.
When Aditya and I make a film, we discuss everything in detail. But a film like Dhoom is orchestrated entirely by him.
Since Hum Tum was a romantic film, it was not so costly. But Dhoom was very expensive. We had to import nine motorbikes. Australian stuntmen were included and production costs shot up. But when I saw the end product, I knew it would be successful.
But I never thought it would be this successful. It had no major stars. Abhishek Bachchan, Uday Chopra, John Abraham, Esha Deol and Rimii Sen aren't big stars. But Dhoom is doing unbelievable business. I think it worked for its young international look. Though I am the producer, I don't have anything to do with Dhoom's creativity.
And yet in the 1970s, you made action films like Deewar, Kala Patthar and Trishul.
Those subjects came to me and I liked them. But after those, I had a series of failures like Vijay, Parampara and Faasle.
One day, I was driving down Mumbai's suburbs. Every hoarding that I saw had men with guns. I realised I was losing my way. I believed in romantic films, so why wasn't I making them? So I made Chandni.
When I was asked about the film's highlights, I said it was the songs. When a distributor saw Vinod Khanna in a romantic role, he left my film! When it was released, people predicted that it would flop. But its success reaffirmed my faith in my vision and my audience. That faith has stood by me all these years.
What do you feel about the films being made these days?
We are making all kinds of films -- English, Hinglish, sex, horror...
It's a healthy trend. But for a film to run, it has to have Indian values.