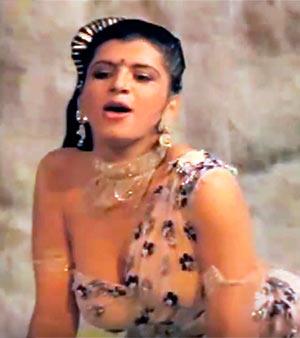 People change.
But filmmaker-turned-Chairman of Central Board of Film Certification Pahlaj Nihalani is an altogether different man.
Nowadays, he's up in arms about all things sex and violence, which has generated frustration, anger and hilarity (like Sanskari Bond memes) among those in Bollywood who completely disagree with his squeamish approach.
It would hurt a little less if Nihalani -- who recently received enormous flak for his embarrassingly bad short to applaud Prime Minister Narendra Modi's efforts -- wouldn't display such an extreme case of double standards and convenient memory loss.
If he glanced back at his own filmography as producer, by his own brand new standards; the man would have a hard time approving the extent of vulgarity and provocation they contained.
We've compiled bits and pieces of the same.
Andaz
Andaz, the one with Anil Kapoor as a schoolteacher, Juhi Chawla as his wife and Karisma Kapoor playing his infatuated student could well be about sex education at its explicit worst even if Nihalani insists 'it was about the sacred relationship between a teacher and student.'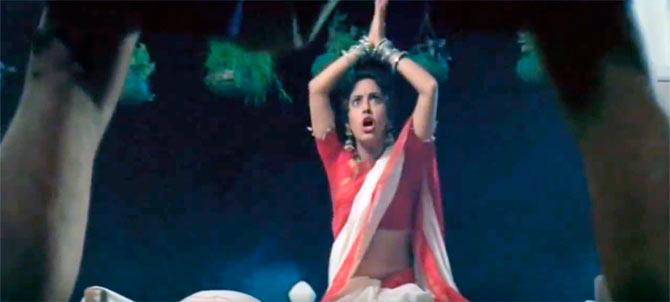 For starters, there's a brazen song called Khadda hai Khadda Hai Sar Pe Tere Aashiq Khada Hai, featuring an aroused AK and embarrassed Juhi.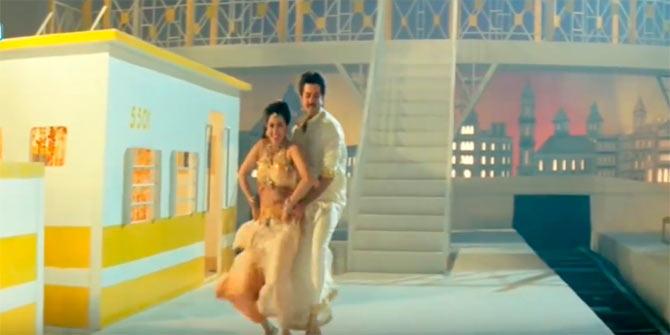 Not to mention the sleazy, sexually charged Main Maalgadi Tu Dhakka Laga, also featuring an aroused AK and embarrassed Juhi.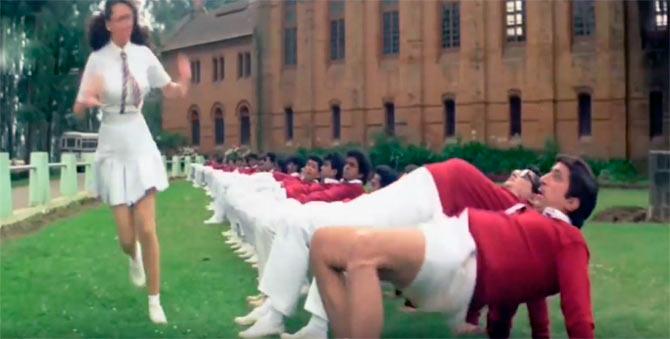 And then there's Shakti Kapoor leading a group of overgrown men in school uniform strutting their pelvic region in Karisma Kapoor's direction in the highly inappropriate choreography of Laila Bechari Kya Karti.


Aankhen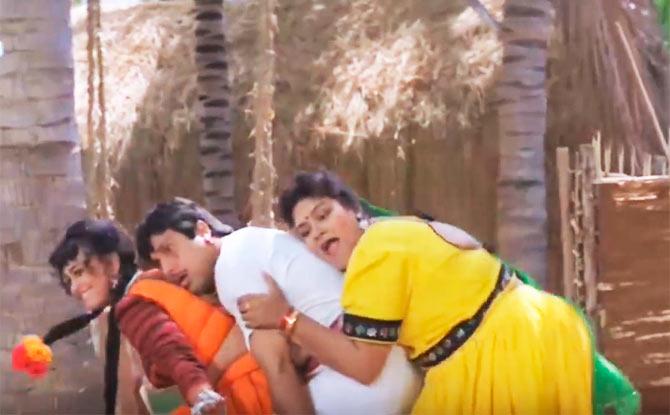 You'd think David Dhawan's Aankhen is a silly entertainer high on Govinda, Chunky Pandey and Kader Khan's pedestrian comedy. But it's also a movie about people offering a free-for-all parade in sexual positions.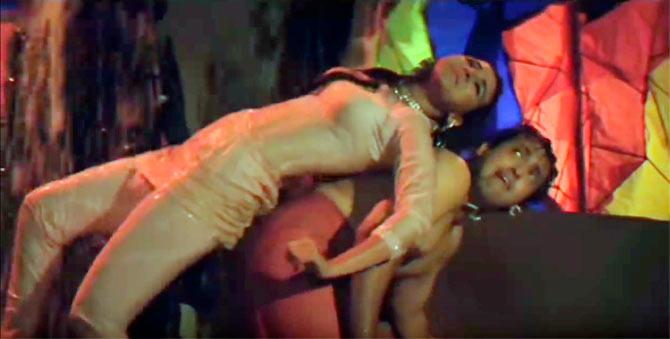 Funny thing is only recently Nihalani remarked, 'You want to do sex in your house with your door open. And show to people the way you are doing sex.'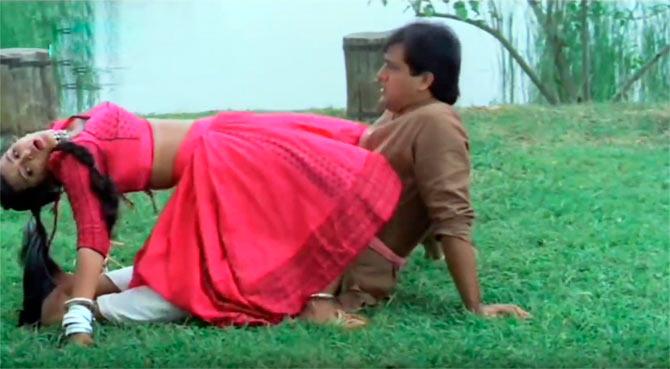 Looks like he completely forgot the range he served in his own Aankhen. We've got multiple samples to make our point.


Shola Aur Shabnam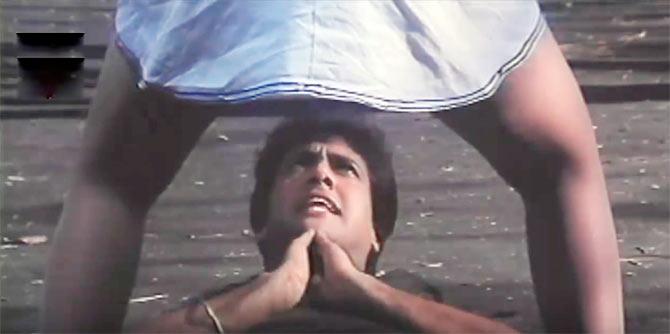 A group of women, led by Divya Bharti, chase down Govinda and pretty much molest him to, er, teach him a lesson, for, um, our entertainment during the song Jaane De performing these suggestive steps.

Yikes.


Mitti Aur Sona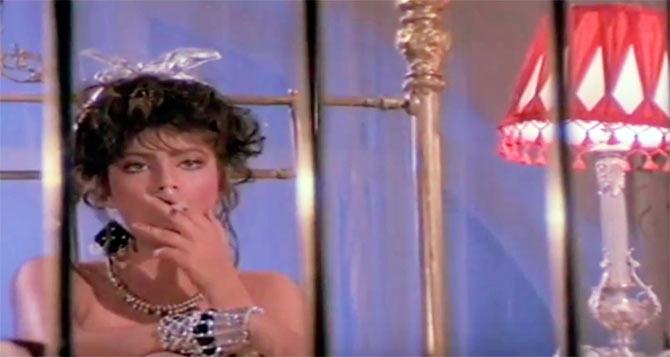 He'd have to give himself a hard time over Sonam's cigarette-puffing character in the 1989 film Mitti Aur Sona, wherein the yesteryear sex symbol plays a sex worker.
Smoking, that too by a woman, would be completely against his newly acquired 'there has to be a Lakshman Rekha' policy.


Aag Ka Gola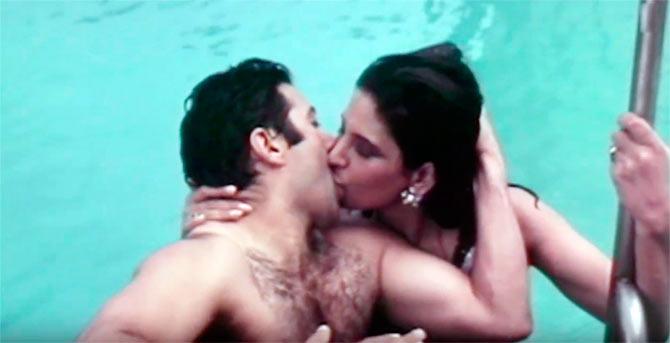 So much fuss over James Bond kissing and in Nihalani's 1980s potboiler Aag Ka Gola, Sunny Deol and Archana Puran Singh's pool lip lock plays in a loop to, quite obviously, gratify frontbenchers.


Ilzaam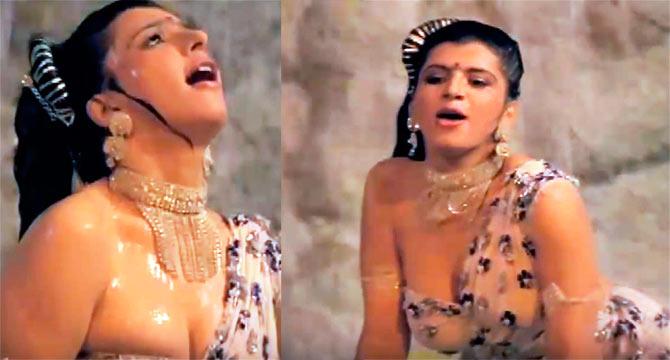 'There is not a single vulgar shot in my cinema.'
Perhaps Anita Raj's orgasmic expression while playing temptress in a transparent sari under a faux waterfall, close on the heels of Mandakini's bare-it-all moment in Ram Teri Ganga Maili, passed off as a cabaret number in Ilzaam wouldn't really qualify as holier than thou.