Sheb Wooley, American country singer and a character actor in Hollywood Westerns, died in Nashville, Tennessee, yesterday at the age of 82, his wife said.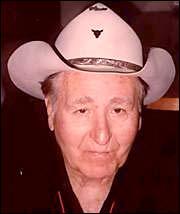 Wooley was diagnosed with leukaemia back in 1996. On Monday he was admitted to hospital in Nashville. A day later he died.
Wooley had paid tribute to American country singer Johnny Cash on Sunday. Cash, also a resident of Nashville, died on Friday, September 12.
Wooley's wife Linda said, "It was just his time to go."
Wooley appeared in more than 60 movies, mostly Westerns, and 50 television shows. He also recorded pop and country songs.
Born in Erick, Oklahoma, on April 10, 1921, Wooley was a cowboy in his youth. His music got him work on the radio, from where he went into the movies, making his debut in the 1950 Errol Flynn-starrer Rocky Mountain and going on to play supporting roles for the next dozen years.
One of his better known roles was that of Ben Miller, a whiskey-guzzling killer, in the 1952 Gary Cooper classic High Noon.
Some of the other big movies he appeared in were Apache Drums (1950), Seven Brides for Seven Brothers (1954), Giant (1956), The Outlaw Josey Wales (1976) and Silverado (1985). He received good notices as the scout Pete Nolan in the hit 1959 television series Rawhide.
His song, 'The Purple People Eater', about an unidentified flying object, went to #1 on the pop music lists back in 1958, selling 3 million copies. Wooley also acted in a movie of the same name in 1988. It was the last movie he acted in.