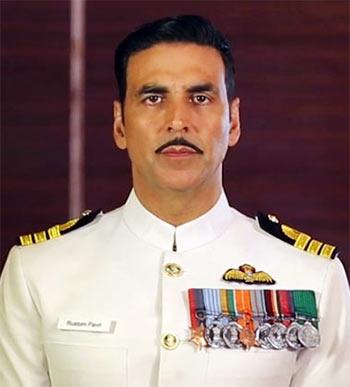 'We have seen a lot of Hindi films where the men cheat and ask the women for forgiveness. Then we show that she forgives him and they live happily every after.'
'But till date, there has been no film where a woman cheats and asks for forgiveness and then the male has to decide if he wants to forgive her or not.'
Akshay Kumar talks Rustom.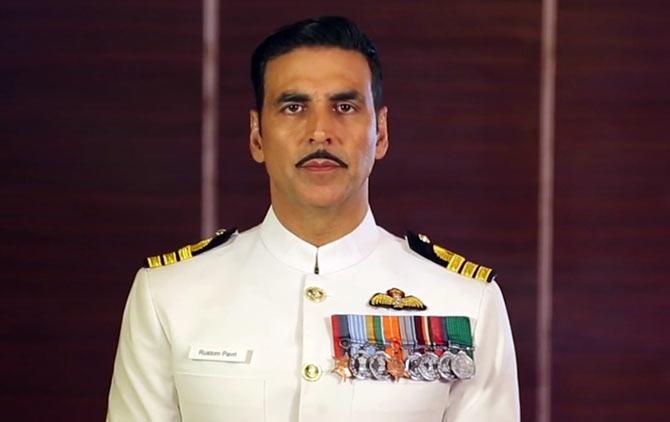 IMAGE: Akshay Kumar in Rustom
So who does Akshay Kumar -- the superstar who seemingly has it all -- envy?
Men in uniform, he says.
And so, the actor decided to step into uniform for his next film, Rustom. He plays a navy officer, who is charged of killing his wife's lover, in the film that is reportedly based on a true story. Directed by Tinu Suresh Desai, the film also stars Ileana D'Cruz and Esha Gupta.
Akshay discusses Rustom, his cameo in Dishoom, and gives us his take on Naseeruddin Shah's comment on his late father-in-law, Rajesh Khanna. Jahnavi Patel/ Rediff.com listens in.
When you do a film based on a real life incident, does it add any kind of pressure or responsibility?
The film is based on true incidents, not just one. It is a story with a lot of incidents put together.
When I take up a film, my responsibility ends there, and my director's responsibility starts. I only have to act.
I have seen the film and can only say that women are going to love it.
Did you keep anyone in mind while playing a Parsi character?
I have a Parsi secretary; she was the reference point.
My best friends from school were Parsi.
I know Parsis very well. That's the only homework I had done.
The only thing I did was copy my manager's father's moustache.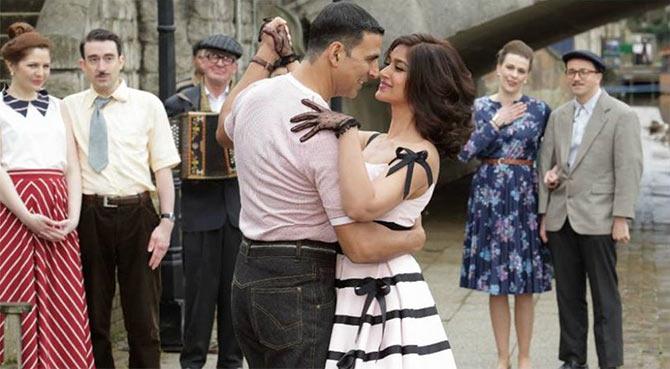 IMAGE: Akshay Kumar and Ileana D'Cruz in Rustom
How much of the film is fiction?
Well, to show that one incident matches the other, to bring that continuation, is fiction. Everything else is real.

You have consciously tried to maintain a balance with the kind of movies you are doing this year -- from Airlift to Housefull 3, a cameo in Dishoom and now Rustom.

I try and get different roles. They should not match because then it will get boring.
I want to get up in the morning and feel good that I am going to do something different. I can do the same thing for maximum two months, after that it gets boring. That's why I try and finish a film in two or two and a half months.
Like I just started Jolly LLB and will be done in a month.

We are going to see a new aspect in relationships, where the wife is cheating on her husband in Rustom.
We have seen a lot of Hindi films where the men cheat and ask the women for forgiveness. Then we show that she forgives him and they live happily every after.
But till date, there has been no film where a woman cheats and asks for forgiveness and then the male has to decide if he wants to forgive her or not. That is the USP.
And nobody can deny that this (a woman cheating on the man) happens.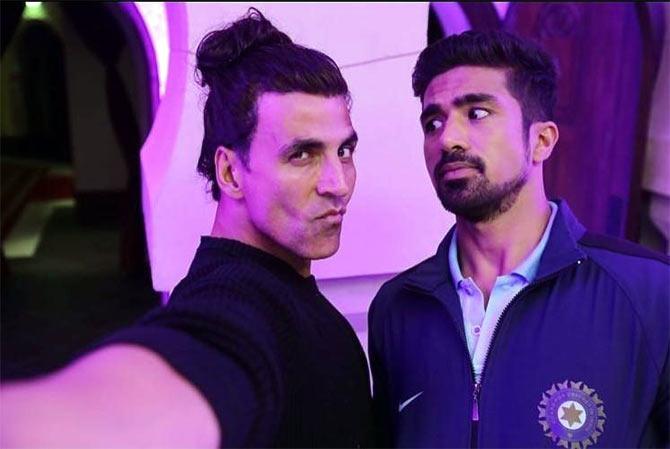 IMAGE: Akshay Kumar and Saqib Saleem in Dishoom
Your role in Dishoom did not mock the homosexual community. Was that your prime concern?
A lot of people make a caricature of homosexuals -- like bending their wrists in a particular manner. I have never seen something like that in real life. They are as normal as all of us, so why do something like that?
I have not seen Parsis talk in that accent that we assume. They talk normally.
Rustom releases on the same day as Mohenjo Daro. What do you have to say about that?
It's a big date, a long weekend, and history has shown that on such dates, two movies can easily do good business. We wish that both films do well.
I haven't spoken to Ashutosh Gowariker or Hrithik Roshan regarding that.

Neeraj Pandey, with whom you have collaborated many times, is not directing the film. He is producing it. How was that experience?
This film is guided through him. Neeraj is the producer and the presenter. There is a certain faith in Neeraj.
Even if Neeraj wouldn't have been there, I would have still done it because the script and screenplay is so good.
It's great that he is there, as it helps the project a lot.
Neeraj and I are good friends. We are making a couple of films together.

How was it working with director Tinu Desai?
Tinu Desai was an assistant director and I remember him since he joined the industry. He was with Abbas-Mustan, Vikram Bhatt and other directors.
He was the chief assistant with Neeraj during Special 26. I have seen all the periods in his life.
He has worked very hard and it was an honour to work with him. He has a long career ahead; his future looks bright.

Did you learn anything about the Indian Navy while making the film?
A naval officer guided us throughout, regarding the salute, how the badges are to be worn, how the uniform should be, how the walk is.
It is so nice to wear a uniform. When I wore it, with the batches, the cap… my walk would completely change.
There is something about the uniform that gives you a certain kind of responsibility. I mean that. It tells you that you're the man, take charge.
I envy people who wear the uniform.
You have replaced Arshad Warsi in the Jolly LLB sequel. He had said the producers wanted a bigger star.
This is the producer's call.
There are so many examples -- like Welcome and Hera Pheri -- where I was a part of the initial film but not the sequels. I didn't feel bad about it.
From Rustom, I have jumped to Jolly LLB. I have never played a lawyer in my life, so I am enjoying myself.

Salman Khan has called you the real Sultan of Bollywood because you give three hits a year.
That's his greatness to say something like that. I would not agree because in Brothers, I tried MMA (Mixed Martial Arts) but it didn't work. His film Sultan worked. So who's the bigger Sultan?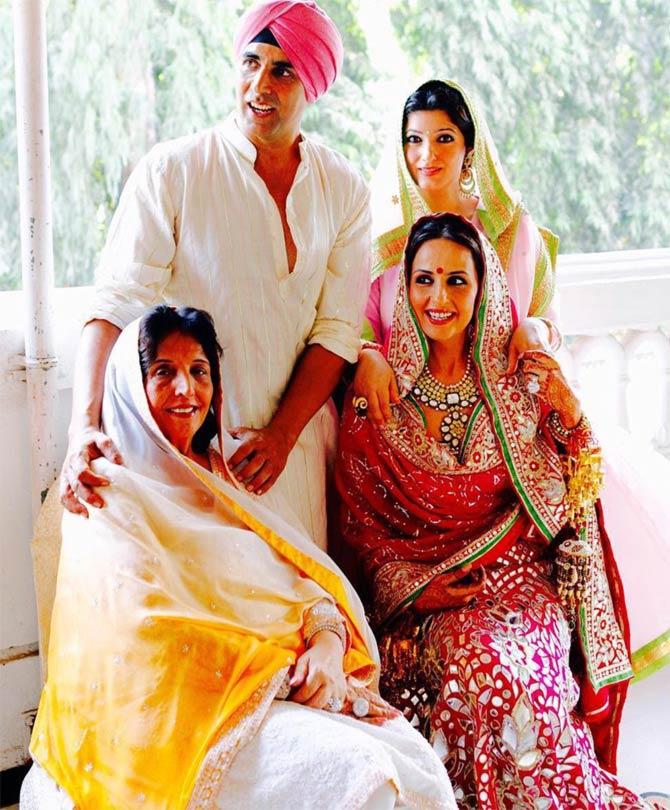 IMAGE: Akshay Kumar, Twinkle Khanna, Aruna Bhatia and Alka Bhatia. Photograph: Akshay Kumar/Instagram
Naseeruddin Shah recently commented on Rajesh Khanna, and called him a poor actor. What do you think?
It's okay, everything is finished.
He (Naseeruddin Shah) apologised, let's go ahead.
Let the industry be together. We are all in peace, don't make it pieces.
When someone apologises, you should be gracious enough to say it's over.