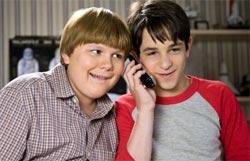 Diary of Wimpy Kid: Dog Days releases in the US on August 3. Here's what we can look forward to.
During his summer vacation, the wise-cracking 'Wimpy Kid' Greg Heffley, hatches a plan to pretend he has a job at a ritzy country club, but that fails to keep him away from the dog days, including embarrassing mishaps at a public pool and a camping trip that goes awkwardly wrong.
The fun lies in finding out in the new film
Diary of Wimpy Kid
:
Dog Days,
to be released on August 3, how Greg (Zachary Gordon) copes. He may not be a role model but he is not a disgrace and we are sure he is not going to turn into a delinquent, as Jeff Kinney, the author of the books on which the three films made so far are based, has said.
'I think he's the rebel in all of us,' Elizabeth Gabler, whose Fox 2000 made all three
Wimpy Kid
movies with producer Nina Jacobson, told
Los Angles Times
. 'He's not perfect. He is lazy, and he is conceited in a way. He's a slacker. But at the same time he's endearing. He's a little bit like Charlie Brown -- he's a victim of stronger people around him, like Lucy pulling out the football from underneath him.'
The films also have a character called Chirag Gupta, who speaks with an unnecessarily heavy Indian accent. Chirag, a classmate of Greg, is the shortest person in the class but he has a strong punch. He too is undergoing growing up pains and has to learn to cope. Chirag is played by Karan Brar, an Indian American actor who is also on the hit Disney Channel
show,
Jessie.
While the films make a number of narrative leaps from Kinney's six novels (the 41-year-old writer also wrote two Wimpy Kid companion books), which have sold a combined 75 million copies in 35 languages, 'they retain the author's celebration of Greg's defiant if not occasionally unruly deeds. Like a modern-day Dennis the Menace, he's no paragon of pre-adolescence, but his borderline behaviour is usually harmless and frequently relatable.' (Los Angeles Times)
Though this is the third movie adaptation of the Wimpy Kid book series, it blends elements of the Wimpy Kid novels The Last Straw and Dog Days.
Diary of Wimpy Kid: Dog Days is the second in the series to be directed by David Bowers.
The Wimpy Kid books and the movies have quite a big following outside America and Canada. A new book Diary of a Wimpy Kid: The Third Wheel will be in bookstores within a few days.
Most of the business for the first two Wimpy Kid movies has come from North America, proving again that not all American humour travels well beyond the English-speaking countries.
The first two films each made about $90 million, about 80 per cent coming from domestic theatres. Most American films usually earn one-and-a-half times abroad what they do in the North American market.
Each Wimpy Kid film was made for less than $22 million, one-fourth the average budget in Hollywood, and the low cost helps the studio, 20th Century Fox, make quite a hefty profit out of them.
Some box office observers believe the new film has a good chance of turning into the most successful in the series and grossing $100 million across North America.
It is being released the same week as Total Recall, a remake of the 1990 film, in which Colin Farrell stars as Douglas Quaid, a factory worker in the war-torn year of 2084.