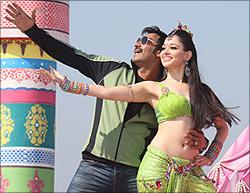 During one of the film's promotions, Sajid Khan had once said his directorial venture Himmatwala would cross the Rs 100 crore figure at the box office.

"I will never let down the audience. I have proved that three times before, and I will do it again. Himmatwala will cross Rs 100 crores in the first week," he had said.

When I interviewed the director last month, he seemed even more confident about the film's box office chances. "I am proud of my films but not egoistic," he had said. "I make films for the audiences, not for myself. That's why I'm always confident that my films will work at the box office."

In the same interview, the director proclaimed, "If 80 per cent of the audience in a theatre doesn't whistle and clap during Ajay's entry, I will change my name. It will be among the top three hero entries in Hindi cinema."

When I went to watch Himmatwala at a single screen theatre in south Mumbai on Sunday morning, I wondered what Sajid Khan would change his name to.
The 400-seat theatre barely had 40 people in it, and none of them whistled or clapped during Devgn's entry. Most of them seemed bored by interval.
What went wrong, Sajid?
By the end of the film, it seemed that the real Himmatwala was the director himself, who unabashedly called the film 'A Sajid Khan Entertainer.'
The same day, I watched the week's other release, Hollywood film G I Joe: Retaliation, at the same theatre. To my surprise, the theatre was 75 percent full.
Sajid prefers to call Himmatwala a rewrite rather than a remake, but it really isn't much of that. The plot is the same, with only a few unimportant scenes and details thrown in. With some nonsensical humour, clumsy production values, over-the-top melodrama and loud dialogues, the film just keeps on dragging for 150 minutes.
Made on a budget of Rs 50 crores, Himmatwala hasn't earned the kind of numbers that was predicted by trade analysts. It has managed to rake in only Rs 31 crores in the opening weekend.
Media professional and industry observer Abhijit Mhamunkar says, "The film got a decent opening on Friday, as it collected around Rs 13 crores. Negative word-of-mouth deterred audiences from going to the theatres on the weekend. The movie managed to collect Rs 10 crores on Saturday and Rs 9 crores on Sunday."
Abhijit is convinced that distributors will fail to recover their investment and the film will not reach the Rs 100 crores figure. "If things go well, the producer (UTV) will break even but distributors will definitely lose money."