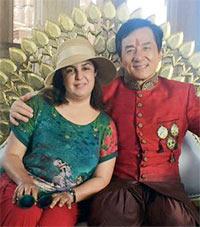 We look back at international movies shot in India.
The box office success of Hollywood movies with Indian themes being shot in India has created a trend among overseas producers.

Bend It Like Beckham director Gurinder Chadha shot her recent film The Viceroy's House entirely in and around Jodhpur. The famous Umaid Bhawan Palace is shown as the Viceroy's house in the film.
And now, an Indo-Chinese production, starring action superstar Jackie Chan, is being shot in India.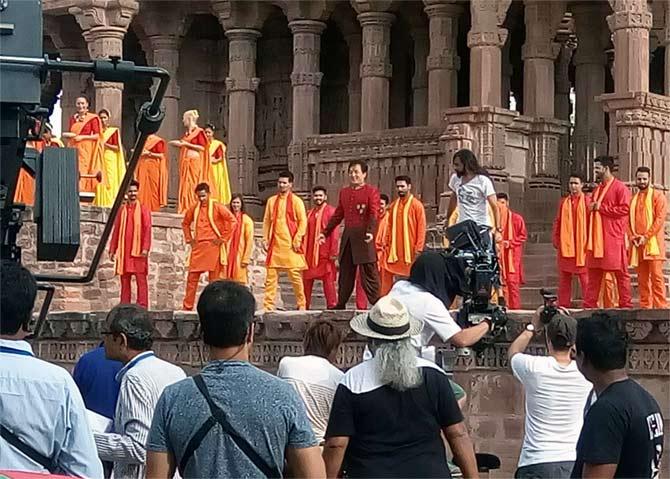 IMAGE: Jackie Chan shooting in Jodhpur for Kung Fu Yoga
Titled Kung Fu Yoga, the multi-lingual action adventure film is being made at the budget of $65 million and is being directed by Stanley Tong. The cast and crew has been filming in Jodhpur for the last few days.
Apart from Jackie Chan, the film also stars B-town hunk Sonu Sood, Amyra Dastur and Aarif Lee. The film will be made in English, Mandarin, Hindi and is expected to release later this year.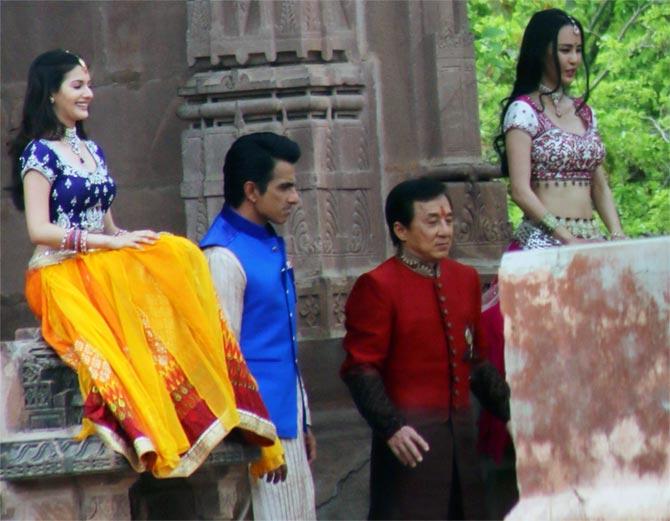 IMAGE: Sonu Sood and Jackie Chan on the sets of Kung Fu Yoga
A lot of Hollywood films shot in India have gone on to do great business.
The James Bond thriller Octopussy, which released more than 30 years ago, was largely shot in and around Udaipur and was a big box office success.
Another Hollywood hit set in India was the 2012 comedy drama The Best Exotic Marigold Hotel. This one was also majorly shot in Rajasthan. The heritage hotel at Ravla Khempur, near Udaipur, was shown as the Marigold Hotel in the film.
Based on Deborah Moggach's novel These Foolish Things, the film was made on a budget of $10 million but it went on to gross $136.8 million worldwide, mostly from its domestic run. In fact, the film was declared as one of the highest earners of 2012.
The sleeper hit of the 2012 inspired director John Madden and writer Ol Parker to make a sequel -- The Second Best Exotic Marigold Hotel -- which was shot in Jaipur, Rajasthan.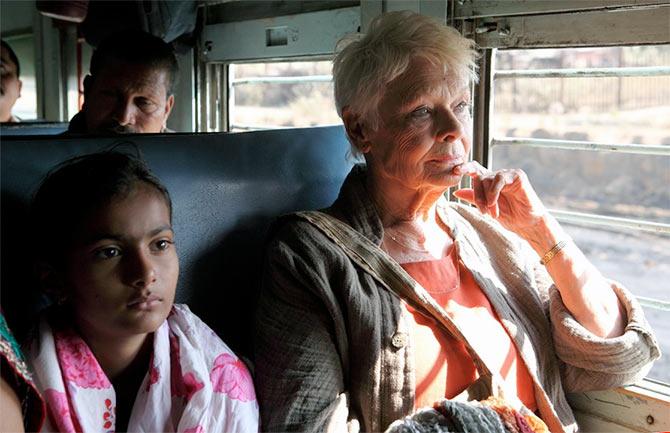 IMAGE: Judy Dench in The Second Best Exotic Marigold Hotel
Judy Dench and Dev Patel, who starred in the first film, were retained for the sequel. Richard Gere joined the cast along with Bollywood stars Tina Desai, Lillete Dubey and Rajesh Tailang.
Though the sequel was not truly a sleeper hit, it grossed $83.9 million against the film's budget of $10 million.
The 2006 historical film One Night With The King was shot in and around Jodhpur. It was a biblical story of Esther, who risked her life by approaching the King of Persia, to request that he save the Jewish people. Starring Tiffany Dupont, late Omar Sharif and late Peter O'Toole, the film was made on a budget of $20 million and went on to rake in $137 million.

In 1997, Mira Nair's Kama Sutra - A Tale of Love was shot entirely in Jaipur on a budget of $ 3,00,000, and it made 50 times more than the budget at the box office.

Recently, Danny Boyle's Slumdog Millionaire was shot in mostly in Mumbai, and went on to become a blockbuster, as well as win a few Oscars.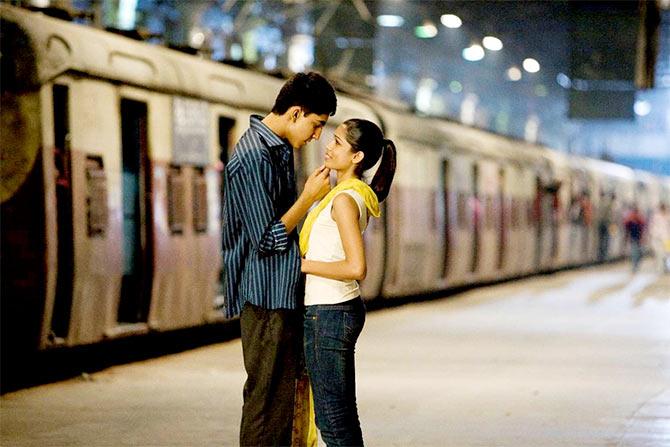 IMAGE: Dev Patel and Freida Pinto in Slumdog Millionaire
Musical maestro A R Rahman composed the music for Slumdog Millionaire, which featured Dev Patel, Freida Pinto, Madhur Mittal, Anil Kapoor and Irfaan Khan in the lead. Released in 2008, the film was made with the budget of $ 15 million and it grossed $ 377.9 million.
Darjeeling Limited, which showcased Jodhpur and Udaipur extensively, also did well at the ticket windows. The film $17.5 million budget film came out in 2007, starred Irrfan Khan, and ended up making $35 million.