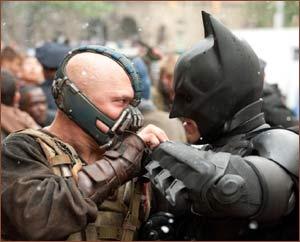 When one of the most eagerly awaited of the summer releases arrives with strong reviews, expect a superlative box office response.

The Dark Knight Rises -- the final chapter of Christopher Nolan's outstanding Batman trilogy -- may not come near The Avengers which is expected to end its run with a spectacular $1.5 billion worldwide but box office observers expect it to fly beyond the $1 billion benchmark.

It is likely to beat other summer hits like The Amazing Spider-Man (expected to grab over $750 million) and the fourth Ice Age movie (which is headed for a mighty $800 million gross).

The previous film in the trilogy, also directed by Nolan, joined the $1 billion club worldwide, and Hollywood expects the new film to be a bigger hit.

In North America, there is intense curiosity if The Dark Knight Rises could eclipse the jaw dropping $214 million opening weekend of The Avengers.
'Considering studios would prefer to milk a cash cow for as long as possible, this definitive ending is almost unheard-of for an original property,' says boxoffice mojo's Ray Subers. 'What makes it even more enticing is that audiences don't have the slightest idea how the story will end: in the case of Star Wars: Episode III -- Revenge of the Sith, for example, moviegoers were generally aware that Anakin Skywalker was on his way to becoming Darth Vader.'
The early reviews for Dark Knight Rises are highly welcoming.
'Fear is the word in The Dark Knight Rises,' wrote Peter Howell in Toronto Star. 'It's in the eyes of both hero and villain, in all its manifestations -- from anxiety and doubt right up to sheer terror. It's constantly on their lips, as when new arch-villain Bane tells one of his victims: "Now's not the time for fear. That comes later."
'Genuine fear is an emotion you don't often get in summer blockbusters, which tend to be all about the swagger conferred by superpowers and absurd scenarios.'
Many reviewers have pointed out that the new Knight not only rises, but in the words of Howell, 'it also cuts deep -- not just as spectacular entertainment but also as harrowing drama.'
According to Richard Corliss of Time, the movie's pace, both solemn and brisk, is a miracle of the old Hollywood masters, whose storytelling was typically more synoptic and coherent than that of today's directors.
Peter Travers of Rolling Stone notes Bale creates a hypnotic, haunting performance, finally allowed to 'move deeply into Bruce/Batman's troubled soul.'
Indiewire writes the movie, which cost over $200 million, 'deserves credit for having the gall to speed right out of the gate and never fully slow down.'
The Hollywood Reporter's Todd McCarthy argues The Dark Knight Rises represents 'big-time Hollywood filmmaking at its most massively accomplished.'
McCarthy ranks the new venture as the most cohesive film of the trilogy -- 'everything here is lucid, to the point and on the mark' -- although he says none of its elements quite matches the heights of Ledger's work in The Dark Knight. 'The action scenes range from the familiar to the "fresh and brilliantly rendered," ' he writes, ' but serve the story well, and in terms of acting, Bale is at his series best.'
The film is helped by solid performances from Christian Bale, Tom Hardy, Anne Hathaway, Michael Caine, Gary Oldman, Morgan Freeman, Joseph Gordon-Levitt and Marion Cotillard.
Heath Ledger, who received a posthumous Oscar for his sublime villainy in The Dark Knight, is sorely missed but Tom Hardly is extraordinarily repulsive.
Movies based on comic graphic novels appeal to mostly men but Warner -- by casting Anne Hathaway in a plum role as Catwoman -- has sought to widen the film's appeal.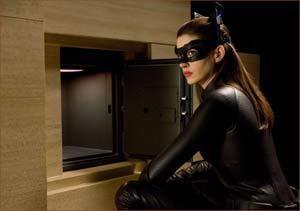 'The final major selling point has been the inclusion of Hathaway,' notes Subers. 'In order to connect with women, who aren't quite as enticed by all the comic book violence, the campaign has given plenty of exposure to Hathaway's sexy, strong character, and it should go a long way to convincing the fairer sex to give this a shot.'
Batman has been outlawed and ostracized in Gotham City in the new movie, which believes it has rid itself of major crime. Wrongly blamed for the death of Gotham's public defender Harvey Dent, a lie that even trusted ally Police Commissioner Gordon (Gary Oldman) is forced to maintain, Batman -- or rather his alter-ego Bruce Wayne (Christian Bale) --  is hiding.
You get the feeling that Wayne, who uses a cane to support his walk, has resigned to his new fate. Meanwhile, a terrorist called Bane (Tom Hardy) is planning spectacular attacks. Bane plans to use a nuclear fusion device that Wayne Enterprises developed for peaceful means, leading to a series of exciting and scary events including a raid on the stock exchange.
Slowly, Batman is sorely needed to contain the new terror, and the confrontation between him and Bane are among the best drama we have seen in years.