'Most of these intelligent people have seen the Golmaal franchise.
'`They are the closet audience of our films who don't admit they liked them to maintain their reputation in the society.
'When they watch a Hollywood comedy on similar lines, they love it because it's in English.'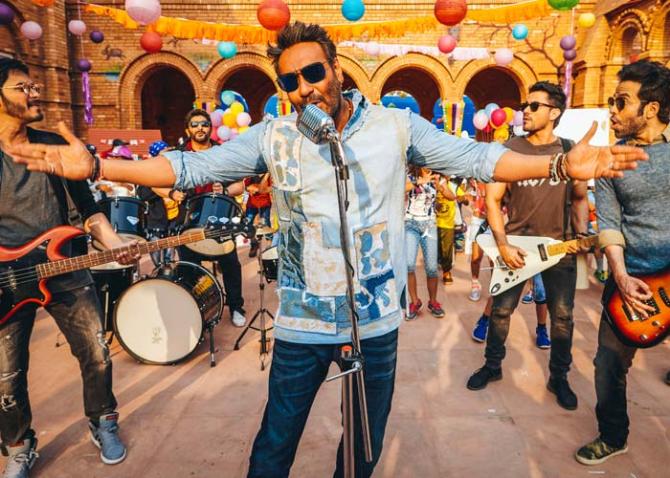 IMAGE: Shreyas Talpade, Arshad Warsi, Ajay Devgn, Kunal Khemu and Tusshar Kapoor had a blast filming for Golmaal Again.
Promoting a film is no cakewalk. One has to sit for hours together, interacting with different media people who ask the stars similar questions.
Ajay Devgn has been through this drill for years and is now a pro at it. He is calm yet excited to share his experience, every single time!
Urvi Parikh caught up with the actor at a sea-facing hotel suite in Juhu, his favourite spot in the burbs of Mumbai, on a rainy October evening.
Struggling to sit due to severe back pain, Devgn patiently answered questions about his upcoming Diwali entertainer Golmaal Again!!!, the failure of Baadshaho, tapping the genre of horror-comedy in Bollywood and more.
Horror comedy is a genre less explored in Bollywood. What made you say yes to it with Golmaal Again?
Horror-comedy is a genre that has not been tapped in Bollywood.
This movie is a horror-comedy which doesn't scare you but is really funny.
Are you reprising your character from the previous Golmaals?
Ideally, you should make a sequel when the characters are famous and Golmaal is one such franchise where people relate to all the characters.
There are 10 to 12 characters from the franchise who are famous. So we decided to take it forward in a different way by stepping into the horror-comedy genre.
Golmaal Again took time to be executed. In the last seven years, did you reject any idea that Rohit Shetty came up with?
Rohit came to me with this idea nearly four years back. He just narrated the idea and I really liked it.
They took three years to work on it.
Having said that, I didn't reject any script for Golmaal 4 in last seven years.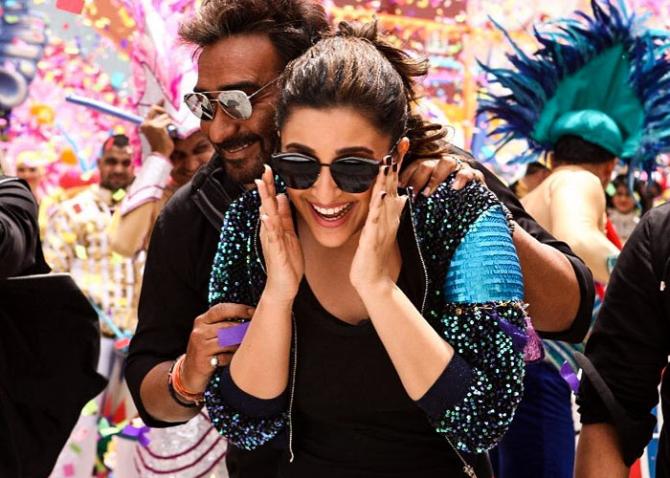 IMAGE: Parineeti Chopra and Ajay Devgn in Golmaal Again.
Given that Golmaal as a franchise has lot of expectations, do you feel the pressure?
That pressure is always there and I think that pressure is good.
It is because of the pressure that it took us seven years to come up with this film.
Shooting took only eight months; it was the writing which took a lot of time.
You have worked with Rohit Shetty for years. How would you describe his growth?
Our association is actually not from Golmaal; I have known Rohit from much before.
He was my assistant in the 1990s, so it is a very difficult question for me to answer.
I have seen him grow in front of me.
Obviously, you mature and become more experienced over a period of time.
In Bollywood, horror-comedies haven't done well...
(Interrupts) Great Grand Masti is not a horror-comedy... that was more of a sex comedy.
Bhool Bhulaiya worked and that's the only horror-comedy I recall in the recent past.
Horror-comedy is a great genre; in fact, it is a fabulous genre.
Golmaal Again has a good story base or rather, I would say, an emotional story base. The story starts from our childhood.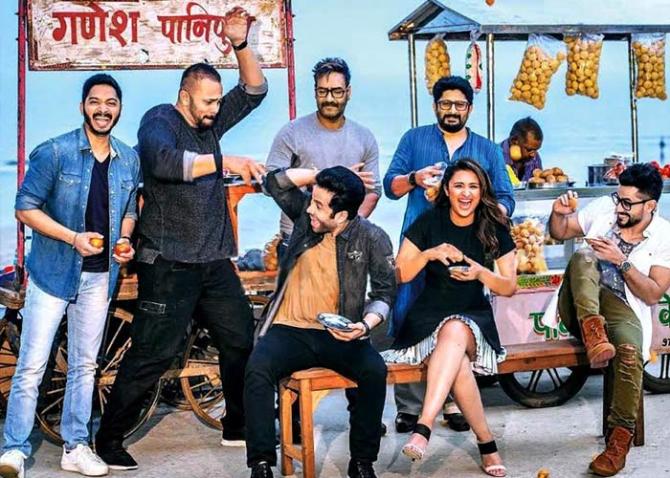 IMAGE: Shreyas Talpade, Rohit Shetty, Tusshar Kapoor, Ajay Devgn, Arshad Warsi, Parineeti Chopra and Kunal Khemu fool around on the sets of Golmaal Again.
Ajay, how was it dancing to the recreated version of Neend churayi meri and what was Kajol's reaction to it? (The original song, featured in the film, Ishq, starred Aamir Khan, Juhi Chawla, Ajay Devgn and Kajol.)
Frankly, I don't remember anything.
While we were shooting this song, Rohit told me, 'It was shot this way... this is what you guys did.' I have no memory of it.
The original song was shot almost 20 years ago.
And as far as Kajol is concerned, when I showed her the song, she liked it. She was happy seeing our recreated version.
While many enjoy comedies like Golmaal, there are many critics who label them as brainless. How do you react to such statements?
Most of these intelligent people have seen the Golmaal franchise.
They are the closet audience of our films who don't admit they liked them to maintain their reputation in the society.
Why wouldn't you want to enjoy?
When they watch a Hollywood comedy on similar lines, they love it because it's in English.
These films have to be made with brains. I don't know why you would call these films brainless.
Has your approach towards selecting a script changed over the years?
Yes, it has changed.
Now, the detailing of the script has become important.
Most of the audience feel that, as an actor, we have made a film. They don't understand the difference between who has made the film and who is acting in it, so it becomes your responsibility to make sure that the film is good.
This transition has happened gradually, especially in the last two years.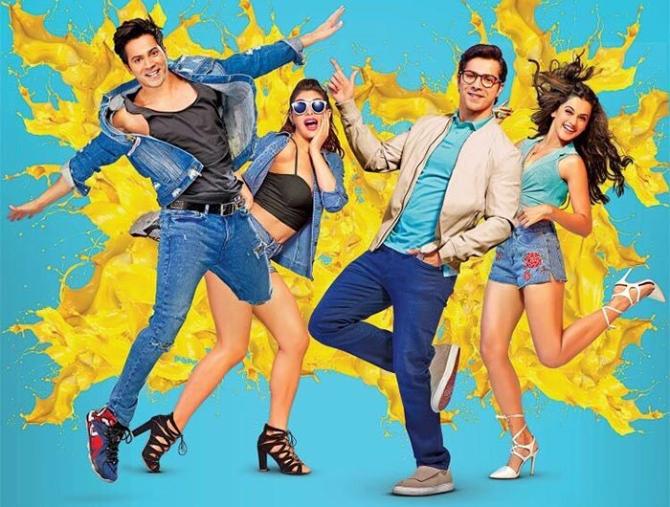 IMAGE: Varun Dhawan, Jacqueline Fernandez and Taapsee Pannu in Judwaa 2, which broke the dry streak at the box office.
Was it a relief that Judwaa 2 did well, after most biggies failed this year at the box office?
Yes. Rohit and I were really hoping that Judwaa 2 would do well. That movie has given the start that was needed at the box office.
People need to be lured into the theatre. Judwaa 2 just did that for us.
Also, one must understand that, today, it is not about potboilers; it is about entertainment. And that doesn't mean only laughing.
Entertainment is something that grips you, something that makes you a part of the film for two hours.
It can be any genre.
When the audience starts relating to the characters, they get entertained.
Do you think the gap between the single screens and the multiplex audience is widening?
The gap is actually getting shorter.
If a film has opened very well at a single screen, it will open well at the multiplex as well. If it drops at the single screen, it drops at the multiplex as well.
The masses also have exposure to the net and everything else.
There will come a time when there will be no difference between the single screen and multiplex audience.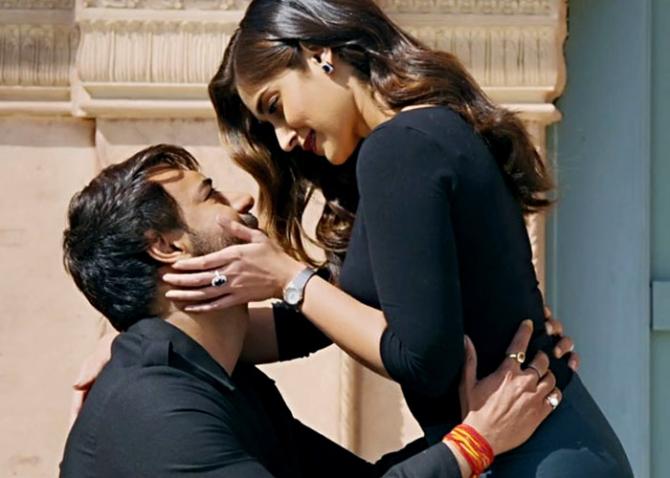 IMAGE: Ajay Devgn and Ileana D'souza in Baadshaho.
But your last film Baadshaho didn't do well in the multiplexes, whereas it appealed to the single screen audiences...
I had an issue with the way the film was promoted.
After the first trailer, even the multiplex audience wanted to watch it.
Then came the first song and, again, everyone liked it.
We went wrong with the material that came out after that as that is not something the multiplex audience wants to watch.
It opened very well, but some things harmed the multiplex business.
Also, many of them had issues with the abrupt climax scene...
(Cuts in) I fought with the director as well (about this). We had shot something else... I don't know why he didn't include that in the end.
Your future projects?
I am working on Raid now.
I also have Taanaji with Sanjay Dutt and Farhan Akhtar.