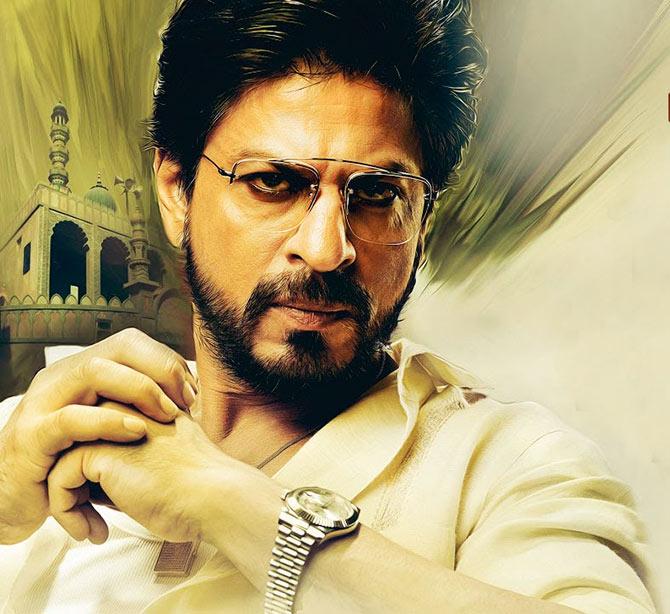 It reinforces the Muslim stereotype, says Syed Firdaus Ashraf.
I wonder if you've heard of Wali Mohammed Wali?
Before you Google his name, let me tell you something personal about 9/11 (For those of you who may not remember, 11/9/2001 was when two planes flew into, and destroyed, the Twin Towers in New York, forever marking Muslims -- and those non-white skinned people who happen to wear a beard and a turban -- as terrorists in America).
As for me, an Indian Muslim, there were two things I constantly got to hear after that horrific day.
The first: 'Muslims are a violent race and want to establish their supremacy in the world through jihad.'
The second: 'No community in the world has got as much daring as Muslims.'
The images that both these statements convey are completely wrong.
And this is what bothers me about the just released trailer of Shah Rukh Khan's next film, Raees.
It makes you feel that the star, though his dialogues, is stereotyping the Muslim community.
For example: 'Baniye ka dimaag, Miyabhai ki daring' ('The brains of a merchant and the daring of a Muslim').
One may argue, in defence of the trailer, that Raees is based on the life of the late Abdul Latif, an Ahmedabad-based gangster and associate of Dawood Ibrahim.
But that is not the point.
The point is: Why stereotype an entire community in the promotional dialogue for a film that stars, and is produced by (along with Farhan Akhtar and Ritesh Sidhwani's Excel Entertainment) one of the nation's biggest superstars?
By doing this, the scriptwriters -- Rahul Dholakia (who also directs Raees), Harit Mehta, Neeraj Shukla and Ashish Vashi -- are only re-confirming the belief of those who are convinced that 'Miyabhais are a violent people' and influencing those who are considering the possibility that 'Miyabhais are a violent people.'
Also, if Raees calls himself 'Miyabhai' in the trailer, why is he in the business of alcohol which is forbidden in Islam?
Mahira Khan's presence in the trailer is not impressive; from the first look, it seems like any television actress could have been cast in her role.
The only impressive actor in the trailer is Nawazuddin Siddiqui, who makes the best use of his 'punchy' dialogues.
Now, I'd like to come back to Wali Mohammed Wali who I mentioned at the beginning of this review.
Wali Mohammed Wali was a Gujarati Muslim, an Urdu poet who wrote beautiful couplets like:
Khugar nahin kuch yun hi hum Rikhta-goi kay/
Mashooq jo apna tha, bashinda-e-Dakhan tha
(It isn't casually that I began dabbling in Urdu
I picked it from my lover, a native of the Deccan).
Wali Mohammed Wali died in Ahmedabad 300 years ago.
And guess what happened to his grave?
It was vandalised by a mob in the riots that set Gujarat aflame in 2002.
In 2010, a road was constructed over it.
Today, there is no sign of Wali Mohammed Wali in Gujarat.
Unfortunately, no film has been made about him because no one wants to know about the poet and his poetry.
But, yes, Bollywood wants you to remember the gangster Abdul Latif and his 'Miyabhai ki daring.'
In reality, Miyabhais are not 'daring' enough to protect the graves of dead beloved poets.
Like any community, Muslims have their great love stories.
Like any community, Muslims have their great literature and culture.
Like any community, Muslims have created amazing architecture across the world, including that eternal symbol of love, the Taj Mahal.
Muslims have, like every other community, made immense contributions to the sciences and to mathematics.
What does that matter though?
What matters, it seems, is what sells at the box office.