'People feel it is challenging if you do intense, brooding roles and that there is no challenge in comedy. But that is not true.'
'Nowadays, you can't make people laugh by just saying jokes. Your performance should look effortless.'
Comedy may be challenging but that wasn't what stressed Taapsee Pannu during the making of Judwaa 2.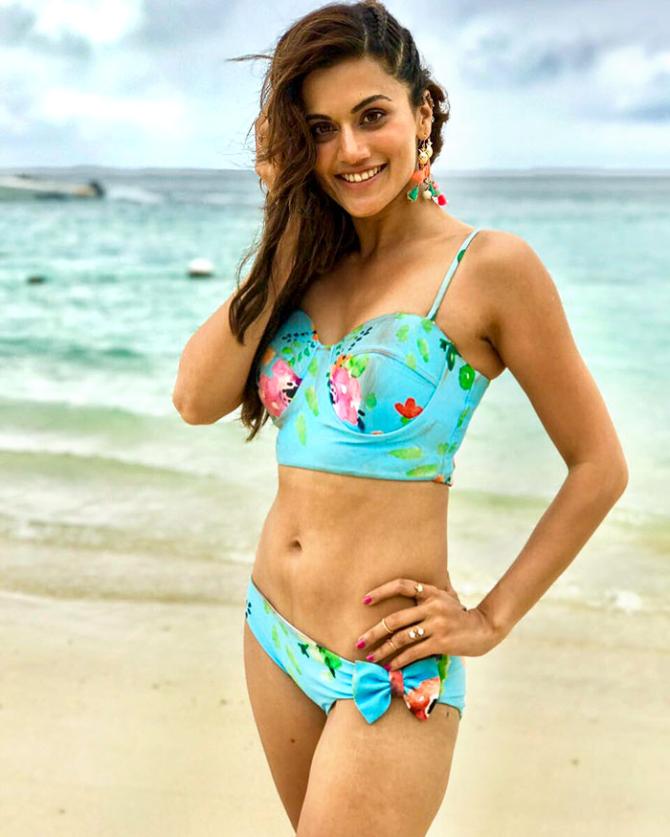 IMAGE: Taapsee Pannu in the song Aa Toh Sahi in Judwaa 2. Photograph: Kind courtesy Taapsee Pannu/Instagram
Taapsee Pannu loves talking.
And she will speak to you in the same manner in which one would talk to a friend.
Though she tends to speak very fast, with a hint of a Punjabi accent at that, her answers are articulate.
She oozes confidence and doesn't fumble at tricky questions.
Patcy N/Rediff.com has met Taapsee during the promotions of Chashme Baddoor as well as The Ghazi Attack but, this time around, the actress looked particularly stunning.
Judwaa 2 was not all fun and games, says Taapsee, as she reveals why she was stressed during the making of the film.
How different is your character from Rambha's in the original?
Everything is different. I'm not the shy type. In fact, (my character) Samara takes the lead in the relationship.
She is a college girl and has a mind of her own.
If we revamp a film after 20 years, you can't show the girls having the same personality they did in the original because girls have changed a lot. They can't expect me to be a shy character.
There is still an element of the girl-next-door in her, even though it is a little glamorised in the songs.
You worked with David Dhawan in your first film, Chashme Baddoor. How was it working with him again?
I got the feeling of continuity on the set; only my clothes and co-actors changed.
The feel and energy of the film, the fun and the crew were part of that continuity.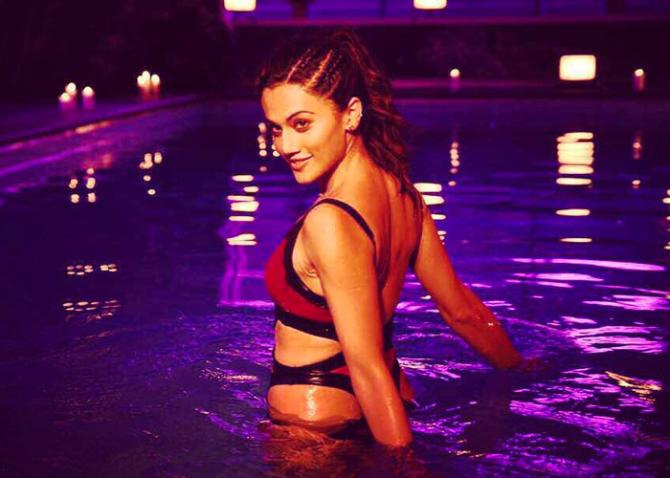 IMAGE: Taapsee Pannu in Judwaa 2
You have done serious roles as well as comedies. Which is easier?
People feel it is challenging if you do intense, brooding roles, and that there is no challenge in comedy. But that is not true.
Nowadays, you can't make people laugh by just saying jokes. It should look effortless.
Plus, you have to look like a million bucks in every frame.
So you have to work really, really hard. And, in this film, I was working with Jacqueline (Fernandez) and Varun (Dhawan), who have already established that they are the hottest looking woman and man in the industry. If you have stand beside them, you have to live up to that standard.
That was pretty stressful. But that was the only stress I had in the film.
I had to work really hard on myself for the first time in my life. I took a six-month gym membership.
You worked with Salman Khan for the first time in this film.
I expected him to be a star and he was.
I expected him to have an aura and he did.
I expected him to be effortless and flamboyant, and he was.
I usually talk a lot. But that was my quietest day on the sets. I was literally speechless.
I just ogled at him.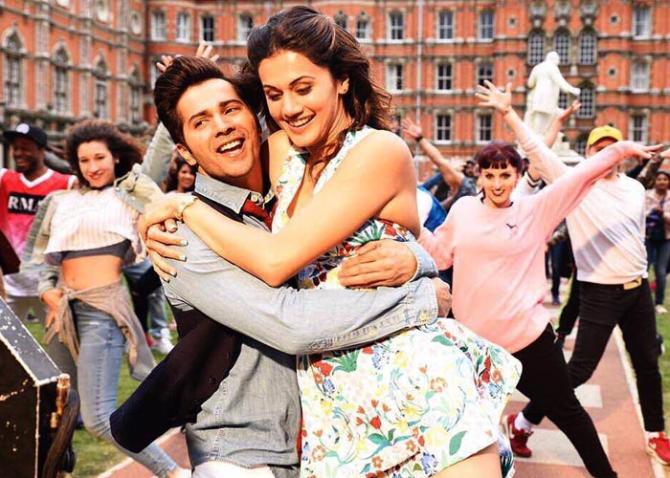 IMAGE: Varun Dhawan and Taapsee Pannu in Judwaa 2
Why did you sign up for a film like Judwaa 2 after doing serious films like Baby, PINK and Naam Shabana?
Whenever I went out, people would tell me, 'Aap real life main bahut sundar dikhtey ho.'
I don't know whether to thank them or not.
So I decided I should do a film where I look good and tick that box so that people don't get confused.
In a Facebook post, you had posted that no A-lister wants to work with you because they didn't consider you one. Has that changed?

I am still not an A-lister.
My observation is true to a certain extent. A-lister heroines are ready to do smaller roles in an A-lister hero's film, but it doesn't happen the other way round.
We have films like Dear Zindagi and Naam Shabana where Shah Rukh Khan and Akshay Kumar have done smaller parts, but they were also the co-producers of the films.
So yes, that day is yet to come where an A-lister hero will be ready to do a (small) part in a film where the girl is the protagonist.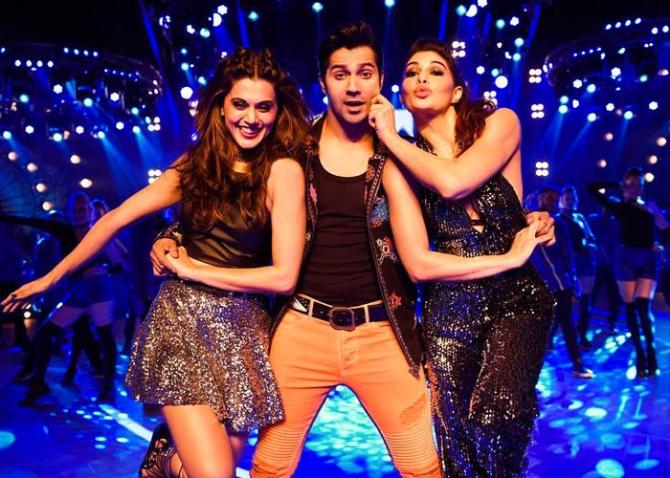 IMAGE: Taapsee Pannu, Varun Dhawan and Jacqueline Fernandez in Judwaa 2
Do you feel insecure working with other actresses?
No. In the south, I have worked in many films with other actresses where I had smaller roles or vice-versa.
I have no reason to be insecure. I know my audience will notice and appreciate me.
I had a 10-minute role in Baby. When I know I can pull it off, I do it. Even in this, I know I will get attention.
Which is your favourite genre?
I am not comfortable with hitting people. I hate doing it because I know it hurts.
I love the sports part of action films, where you get to do a lot of sporty tricks.
That doesn't mean I don't like doing it (serious films) but I feel comedy comes more naturally to me because I am a little goofy and comical in real life. I know I can do it effortlessly.
The Naam Shabana kind of films take a lot of effort.
Will you only concentrate on Hindi films now?
No, I will concentrate on south as well.
I am really happy that I have reached a position where I can do the kind of film I want to. Also, I can do a film regardless of who is a part of it; it doesn't matter who the hero is.