'I always work in films with an open heart.'
'I believe working with trust.'
'Unfortunately, we have many actors and stars who don't function in this manner.'
'Maybe that's the way they want to get their stardom.'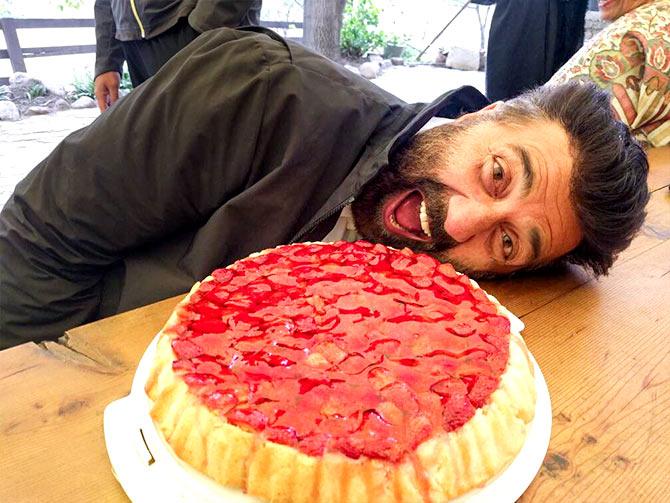 Photograph: Kind courtesy Sunny Deol/Twitter
In spite of being in the film industry for over 30 years, ruling the box office and being one of the highest paid actors, Sunny Deol remains humble.
"Age is just a number," says the actor, who turns 60 next month, with a smile.
Sunny tells Rediff.com's Jahnavi Patel why he took up Poster Boys, why he's never worked with popular heroines and what really irked him about Darr.
Poster Boys is very different from the movies you have done before.
I liked the idea.
If I like something spontaneously, I do it.
I had heard about this film (the original film in Marathi, Poshter Boyz) and had seen the posters -- it was something with body builders -- and I would wonder what it was about.
I wanted to make a film with Bobby and me, and was looking out for something. Someone gave this idea to me and I loved it.
I came to know that Shreyas (Talpade) wanted to make this film in Hindi. We met and everyone was very excited.
We wanted to make the film soon, so we wondered where to get a director from.
Shreyas and I have worked together in Bhaiyyaji Superhitt and we used to enjoy the scenes together.
We used to do it spontaneously and the sequences would turn out to be good.
So I was aware of his talent.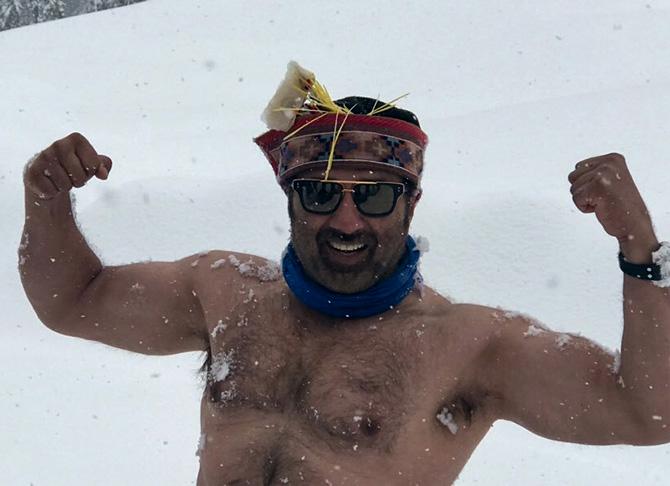 IMAGE: Sunny Deol takes on the snow in Manali where he is shooting for Pal Pal Dil Ke Paas. Photograph: Kind courtesy Sunny Deol/Twitter
Did you ever think of directing Poster Boys?
No. I was working on my son's film and so could not direct this.
How many films can I work on simultaneously?
How much of Pal Pal Dil Ke Paas has been shot?
I have just started the film so I don't want to talk about it right now.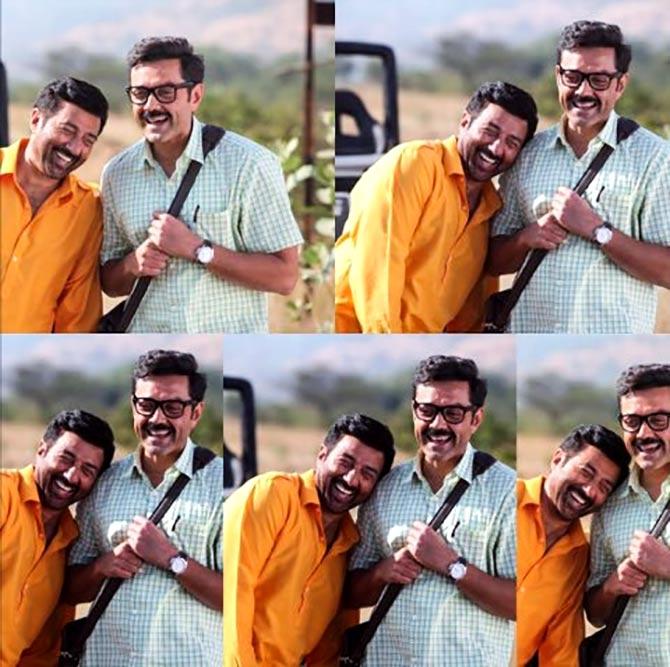 IMAGE: The different moods of Sunny and Bobby Deol in Poster Boys. Photograph: Kind courtesy Sunny Deol/Twitter
What do you think went wrong with Ghayal Once Again?
The main reason was cinemas. It is such a big headache to handle distribution. That's why I am teaming up with studios now.
The whole game behind film distribution has changed.
Theatres have become like a shop where they want to sell stuff, right from advertisements to food.
They have forgotten that people come to their cinema halls because of films.
Films made by powerful studios get preference.
Even if your film is liked, and there are films of other studios releasing, you have to fight for shows.
I had around 1,500 screens for Ghayal Once Again and suddenly within a few days, they got it down to 400 or 500 screens.
The show timings were also odd.
The viewers, who check the show timings, see that shows have been reduced and believe the film is not good.
Do you think the concept of heroism is fading in Bollywood?
We go to see cinema to see characters. That's why South films are still doing so well.
Regional films are picking up because our films no longer give a complete picture of society or the country.
The genres have changed because of which things have changed.
Studios only want to invest in the films they believe in. But the people sitting in the studios don't even know the ABCD of film-making.
Why do you think you have been stereotyped as an action hero?
Maybe because of my old films.
It is pointless to cry about it.
You started with romantic films, then moved to action. Did you think that the audience will accept you in comedy as well?
It all comes back to what kind of scripts and characters are coming to you.
No one was ready to make Ghayal because it was an action film, and in those days, romantic movies were going on.
They thought this subject wouldn't work.
I went to so many producers, but nobody wanted to make it. That made me a producer.
I was not supposed to do Damini. It was going to be a film around two characters. But because I was friends with the team, I agreed to do the film.
I have never planned my career.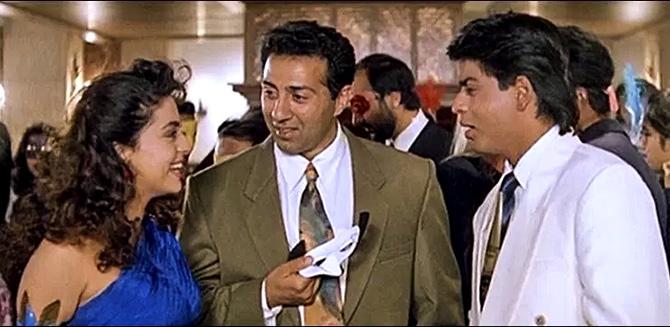 IMAGE: Juhi Chawla, Sunny Deol, Shah Rukh Khan in Darr.
It has been years since Darr released, but after the controversy around it (Sunny felt Yash Raj Films did not deliver what was promised on paper), you didn't work with Yash Raj again.
At the end of the day, people loved me in the film. They loved Shah Rukh Khan as well.
My only issue with the film was that I did not know they would glorify the villain.
I always work in films with an open heart and believe the person.
I believe working with trust.
Unfortunately, we have many actors and stars who don't function in this manner.
Maybe that's the way they want to get their stardom.
Do you think more attention is paid to packaging than content?
Those who really want to watch films will wait for the right one.
That's why my older films are working today thanks to all this.
People are hungry, they want something, so they watch it on satellite and the digital platform.
There is a lack of writing talent and directors, who know more about our society and country, the ones with an understanding of India.
The corporates have come in and they say, 'yeh bahut purana hai (this is old stuff).'
But whatever they are making is like the old stuff only, they are just recycling it.
If they attempt to be different, they end up showing things that don't exist in our society.
You gave the Khans tough competition at the box office. Do you think you should have marketed yourself better?
I don't know.
People loved my work because it was me.
I had subjects I really believed in.
Now, such things are not coming. Even if I go to find them, it is not there.
Now, biopics have become a fashion, so people are making them. But even in those, people don't catch the reality.
They catch the look and the mannerisms. That's not a biopic, that's just understanding the character.
IMAGE: Sunny Deol and Meenakshi Seshadri in Ghayal.
We have not seen you team up with an actress in a long time.
If you look at my career, I have never worked with big heroines.
I approached Sridevi for Ghayal, but she declined.
I was making another film and approached Aishwarya Rai. She refused.
I have approached a lot of actresses, but they have all said no.
They used to think only the hero will have a role and there will be no heroine's role.
But it is the character you portray, it's not about the hero or heroine.
They will go and work in other films, and dance also, but they will not do anything in my film.
How would you describe your journey?
I have loved my journey. It just makes you realise that time flies.
I am doing what I used to do then and am still doing it now.