'At a time when the news channels are screaming louder than the worst crowd, you can't be subtle if you really want to say something important,' Anubhav Sinha tells Bedika/PTI.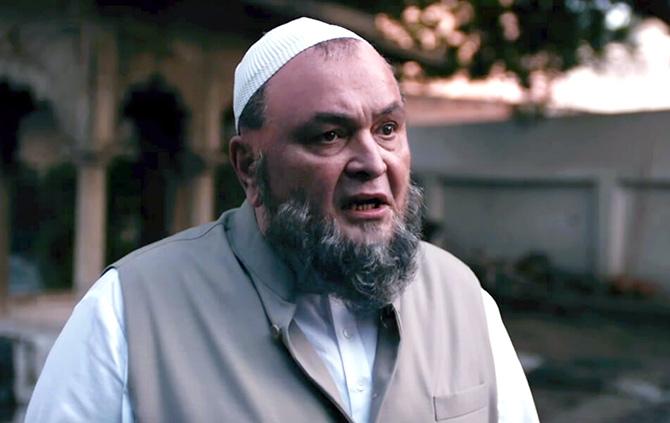 It's the right time to establish the concept of "hum", says Director Anubhav Sinha whose latest film Mulk is that rare mainstream film which engages with contemporary issues and mirrors India's many divisions in the name of patriotism and religion.
The director, whose phone has not stopped ringing with congratulatory messages flooding in, said he wanted to make a sensitive but accessible film.
The Rishi Kapoor-Manoj Pahwa-Taapsee Pannu starrer, which centres around the plight of a Muslim family on trial in court and in society because their son becomes a terrorist, has won critical and audience acclaim.
A large chunk of the film is set in a courtroom with the judge delivering a climactic speech, defining the message of oneness and secularism that the film hopes to deliver in these fractured times.
"The judge is named 'Harish Madhok' and his initial would be 'Hum'. I wanted the audience to agree with him and I am hearing that people are standing and clapping in the final scene. He has ended up representing the thought of people, which is a huge victory," Sinha says in an interview.
Reacting to criticism that the film could have been subtler in delivering its message, Sinha asserts that the loud tone is intentional.
"At a time when the news channels are screaming louder than the worst crowd, you can't be subtle if you really want to say something important," he says. "I was more interested in getting heard than being called subtle."
"Also, I have a take about such films. I insist that these films need to run. It cannot be doing Rs 3 crore (Rs 30 million) lifetime business, which means nobody saw it or a niche audience saw it."
"I wanted everybody to see it, and I wanted it to be accessible."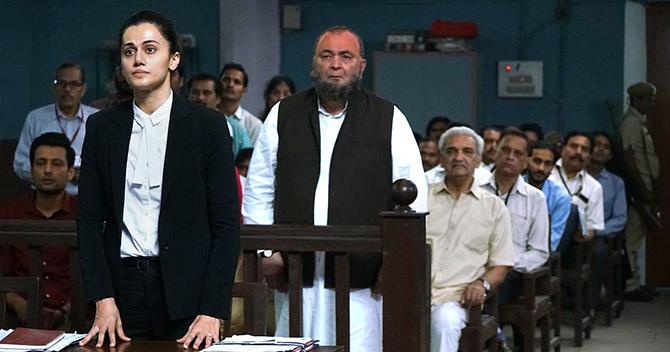 The 53 year old can rest easy. The film's Monday business was almost equal to its opening day earnings of Rs 1.68 crore (Rs 16.8 million).
It has earned Rs 9.86 crore (Rs 98.6 million) in just four days, which is great for a small budget film like Mulk.
Sinha, whose career has been chequered at best with films such as Tum Bin, Ra.One and Dus, feels Mulk is his best yet.
"Something must have shifted inside me that I changed as a film-maker. I don't know what that was. Someone pointed out to me that I have started reading a lot in the past few years. Now, I will have to be more responsible."
Comparisons with M S Sathyu's classic Garam Hawa, which dealt with the plight of Muslims in post-Partition India, are humbling, he says.
Interestingly, Mulk, which also features seasoned actors such as Rajat Kapoor, Neena Gupta, Prateik Babbar and Ashutosh Rana, has no Muslim actor. And this was a conscious decision.
"Maybe, I was getting cynical, but I did not want Muslims defending themselves. I know that the audience is watching a character and not an actor but at a subliminal level you feel, 'ye toh bolega hi.' When Shabana Azmi says something, it is easy to call her a Pakistani, but when Anubhav Sinha says it, it is not that easy, though they still do."
The director has avoided stereotyping surnames. So a Brahmin investigative officer is more sympathetic to the Muslim family, but a Muslim officer is shown as being prejudiced against his own community.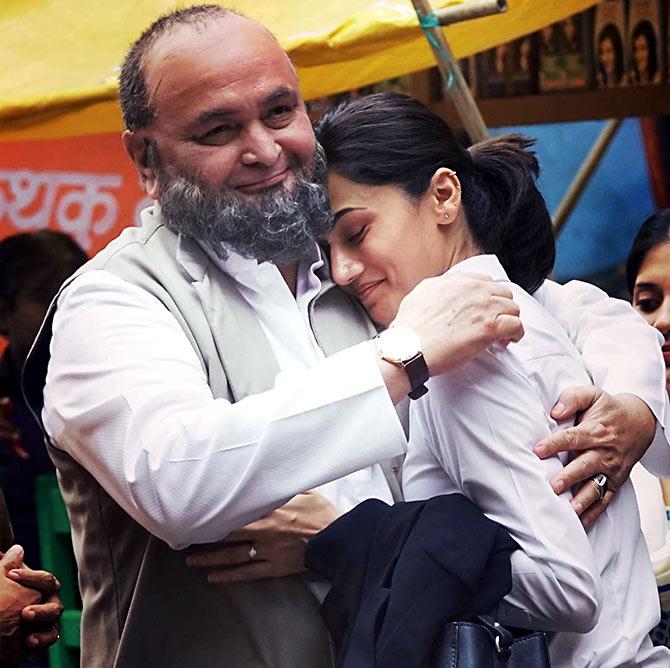 Sinha reveals he e struggled while writing the character of SSP Danish Javed, beautifully depicted by Rajat Kapoor.
"The day I took the decision to have Danish as a Muslim character, he became very complex. He has struggled hard and worked hard to join the mainstream and now he himself has become them. He looks at his own community with prejudice."
"I did not want him to receive any sympathy in the end, but at the same time, he had to be human. He is not a diabolical man. Showing his internal issues and conflicts without overstating that character was tricky."
According to the director, the intention was to show that religion and caste identity cannot be above humanity.
"It does not matter who you are, at the end of the day, it matters what you are as a human being."
"For example, Murad Ali's (Rishi Kapoor) friend Chaubey, who has turned against his neighbours, can see that these people are in trouble and is tempted to help them, but does not. He is torn. This is how we are divided right now."
"A lot of us are doing things because we think this is what we should do. Maybe at heart, we don't even believe in this," he explains.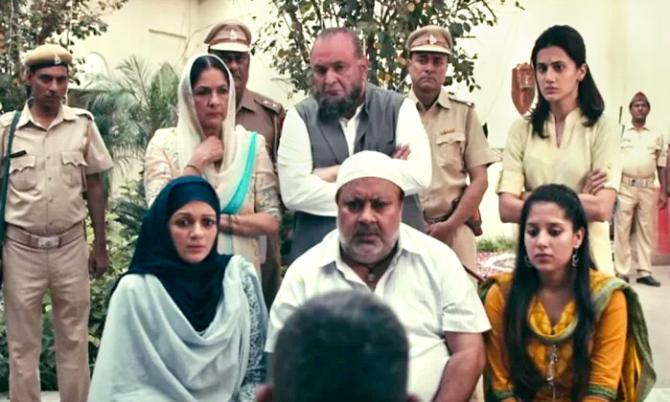 Though Sinha has not directly commented on the spate of lynchings in the country, he has depicted the voyeuristic nature of such violence -- when Danish orders that a terrorist's body be dragged through the crowd.
"It shows the insensitivity of both the police officer and the crowd... As spectators, as audiences, we have become so insensitive that we can at times, if not celebrate it, kind of cheer it."
Sinha initially thought of setting the film in Lucknow, but his friends film-maker Sudhir Mishra and actor Manoj Bajpayee suggested Varanasi, the director's childhood home.
His familiarity with the city is evident as he beautifully captures its Ganga-Jamuni tahzeeb and how it is threatened by the radicalisation of its unemployed youth.
"I have gone back to my roots and inside myself and the recent stuff that is going on," he says.