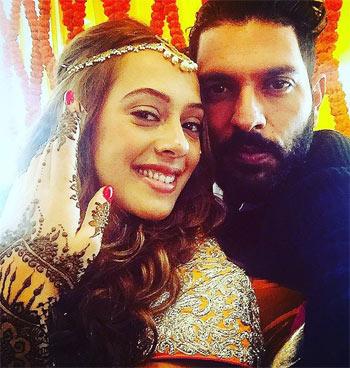 'She was not forced into the decision," a close friend of Yuvraj Singh tells Subhash K Jha.
Bollywood folklore has it that filmmaker Guru Dutt was keenly interested in marrying the beauteous Waheeda Rehman. But she had one precondition; he had to convert to Islam. Guru Dutt refused.
There are others who have.
The latest is actress Hazel Keech, of British origin, who changed her name to Gurbasant Kaur to become Mrs Yuvraj Singh.
In 1969, when she married the love of her life, the cricketing icon Mansoor Ali Khan, Sharmila Tagore was officially christened Ayesha Sultan. It was a surprising move in the life of the actress, who had constantly broken all taboos and changed the image of the Hindi film heroine.
But as Sharmila explained to me, "There was no compulsion to do anything after marriage. This (the changing of the name) was a token gesture which I willingly made. I never used the name that was given to me. I've always been known as Sharmila Tagore."
The entertainment industry has a long history of female entertainers refusing to change their names in order to get married.
Sharmila's daughter-in-law, Kareena Kapoor, added a 'Khan' to her surname after her marriage to Saif Ali Khan. In her case too, there was never any compulsion to change her name or religious belief.
Way back, when Kishore Kumar married Madhubala, he was 'officially' converted to Islam and renamed Karim Abdul, a name that no one knows the legendary singer by.
When Sunil Dutt married Nargis, unconfirmed reports say Nargis converted to Hinduism and was re-christened Nirmala Dutt.
However, Hinduism has no provision for conversion. At the most, Nargis must have made the token gesture of adopting her husband's name and culture out of love.
Salman Khan's mother, Salma's maiden name was Sushila Charak. She changed her name to Salma Khan after she married writer Salim Khan.
Shah Rukh Khan's wife, Gauri Chibber, also assumed the 'Khan' surname after marriage. "It was her choice to take on her husband's name. And, in Shah Rukh's home, religious beliefs from Islam and Hinduism co-exist. The children are free to adopt whatever faith they choose," says a close family friend.
On the whole, the entertainment industry is a supremely secular place.
Inter-religious marriages occur without a murmur of change.
Aamir Khan's wife, Kiran Rao, has remained who she is after marriage.
Aamir's nephew, Imran Khan, is happily married to Avantika Malik.
Director Kabir Khan's wife, Mini Mathur's name remains unchanged.
When Amrita Singh married Saif Ali Khan, she continued to be known in the film industry by her original name.
"It is entirely up to the lady who marries out of her religion whether she wants to change her name. Kiran Rao didn't. Hazel Keech did. Her choice. Yuvraj didn't force her to assume the new name .She desired the change. And we must respect that," says an entrepreneur friend of Yuvraj Singh.
Photograph: Yuvraj Singh/Instagram