From kicks to cuts, Subhash K Jha gives us the latest Bollywood buzz...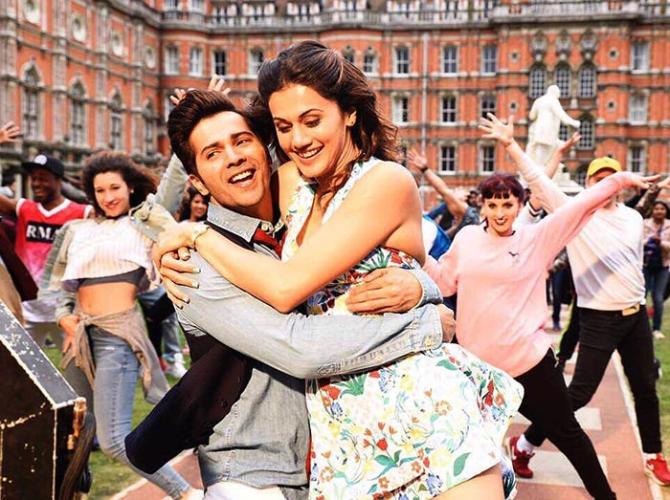 Photograph: Varun Dhawan and Taapsee Pannu in Judwaa 2.
When he is excited -- and that's more often than not-- Varun Dhawan tends to forget his bearings.
That's exactly what happened while he was shooting a song and dance with Taapsee Pannu and Jacqueline Fernandez for his dad David Dhawan's Judwaa 2.
Varun, all charged up about the intricate steps, suddenly kicked a little too hard. His foot landed on Taapsee's arm rather than in the air.
Tough girl Taapsee (after all, she starred in Naam Shabana has no hard feelings for VD.
Says she, "It was actually quite funny. No harm done. It's okay, hota hai."
Ever the gentleman, Varun was heard apologising profusely to his co-star.
***
Simran gets U/A rating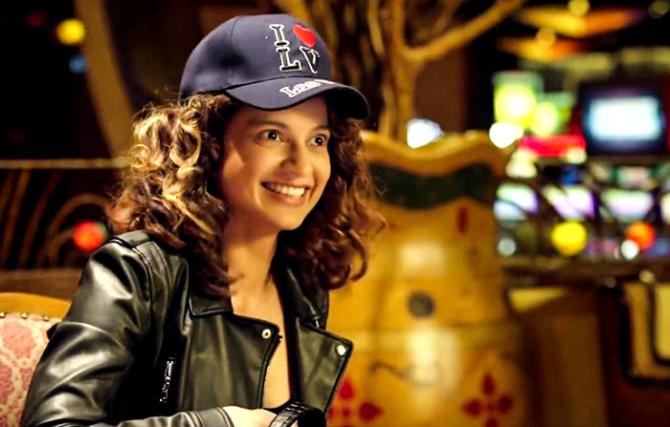 Photograph: Kangana Ranaut in Simran.
After the hue and cry he raised over one proposed cut in his masterly Aligarh, Hansal Mehta has accepted as many as 10 cuts in Simran.
Among the cuts 'recommended' by the CBFC (Meaning: Either take the cuts or lose precious time going to the tribunal) are the word 'bitch' which has been ordered deleted in 6 places.
Also out is the 'b' word used to describe people of uncertain parentage.
The most bizarre cut involves sound. Loud moaning sounds during sexual intercourse have been asked to be reduced.
"The sound effect made the sex scene look far more provocative than it actually was, so it was asked to be toned down," says a source.
Violence too gets curtailed in Simran. A scene with a stinging slap will have the sound muted.
Hansal can now collect his 'UA' certificate and ready Simran for release this Friday.
***
Lata disappointed at Kapil's absence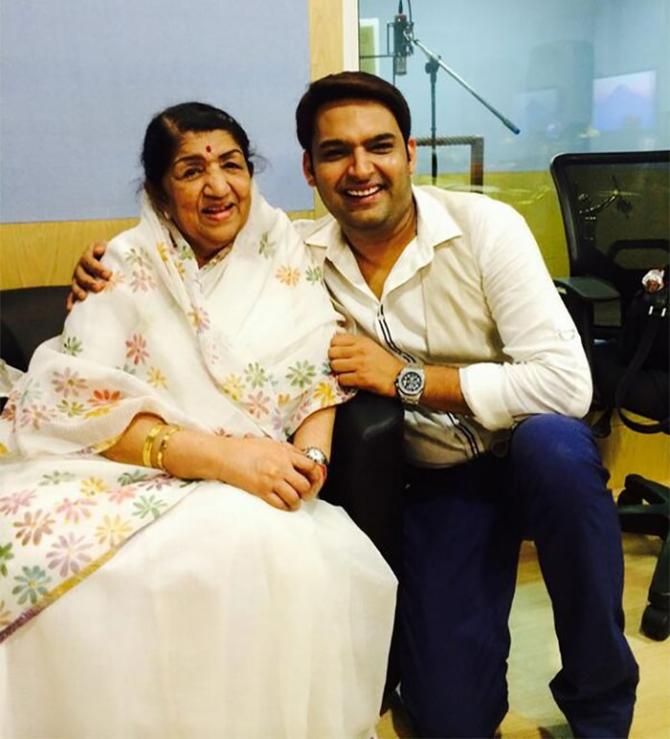 Photograph: Kind courtesy, Lata Mangeshkar/Twitter
Lata Mangeshkar is an avid fan of Kapil Sharma's show.
"He brought so much happiness and laughter into every home," Lataji says. "It's truly disappointing to hear that his show is no longer going to be telecast."
"I wish him a quick recovery and I hope the show returns soon."
"He is very fond of me. He kept insisting I come on his show, Lekin main wahaan kya karti? (What would I have done there?)."
"I enjoy watching his show, not being on it."
"I want Lata Didi to know that the show is coming back stronger than ever," Kapil tells me from Bengaluru.
"I am at an Ayurvedic clinic for 40 days for healing. I am already feeling the change in me. I promise I will be back stronger than ever."
"They (some Web sites) talk about my health like qualified doctors," the television comic star adds. "I am supposed to have gone mad. I want all my well-wishers to know that there is nothing more serious than overwork that is wrong with me."
"I needed a break. God has given me one."