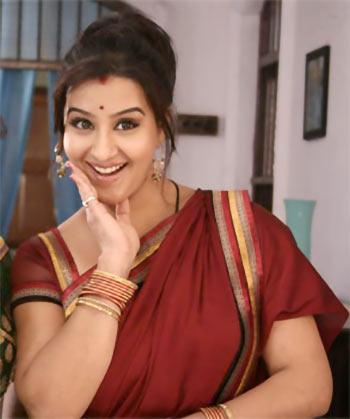 'They said I had to sign an exclusive contract, otherwise I will have to sit at home and they will ruin my career.'
Angoori Devi aka Shilpa Shinde gives her version.
Shilpa Shinde has been in the news lately because of her infamous tiff with the makers of her hit show, Bhabhi Ji Ghar Par Hai.
The 38-year-old actress became a household name courtesy her stint as Angoori Devi on the comedy show.
But the laughs seem to have dried up.
The makers of the show have issued a legal notice to her, but Shilpa isn't keeping quiet about it.
Shilpa tells Rediff.com contributor Rajul Hegde why she quit the show.
Why did you stop shooting for Bhabhi Ji Ghar Par Hai?
It was not my decision to leave the show but they made me leave.
The officials of &TV wanted me to sign an exclusive contract, which I refused. I was willing to sign a bond that would prevent me from essaying a character similar to Angoori.
Many of my fans have told me that they watch the show only because of me. That may be the one of the reasons that the producer is sitting on my head and asking me to come back to the show.
What went wrong?
I have done hit shows like Bhabhi -- Mayka did well on Zee TV, so did Chidya Ghar on Sab TV. So why should I work with a new channel with exclusivity?
I should have the freedom to do other shows. Not that I am going to do another show after shooting for this show for 25 days in a month.
When I refused to sign the contract, they spread rumours that I was throwing tantrums on the set. They even refused to give me a raise in lieu of the exclusivity.
Go on...
After the discussion, I continued shooting for two-three days but they gave me a two-day off, thinking they will get a replacement for me.
But when they were unsuccessful, they started pressurising me to sign the exclusive contract once again and resume the shoot. Now they have sent me a legal notice.
Do you think leaving the show midway was the solution to the problem?
Their head of fiction programming Mr Vikas Gupta said that I had to sign the exclusive contract, otherwise I would have to sit at home and they would ruin my career.
I told them they cannot force me to sign the contract but I am ready to leave the show.
We don't even have these contracts with us. All the original documents are with them. Even if they forge documents, I will not know, since I have never seen them.
The producer of the show, Benaifer Kohli, has said in her statement that you were throwing tantrums, reporting late for shoots, ordering your own costumes even though there was a designated designer and even arm-twisting them to pay for it.
Why did they wait for a year if I was really throwing tantrums? Why didn't they throw me out at the start of the project or maybe later?
I have a very good reputation in the industry; my work speaks for me. The designer who was hired to make my clothes for the show, gave me messy clothes to wear.
I am required to look good in the character I play. I requested them to sit down with the designer and solve the problem but they did not pay heed.
I am a designer and I have had exhibitions in the past. There were times I wore my own clothes for this show because I was not comfortable with the clothes the designer gave.
Plus, I told the production that if they were not paying me for using my personal stuff on the show, it was okay. But they didn't have to pay the designer because I was not using her stuff. I was trying to save their money.
If I have demanded money for the clothes that I have stitched and used during the show, where is the bill? Ask them to show it.
So the allegations are baseless?
I am really upset with the whole thing. I am an artist, who had stepped into Rashami Desai's shoes as Angoori, when she had left the show at the eleventh hour.
Bhojpuri is not my mother tongue (Angoori's character speaks Bhojpuri in the show) but I took it up as a challenge and proved it.
I have been in touch with Manoj Santhoshi (writer) for this show from 2013. I insisted that I need a takiya kalam (catchphrase) in this show. Sahi padke hai was my writer's and my brainchild. I have worked hard to make this show a success.
Apparently, you had issues with Benaifer Kohli?
Benaifer is mad, sorry to say so. Everybody in the industry had warned me not to work with her.
Sanjay Kohli (her husband) is a very nice person. I don't have any problems with him.
She wasn't ready to accept the changes that I suggested in the contract.
Why would I do another show when I am working on this show for 25 days despite health issues?
Doctors have advised me to slow down, but the makers are mentally harassing me.
You have great chemistry with your co-stars on the show. Why haven't they supported you?
Nobody has supported me. They are working on the show, so they are being diplomatic. I have told them not to say good or bad things about me but at least say what is right when these people spread rumours.
Have you seen any of the artists taking about it? No, they won't.
Kapilji (Sharma) ki team ko family bolte hai. This is the right example of team work. The entire team moved with him to another channel. Why? Because there is unity.
These actors have always felt that I steal the limelight. They often felt frustrated about people going gaga over Angoori Bhabhi.
I am sure they will be happy now, as they do not have to share the screen with me.
Now that Edit II Production has sent a legal notice to you, what next?
I will also send them a legal notice. They think they can throw someone out of the show whenever they feel like and ask us to come back when they want to?
But it cannot happen like that.
I am concerned about recovering my three-month dues.
The show has completed a year and I am due for a fee revision. If I ask them to revise my money, it's my right.
I have always said that this is my show, I have made it and I will never leave this. I am very proud of it.
But now after this, it's impossible to work with these people.
There is a buzz that you are doing The Kapil Sharma Show...
If I am sitting at home and getting to do work for a couple of days in a week, why shouldn't I?
Of course, I am doing it. Nothing is bigger than Kapil's show, not even films.
People are asking if I am playing bua or dadi but nothing is finalised yet. I got this offer only after I stopped shooting for Bhabhiji.