'It is the journey of my father -- how he made it in this industry in no time, from a nobody to a music mogul.'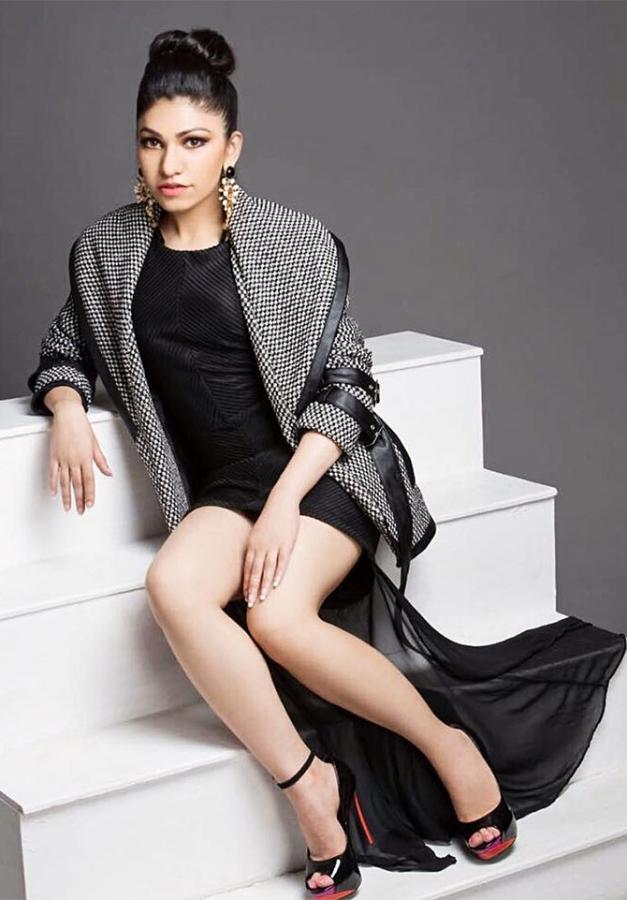 Photograph: Kind courtesy Tulsi Kumar/Instagram
Akshay Kumar will play the late music baron Gulshan Kumar in a biopic, Mogul.
The film will be directed by Jolly LLB 2 director Subhash Kapoor.
Tulsi Kumar, Gulshan Kumar's singer-daughter was only 12 when her father was murdered.
Tulsi tells Rediff.com's Patcy N what to expect from the film.
Do see the videos and watch Tulsi sing.
Akshay Kumar is playing your father.
Yes, my mom (Sudesh Kumari) has turned producer with Mogul.
I help her with it as it is on my father. I will be involved in every aspect along with my mother and brother (T-Series owner Bhushan Kumar).
Whose idea was it to make a film on your father?
My brother always wanted to do it. There was always talk in the house much before the film was announced.
But he hadn't met the right team.
When it started, everything just fell into place. The shooting has not yet started.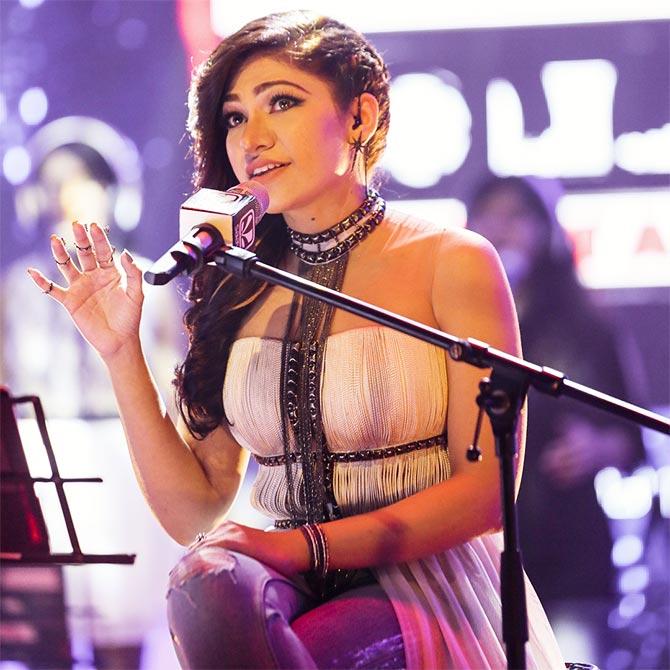 IMAGE: 'Music is synonymous with my father, and that is what he brought out in my life too,' Tulsi says. Photograph: Kind courtesy Tulsi Kumar/Instagram
What aspects of his life will be covered in the film?
I am not the right person to answer this even though I know what it is.
(Director) Subhash Kapoor is the right person to answer it.
It is the journey of my father -- how he made it in this industry in no time, from a nobody to a music mogul.
It will show his traits in his business, and a bit of his family life.
Akshay Kumar will play my father, the rest of the cast is not finalised yet.
The film was announced on my birthday as I was my father's pet.
What memories do you have of your father?
I was 12 when my father passed away.
Music is synonymous with my father, and that is what he brought out in my life too.
I was really inclined towards music. He saw it and told everyone that I had a good voice and it should be trained.
I learnt classical music at the Suresh Wadkar Academy. I owe wherever I am today to my father.
After my dad passed away, we had to shift to Delhi. A lot of things were happening and we had a turbulent life.
It was my mom who was my support system throughout, and helped me stick to my dreams.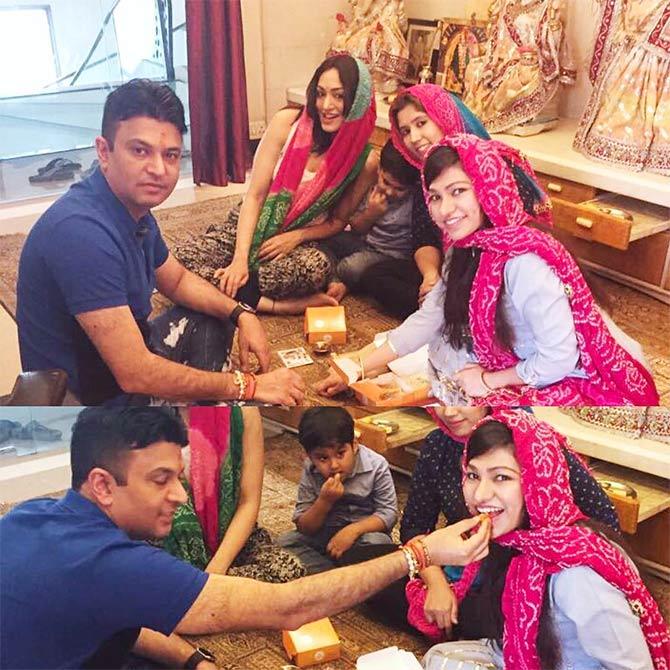 IMAGE: Tulsi celebrates Raksha Bandhan with her brother Bhushan. Photograph: Kind courtesy Tulsi Kumar/Instagram
Do you remember that fateful day?
Let's not talk about it because it is very disturbing. I always avoid talking about him.
Since you lost your father at an early age, your brother became a father figure to you. What is your relationship with him like?
My brother is definitely a father figure to me. He is eight years older than me.
We have never gotten into the buddy zone because at a very young age, he was thrown into a lot of responsibility. He put in a lot of hard work.
I have immense respect for him and he has immense love for me.
We grew up in different cities -- he was in Mumbai and I was studying in Delhi. I would visit Mumbai during my holidays.
Whenever I do any work, whether I'm singing or working in the academy that I have started in Noida (T-Series StageWorks Academy), I get full support from him.
SEE: Tulsi sings Soch Na Sake from Airlift. Video: Reuben NV
You worked with your sister Khushali on an album. What is your rapport with her?
She is my buddy. I take my fashion advice from her. She always guides me about what to wear and what to buy.
I also ask her for feedback regarding the songs I have sung. She is a year-and-a-half older than me.
You have sung for your sister-in-law Divya Khosla's films Sanam Re and Yaariyan.
We share a good relationship. All of us share the same passion and we are a part of Bollywood.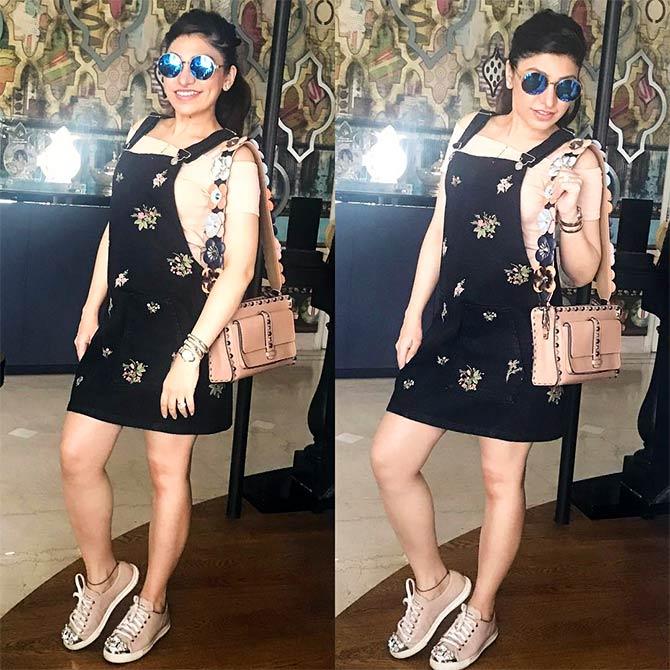 IMAGE: 'I take my fashion advice from my sister Khushali,' Tulsi says. Photograph: Kind courtesy Tulsi Kumar/Instagram
It has been 10 years since you made your Bollywood debut. Are you happy with the way your career has shaped up?
My career has shaped up very well. I follow the 'Slow and steady wins the race' mantra.
I have not done too many songs, but at the same time, I am happy with the kind of work I have done.
The quality speaks more than the quantity.
People remember me for songs like Tum Jo Aiye in 2010 (for Once Upon A Time In Mumbaai), which welcomed into the industry.
Even before that, I have sung popular songs like Love Mera Hit Hit (Billu) and Janabe Janiya (Aksar), my debut song.
Then, there are songs from Hum Ko Deewaana Kar Gaye.
But I truly arrived with Tum Jo Aiye, a duet with Rahat Fateh Ali Khan, composed by Pritamda. Even the movie did really well.
I have sung songs for Dabbang 2, Ready, Aashiqui 2...
Aashiqui got me a lot of fame. I started getting fan mail.
People told that the innocence in my voice went well with Shraddha's character in the film.
In Roy, I sang the unplugged version of Tu Hai Ke Nahi.
I sang the reprised version of the title track of Sanam Re.
Airlift's Soch Na Sake brought me into the limelight and I won a lot of awards for it.
I sang Salamat from Sarbjit.
SEE: Tulsi sings Nachange Saari Raat from Junooniyat. Video: Reuben NV
Your song from Mubarakan, The Goggle Song is a hit too.
The Goggle Song was a fun, celebration song. It was conceptualised last year and at that time, we didn't know which film it would appear in.
Once it was finalised for Mubarakan, we got other singers on board like Sonu Nigam and Armaan Malik. Neeti Mohan joined the song later.
Amaal Malik has composed the song and has sung a couple of lines too.
I have normally done solo or duet songs, but this was the first time I worked with four other singers. But we did not record it together because we were all busy.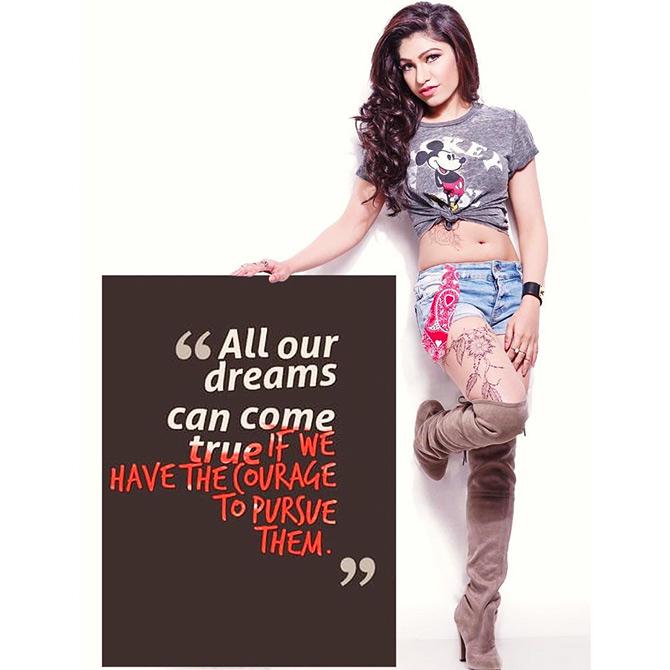 IMAGE: Strong words from Tulsi Kumar. Photograph: Kind courtesy Tulsi Kumar/Instagram
What have you learn from other artistes?
I consider Lataji my inspiration.
I listen to her the most, and try to sing like her. I met her 2009 to seek her blessings.
Sonu Nigam is extremely versatile. I learnt voice modulations from him.
Among music directors, Mithoon is best, as he brings the best out of every singer.
He has taught me how to project my voice in different ways, how to get immersed in a song.
SEE: Tulsi sings Chahe Mai Rahu from Sarbjit Video: Reuben NV
What keeps you busy these days?
My academy, T-Series StageWorks Academy of Film, Music and Performing Arts.
I don't teach, but we have the right kind of teachers.
We have various courses in acting, singing and dancing. We plan to introduce more courses like editing and direction.
Shaan and Sonu Nigam are the course directors for singing, (choreographer) Ahmed Khan for dance, Sharman Joshi for acting, Dino Morea for modelling....
On our advisory council, we have Bappi Lahiri, Udit Narayan, Pahlaj Nihalani and many more.
I also have a YouTube channel for kids called Kid Hut. I am a solo voiceover artist.