Adnan Sami's passport, re-issued in 2010, expired in May this year and Pakistani government chose not to renew it.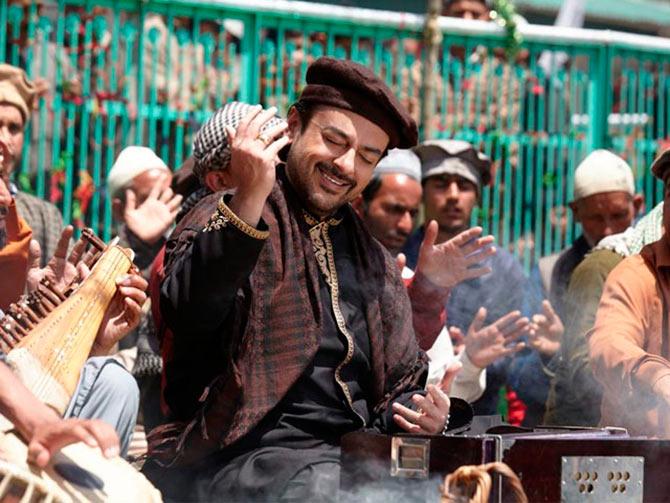 Singer Adnan Sami Khan first arrived in India in 2001 on a visitor's visa with the validity of one year that was issued by the Indian High Commission in Islamabad.
His visa was extended from time to time, allowing him to live in India for 15 years.
However, his Pakistani passport, re-issued in 2010, expired in May this year and the Pakistan government chose not to renew it. This made him reach out to the Indian government, which has responded favourably. He has been allowed to stay in India for an indefinite period following his appeal to legalise his stay in the country.
I make several attempts to reach Sami but it seems his legal counsel has advised him to currently stay mum on this matter. But when he first heard the news in the first week of August, he told Hindustan Times that he was thrilled.
"The love, adulation and warmth that I got from India is the reason why I chose this country. People all over the world know me as an Indian artist. I could have chosen any other country and wouldn't have had to go through problems claiming my citizenship. But it is India where my heart is and has always been," he says.
People in Pakistan aren't happy with this turn of events, and have been burning his effigies in protest.
Sami, on his part, seems unperturbed by these reports and is just "happy that I have finally found my home".
Sami was one of Indie pop's biggest names in the early 2000s, when his songs Kabhi To Nazar Milao and Lift Karaa De starred reigning Bollywood stars and became all the rage on TV and radio. Sami's talent was first spotted by singer Asha Bhosle, who Sami has always been immensely grateful for mentoring him. Bollywood came calling soon after, and Sami produced a few more hit-makers such as Saathiya's Aye Udi Udi Udi and Ajnabee's Tu Sirf Mera Mehboob.
A few years down the line, plagued by marriage and health problems, Sami had kept mostly a low profile.
A miraculous makeover later, which included settling down with his third wife Roya Jaan and losing over 200 kgs, he has now even made a name for himself down South, having sung for many Telugu, Malayalam, Kannada and Tamil films in the last five years.
Recently though, Sami has hit mainstream headlines again, for recording a song for Bajrangi Bhaijaan, the Salman Khan blockbuster (pictured above). Bhar Do Jholi Meri is a legendary qawwali by Pakistan's Sabri Brothers, and it was Khan's idea that this be rendered by Sami in the movie.
Sami, who is trained in Hindustani classical music, had never sung a qawwali before but has succeeded in bringing a"pop" freshness into it.
The composer and concert pianist is active on Facebook and Twitter and uses the social media to reach out to his fans. He tweeted about his training as a barrister in London, the alternative career if music had not found him. Sami has also become a poster boy for fitness, after he lost staggering amount of weight, and tweets using the hashtag #WeLikeToStayFitWednesdays."Just remember that the Biryani is going no where... It will stay... But your clock is ticking and your life is passing by & so get your health back in shape."
Mumbai does seem to have become his home though, as is evident from this post he put out last month, accompanied by an image of Marine Drive. Sami has just returned from a North America tour, and signed a Bollywood film as a leading man that his managers have chosen to remain tight-lipped about.
He certainly has all the time in the world now to make those Bollywood dreams come true.