This is by now means a complete list of rock n rollers who died young.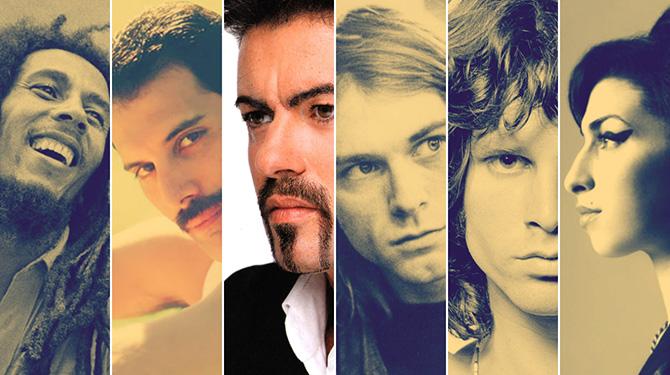 Death and popular music have an unhealthy fascination for each other.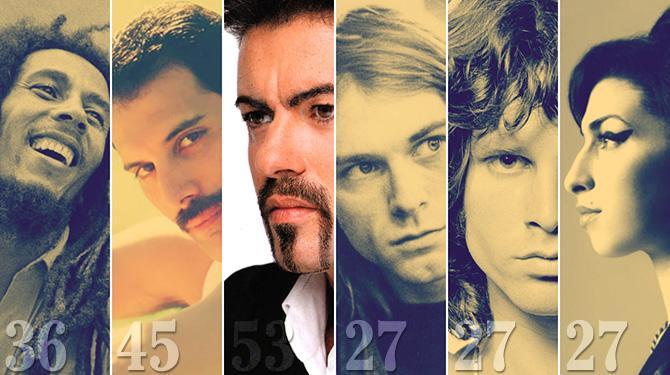 53: George Michael. Cause of death: Suspected heart failure.
50: Michael Jackson. Cause of death: Cardiac arrest caused after intake of drugs. His death was ruled a homicide and his physician was convicted of involuntary manslaughter.
45: Freddie Mercury. Cause of death: AIDS. Sadly, there were no drugs around then that could have retarded the flamboyant showman's disease.
45: Marvin Gaye. Cause of death: Murdered. His father Marvin Gaye Sr shot him after an argument.
42: Elvis Presley. Cause of death: Heart attack 'The King' was clearly overweight and suffered from glaucoma, high blood pressure, liver damage, enlarged colon, not to speak of that musician's scourge -- drug abuse -- when he died in his prime.
40: John Lennon. Cause of death: Murdered. Just as the Beatle was making a comeback, Mark Chapman, a crazed fan, shot Lennon four times in the back at the Dakota, his New York apartment building.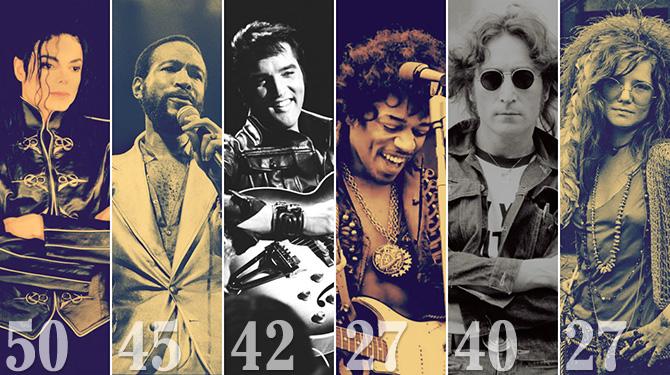 36: Bob Marley. Cause of death: Melanoma or skin cancer. 'Money can't buy life,' he is reported to have told his son Ziggy just before he died.
27: Kurt Cobain. Cause of death: Suicide. Nirvana's front man -- unable to cope with addiction, depression and fame -- shot himself in the head.
27: Jimi Hendrix. Cause of death: Choked on his vomit in a drugged stupor. Arguably the greatest guitarist ever, Hendrix had taken 9 times the recommended dose of sleeping tablets.
27: Janis Joplin. Cause of death: Heroin overdose. The singer died less than a fortnight after Hendrix. Music never recovered for a long time from those sudden deaths.
27: Jim Morrison. Cause of death: Undetermined. Was it alcohol or heroin that killed the famed frontman for The Doors? No one knows for sure. Which is why some fans think he is still alive.
27: Amy Winehouse. Cause of death: Alcohol poisoning. The people around her knew Amy was hurtling towards disaster, still the shock of her death numbs fans to this day.