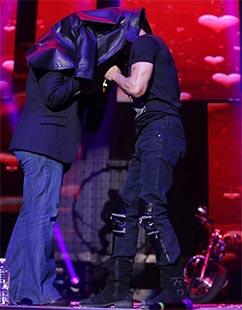 Sex jokes. SRK's lover boy act. Sonu Sood's washboard abs. The Happy New Year team went all out to woo their New Jersey fans with their SLAM! tour!
If Shah Rukh Khan asks you, in the presence of thousands of unsuspecting fans, if he can take a "few liberties" with you and your attractive wife, you might want to think twice.

Even if you get to take home a Harley Davidson in lieu of your consent.
On September 20, during his live SLAM! performance in New Jersey -- which is a promotional world tour for his upcoming film Happy New Year -- SRK asked for volunteers from the audience.

While several hundred people from the audience volunteered, the star actor promptly zeroed in on an attractive 30-something couple -- an Indian and his American wife.
The lady revealed her pet name was Ballu and she called her husband Dimple. Dimple reluctantly admitted that he was a "bit possessive" of his wife.
For about the first five minutes, SRK asks seemingly innocent questions and conducts a short quiz on his movies.
Shah Rukh then had the man seated on a chair that was then lifted up in the air as he began "romancing" the wife with snatches of lyrics from some of his most popular movie songs like Yeh kaali kaali aankhen (from Baazigar) playing in the background.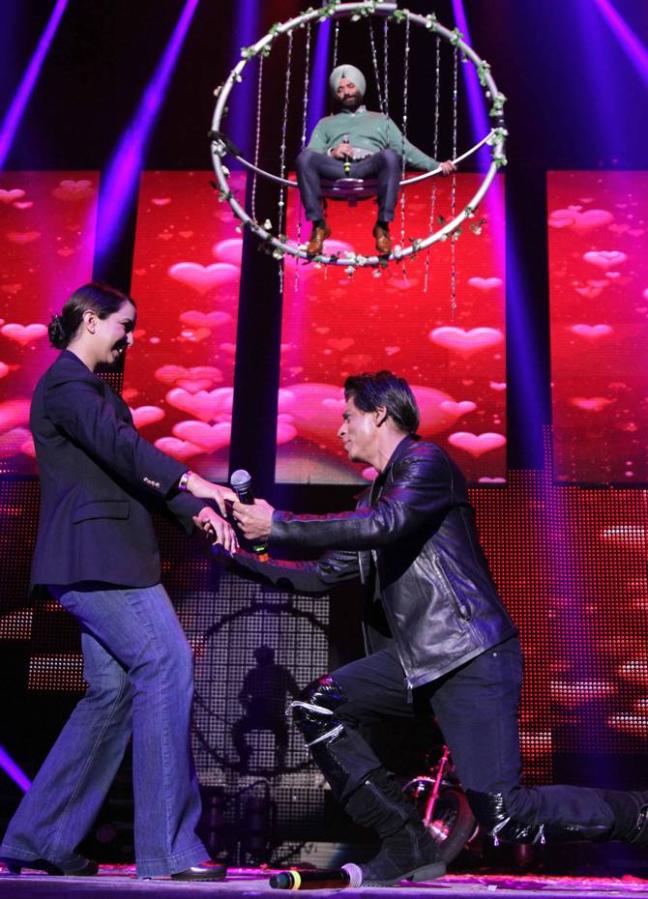 Image: Shah Rukh Khan serenades Ballu as Dimple looks on. Photograph: Paresh Gandhi/Rediff.com
While Dimple seemed to squirm in his seat, Shah Rukh took off his jacket with a flourish and pulled Ballu under it.
Two young girls, who each had paid $1,500 for their second row seats, almost swooned. "How about me," said one of them. "Here, here, look here. I will come there with my sister."
The couple not only got the Harley but also a large Shah Rukh Khan autographed picture for their baby daughter.
"A future investment," the actor noted.
The show, the second of many city tours planned for America and Canada, also featured the main leads from Farah Khan-directed Happy New Year -- Deepika Padukone, Abhishek Bachchan, Vivaan Shah (who opened the three-hour show), Sonu Sood and Boman Irani who, along with Farah, played a bickering couple periodically through the show.

Malaika Arora Khan added oomph to the show.

Rapper Yo Yo Honey Singh, who reunites with SRK on HNY after the runaway success of Lungi Dance, was joined by singer Kanika Kapoor, who sings the song Lovely from the film.
Kanika rose to fame with her rendition of the chart-topping Baby doll number from Ragini MMS 2. She looked fetching in a mini dress but her performance on Lovely lost a bit of its appeal due to overly amplified beats and the ambient sounds in the stadium.

Boman Irani was the butt of some jokes (to the audience's delight) as Farah went on to compare his sex appeal with SRK's and his non-existent abs with the washboard quality version of Sonu Sood's.
At one point, Boman (as per the script), while reciting lines from a Shah Rukh movie, said 60 seconds instead of 60 minutes. When Farah pointed the mistake out, he meekly said that his age, 60 seconds is a big thing. The joke, with its sexual subtext, was probably one of the weakest segments in the show.
Among the well received comedy routines was the one featuring Shah Rukh and Abhishek.

When the duo started dancing to a Dhoom tune, SRK paused after a few minutes and wondered what he is doing in the act -- he wasn't a part of Dhoom 3, you see.

Abhishek deadpanned, "I have been wondering about my role in Dhoom for 10 years."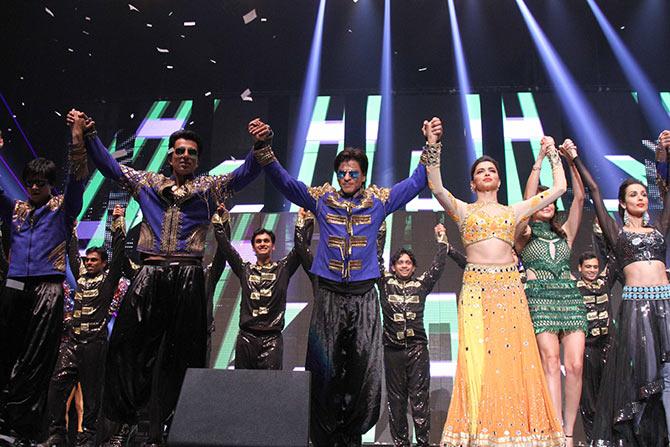 Image: The Happy New Year team takes a bow at the end of their SLAM! show. Photograph: Paresh Gandhi/Rediff.com
SLAM! happens to be the only major star show in five years to tour half a dozen cities in North America.
Organisers had said that the economic meltdown and the stars' refusal to cut down their fees had led to the cancellation of many projects.

But promoters like Kanu Chauhan, who has organised many big shows in New York, sought to change the scene and came up with SLAM! in one of the biggest sports arenas in New Jersey.
The show, which had plenty of special effects, including fireworks, made history in a sense -- it was the first star-studded event timed as a big promotional tour for a forthcoming release.