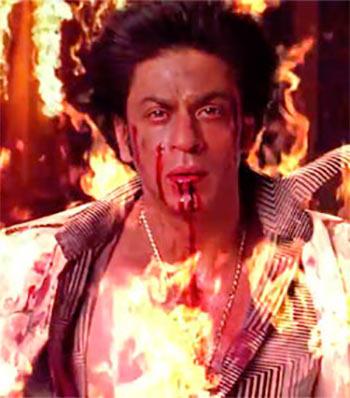 Spoiler Alert!
The world's favourite image of Shah Rukh Khan is where he flashes his famous dimpled smile and spreads his arms wide open. Easy to imagine the King of Romance walk off with the heroine with a happy ending.
Things aren't always this cheerful for his on-screen avatars.
In the recently released Fan, where he essays a double role, the titular character pays a fatal price for his obsession and mischief around a cine idol. Expectedly, the moment is laced in drama and desolation.
The actor has quite a body of memorable death scenes to boast of.
Got a favourite? Vote for it below:
Baazigar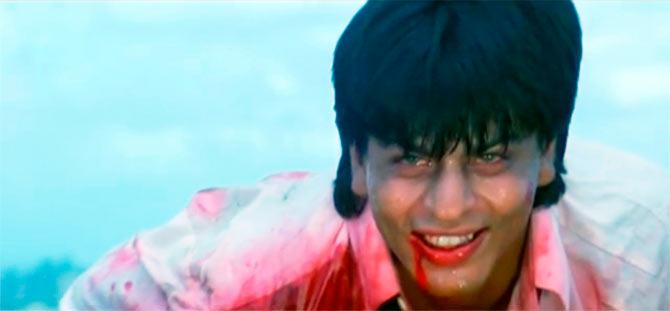 IMAGE: Shah Rukh Khan in Baazigar
In Abbas Mastan's devious Baazigar, Shah Rukh manipulates a businessman and his two daughters to avenge his family's ruin.
Foul play doesn't pay as evident in the film's bloody climax where Dalip Tahil's pointy spear does him in.
What follows is SRK going all soppy, a la Vijay of Deewar, on his mommy's lap till it's literally The End.


Darr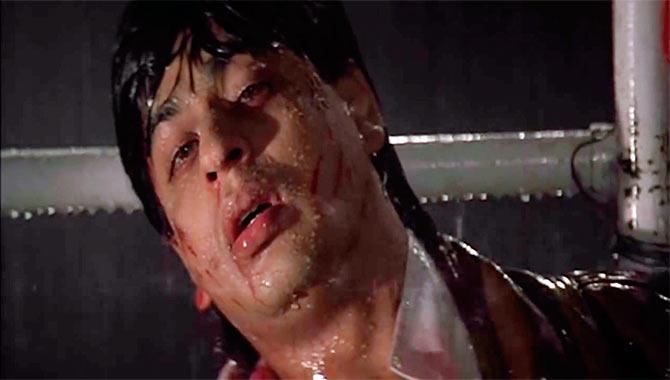 IMAGE: Shah Rukh Khan in Darr
Obsession never pays as he finds out the hard way for incessantly stalking Juhi Chawla's K-k-k-iran in Yash Chopra's Darr.
Moral of the story: messing with Sunny Deol's girl usually ends in beating, bullets and bereavement.


Anjaam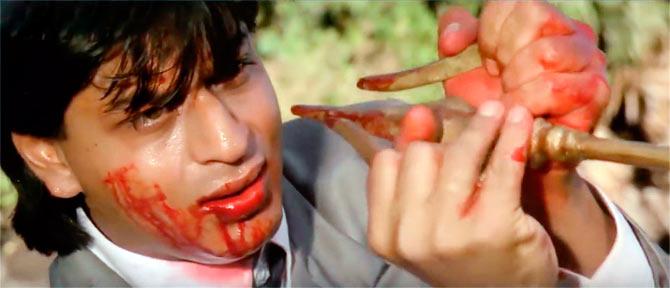 IMAGE: Shah Rukh Khan in Anjaam
SRK's bad boy trilogy hit another level of gore in Anjaam. Except after all the grief he gives Madhuri Dixit, it's only fair his character is thrown off a cliff in the end.


Karan Arjun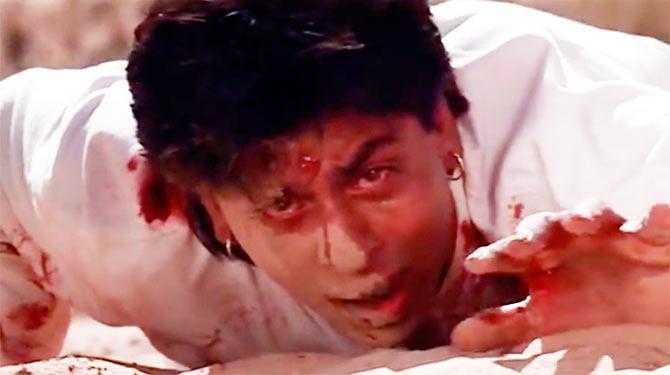 IMAGE: Shah Rukh Khan in Karan Arjun
In Rakesh Roshan reincarnation-themed masala, Raakhee believes her sons Karan and Arjun will return from the dead to avenge their slaughtering via swords in the dessert at the hands of a ruthless Amrish Puri and his henchmen.


Ram Jaane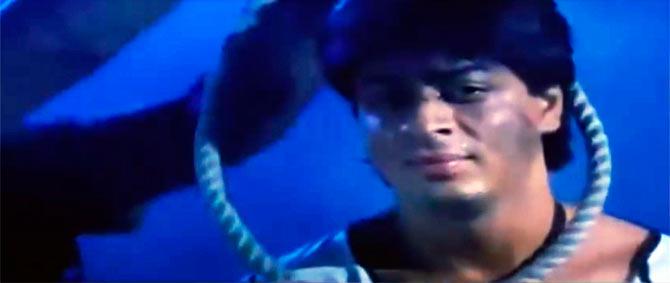 IMAGE: Shah Rukh Khan in Ram Jaane
SRK's Ram Jaane engages in all sort of crookedness.
But mostly he hams like there's no tomorrow, behind the bars, before the cops and his buddies till they hang him in the final scene of Umesh Mehra's Angels With Dirty Faces rip-off.


Army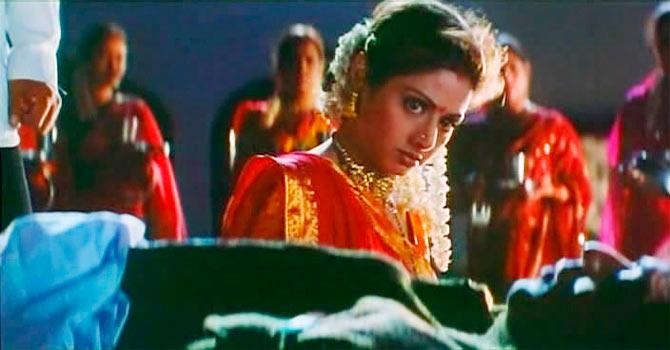 IMAGE: Sridevi and Shah Rukh Khan in Army
SRK's short and sweet cameo in the Sridevi-led Army is a charming distraction. And the actor happily provides enough fun and feeling to justify Sri's vendetta spree after he's rudely bumped off the scene.


Dil Se..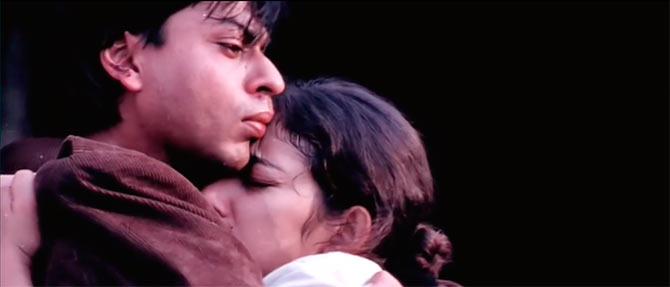 IMAGE: Shah Rukh Khan in Dil Se..
He's a radio journalist. She's a suicide bomber. SRK's impossible romance with Manisha Koirala in Mani Ratnam's Dil Se.. can only end trigger trouble or bombs.


Hey! Ram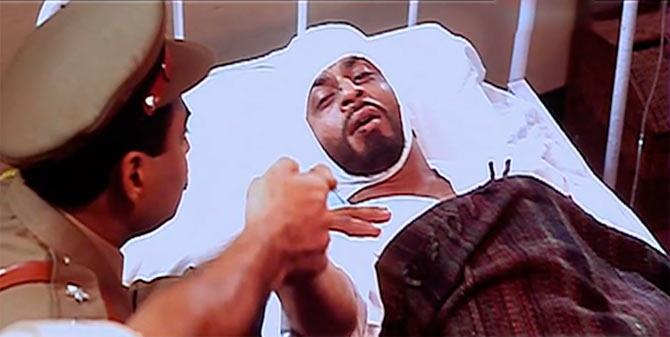 IMAGE: Shah Rukh Khan in Hey! Ram
In Kamal Haasan's controversial Hey Ram revolving around Mahatma Gandhi's assassination, SRK pitches in a cameo as the star's Pathan pal. At some point of its cryptic, communally chaotic proceedings, he's brutally beaten up and succumbs to the injuries on the hospital bed.


Devdas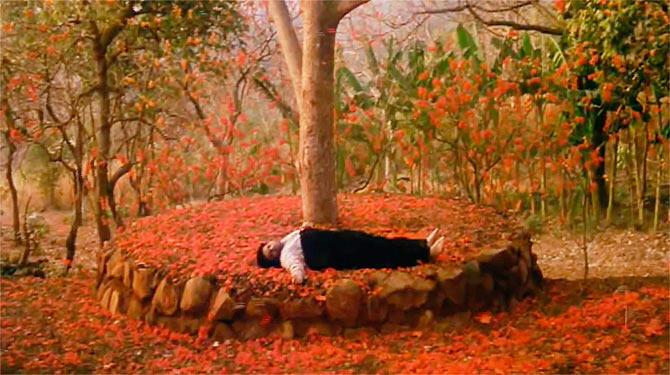 IMAGE: Shah Rukh Khan in Devdas
Childhood sweetheart Paro's unrequited love proves to be his undoing. SRK as Devdas takes refuge in alcohol but the path to destruction only leads him dying on Paro's doorstep in ways only Sanjay Leela Bhansali can visualize stealing both -- his and our-- breath away.


Shakti: The Power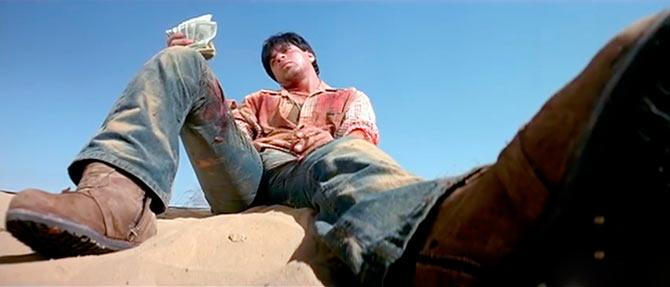 IMAGE: Shah Rukh Khan in Shakti: The Power
Whether or not it really is the longest dying sequence in the history of Hindi cinema, Shah Rukh's death scene in Shakti: The Power, where he only has a special appearance, certainly feels like one.
The blood-soaked star is all over the place crawling towards the rail track, chattering non-stop in a Bihari accent long after the dozen baddies he tackled alone have departed.


Kal Ho Naa Ho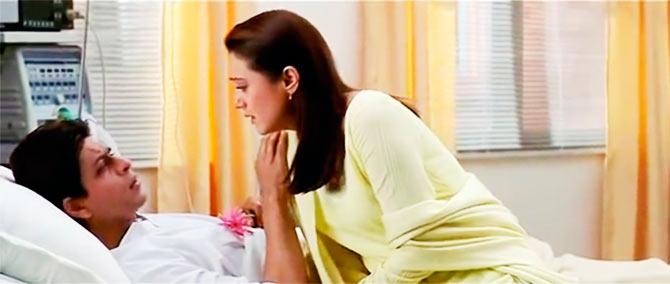 IMAGE: Shah Rukh Khan and Preity Zinta in Kal Ho Naa Ho
Doing his version of Anand's Zindagi lambi nahi badi honi chahiye, SRK flourishes in his live for the moment philosophy enriching lives like it only happens in a Karan Johar production. And so we sob and sniffle as he says his final goodbyes to Preity Zinta and family before he takes off heavenwards.


Om Shanti Om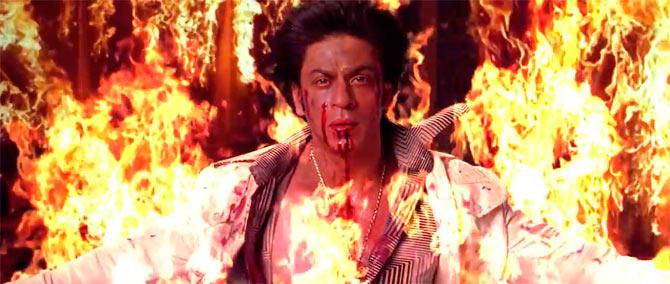 IMAGE: Shah Rukh Khan in Om Shanti Om
In yet another tragic death triggers rebirth scenario, SRK play a junior artist who dies in a fire explosion along side his dream girl Deepika Padukone during a failed rescue attempt.
Luckily though, he's reborn as a superstar and easily achieves both romance and revenge in Farah Khan's frothy flick.


Ra.One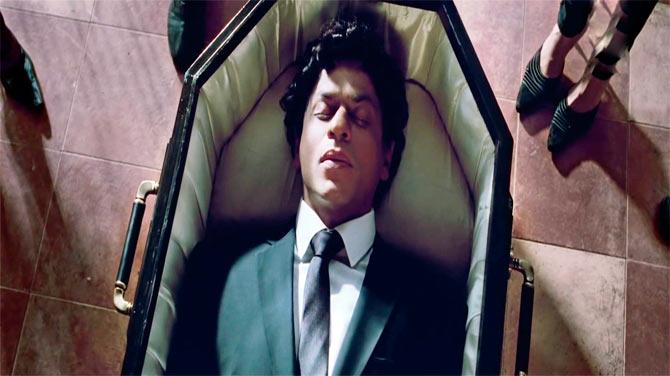 IMAGE: Shah Rukh Khan in Ra.One
In a bizarre turn of events, SRK's curly-haired scientist is unceremoniously killed when the titular villain of a virtual reality game he's designed comes to life. We don't feel bad for too long because there's much cooler version available in his robotic avatar G.One.