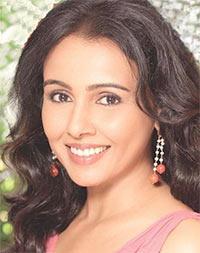 'I just lucked out.'
'I got good roles. I was in the right phase, selected at the right time.'
'But I had no great ambition.'
Suchitra Krishnamoorthy gives Rediff.com's Ronjita Kulkarni a glimpse into her career.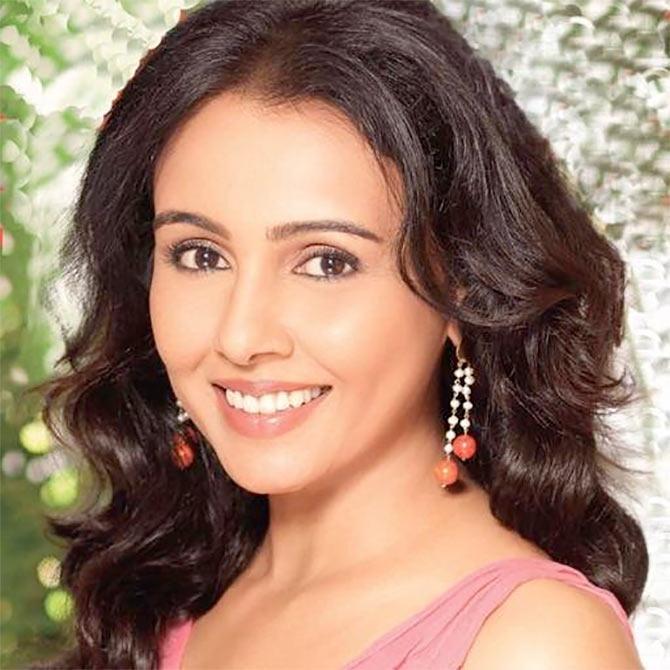 Photograph: Suchitra Krishnamoorthy/Twitter
Suchitra Krishnamoorthi does not want to marry again for sex.;
And no, she does not have Aphallatosis (a rare mental disorder arising from lack of sex), as she claimed in her book, Drama Queen.
What she does have is such an abundance of talent that one wonders why it wasn't utilised better before.
Watching her rehearse for her play Drama Queen, based on her book, one sees a lady who can hold your attention for over two hours effortlessly. And she does it all alone, since she is the only one cast in it.
Before she got on stage, Suchitra told me, "I'm terrified of acting on stage. It makes me dizzy!"
You wouldn't know that, as she throws her arms behind her head on stage, doing the 'angdai' (stretch) Bollywood heroines often do in the movies to entice their lovers.
It probably helps that Suchitra has always been confident.
Starting out, Suchitra says she was very confident during auditions. "I would be like, of course, I'm going to get the role. It never struck me to work hard and fight for the role," she says.
Her career started early; she was still in school and younger than what her daughter Kaveri is today.
"I was very active on stage (in school and college). A bunch of kids were going to audition for a serial called Chunauti and they asked me to come. Everyone had their professional portfolio pictures; I took out my school ID," she says with a laugh.
She bagged a leading part.
"I had to beg my parents because they absolutely refused. My mom was very strict. I said let me do this one thing and I won't do anything else. Of course, that never happens."
Chunauti, a serial about college students and drugs, became popular.
"I had my board exams during Chunauti and my parents did not want me to continue," Suchitra recalls.
Her parents refused to let her do Circus, starring Shah Rukh Khan, who was then starting his showbiz career.
"By the time I was in junior college, I started getting offers for movies. I would run away and do ads and then my mom would see a picture of me in a magazine and she would say, 'What is this, when did you do this?' I did take up offers, but it caused a lot of problems at home. Finally, I had to leave home and live on my own," Suchitra says, trailing off.
***
'Shah Rukh and Farah Khan were so competitive'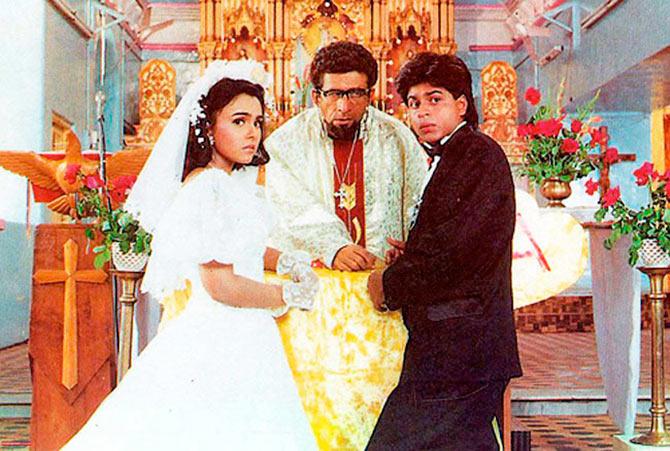 IMAGE: Suchitra, Naseeruddin Shah and Shah Rukh Khan in Kabhi Haan Kabhi Naa.
Suchitra may have lost out on Circus, but she got her chance to work with the Badshah.
"One day, I got a call from someone saying they were looking for a new girl for a film. I remember going to Kundan Shah's office in Bandra. They screen-tested me a lot," she says.
The film was Kabhi Haan Kabhi Naa, the sweetly remembered film. At the same time, she also worked on a Malayalam film, Kilukkampetti.
"I just lucked out. I got good roles. I was in the right phase, selected at the right time," she says. "But I had no great ambition."
What did she think of Bollywood at the time?
"I found the stinginess on the sets surprising. I mean, 'What do you mean you can't give me a Coca Cola?' " she remembers.
Suchitra explains the Coca Cola incident in her book Drama Queen:
'Like, why I was refused a Coca Cola on the set on a day when the temperature had soared to scorching. I was almost fainting in the heat, for god's sake. What was their problem? I was just asking for a soft drink, not the moon.'
'And then when I had insisted on paying for it because I so badly needed one, the animosity had only seemed to worsen -- the Coca Cola still denied.'
'My boyfriend says that it's because people in the movies mostly come from poor backgrounds and are not used to drinking Coca Cola or owning a car or...'
Suchitra was also surprised by the "competitiveness on the film sets."
"The film also had Farah Khan and, of course, Shah Rukh Khan. The first thing that struck me was that these people were so fierce and competitive. It was a quality I never had. Lot to learn!" she exclaims.
Is she still in touch with her superstar co-star?
"I'm not really in touch. We meet socially occasionally," she says, adding that she never watches reruns of Kabhi Haan Kabhi Naa on television.
Her boyfriend at the time was Shekhar Kapur, whom she married a couple years later.
She tells us her story: "I met Shekhar during my modeling days. (Late photographer) Gautam Rajadhyaksha had told me that Shekhar was looking for a leading lady for Champion, or some film that he was going to start. That's how I first met him. And then Shekhar kept calling..."
Her movie career was cut short abruptly because she got "married to a man who didn't want me to act," she says.
***
'Suchitra, you want to be an actress, you must do...'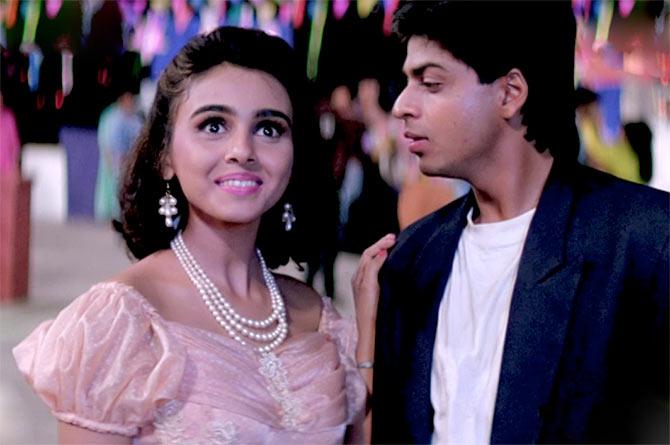 IMAGE: Suchitra with Shah Rukh Khan in Kabhi Haan Kabhi Naa.
The thing that rattled Suchitra about Bollywood was the casting couch.
She describes an experience well in her book:
'Struggling to counter the I-told-you-so, finger-wagging warnings of my parents with the shady cloak-and-dagger shenanigans of the film world was doubly confounding for me.'
'Suchitra, you want to be an actress, you must do...'
'Do? Do what?'
I could never figure out the code of conduct that newbies in showbiz were bound to follow by some unwritten law. It was the 'they' syndrome all over again.
'Do. All actress -- they do. They must do. Where are your parents? You phone them just now. I'll explain it to them.'
Oh no! Had he guessed my runaway status, the fact that I was living on my own?
'Er... my parents will be in office now...I can't disturb them...'
'Okay, no problem. Phone them later. Who are you more close to -- your mother or father?'
'My father. Amma is a little strict, but Nana is very kind...'
'So will you phone your Nana in the evening and tell him to pick you up from my hotel tomorrow morning?'
Tomorrow morning? What was I supposed to do till then? The old geezer was stodgy as hell. Had body odour, too. He was boring me already.
'Where are you running away, child? I told you to be an actress you must do. Now relax...'
Oh really? Do him? Boo Hoo.
Doobey doobey doo.
And f*** you!
"I'm happy that these things don't happen so much now. When I was young, these were a given," Suchitra says shaking her head. "And it would baffle me, the way the world functioned. But people saw it as a norm. I'm laughing about it now, but that time, it used to be horrifying."
"And it was all consensual," Suchitra adds, referring to the parents' involvement in it. "My dad would have landed up with a gun!"
***
'I'm not Rani Mukerji'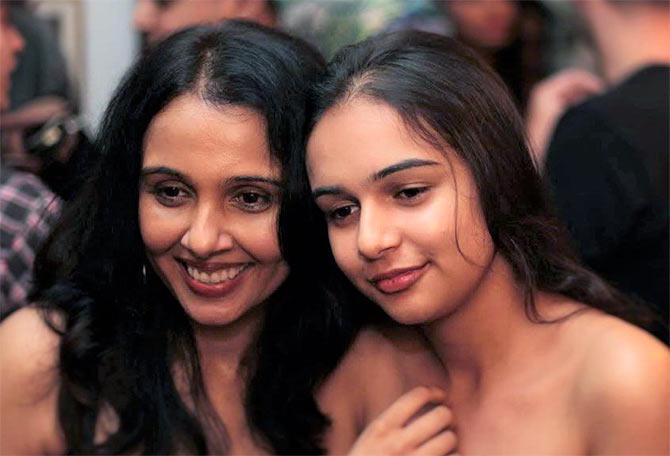 IMAGE: Suchitra with daughter Kaveri. Photograph: Suchitra Krishnamoorthy/Twitter
The book Drama Queen essentially is about a high-strung woman, who feels she is slipping into a nervous breakdown because she cannot cope with life any more after becoming a single mother.
"Drama Queen is a very state-of-mind experience," she explains. "I have never felt the need to hide or camouflage or lie. Whatever experiences we've had is part of the human experience. I don't think I went through anything unique, but people don't talk about these things. I don't see why I can't talk about it."
"I have the ability and need to express myself, so I gave it a shot. My family was very accepting, and that was very important for me. I didn't write to spite or rebel. I wrote in a way of acceptance and love."
"People assume that everything is real. It's an exaggerated reality, dramatised. It's not a journal, it's a work of fiction," she adds.
The family read the book before it was published.
Her mother, who probably got the worst deal in the book, was initially taken aback and upset when she read it. "But then she said that as an artist, if this is how you feel, this is what you should do. But remember, tomorrow Kaveri can write the same thing about you!"
Kaveri is young and she doesn't see the complexities behind it. "Kaveri finds it funny. We are a very close-knit family, so she knows everyone's traits. She knows that this is how her grandmom talks, and how things are," Suchitra says.
So what's the strangest experience she's had that she hasn't mentioned in the book?
"I was on holiday in Goa and I got chased by this guy, who kept asking me for an autography as Rani Mukerji!" Suchitra laughs.
"I was like, 'Bhaiya, I'm not Rani Mukerji.' But he said, 'Kyu jooth bol rahe ho madam? Tum Rani Mukerji ho'."
"He kept chasing me! Finally, I had to get the security to tell the guy that I wasn't Rani Mukerji!"