'Until Humshakals, it was all good. Then, that film did not work and after that, the offers weren't good. That's when you wish you were from the industry, that someone would be producing or directing you, or if nothing else, funding you.'
'If I am not earning, who will pay my rent? How will I do my dance class and weight training?'
'When you get a toothache, even a dentist in Mumbai is so expensive.'
Honest confessions from Esha Gupta.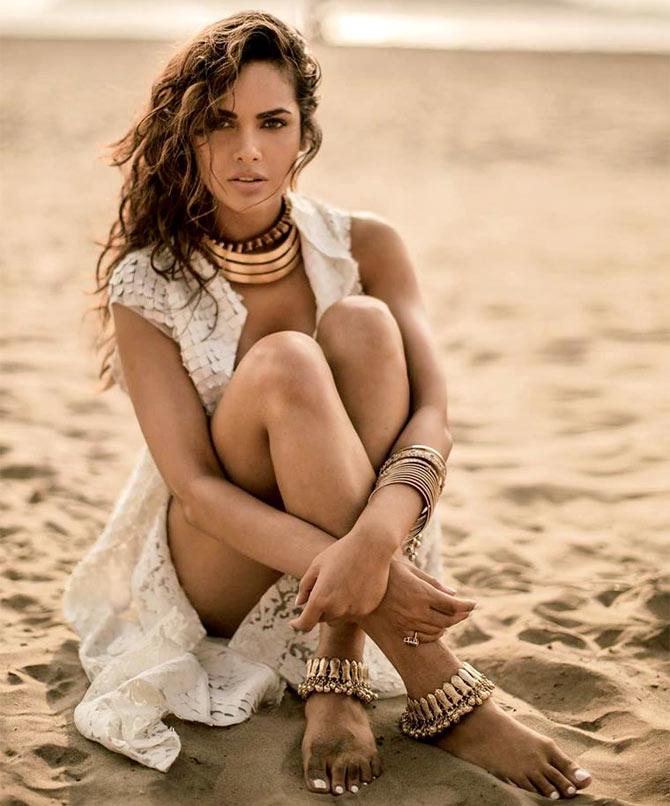 Photograph: Esha Gupta/Facebook
She's bold.
She's beautiful.
And no one can mess with her.
"I remember slapping a guy in school. You can't take panga with me," Esha Gupta warns, as we settle down for an interview at a suburban Mumbai hotel.
"I wish I become the Prime Minister of India and make capital punishment for rapists. Not only rapists, but for people who even eve-tease women. Their hands should be cut off!" Esha lays down her judgement.
The Delhi-based actress, who studied Law before she tried her hand at Bollywood, has some very strong opinions. But she goes all soft when you mention her Rustom co-star Akshay Kumar. He, she tells us, is the only reason she signed up the film.
She tells Jahnavi Patel/ Rediff.com why she gets along with Akshay so well, and how Humshakals almost killed her career.
What about Rustom made you say yes to it?
With all honesty, it was Akshay Kumar.
I get a call from the casting director (Shruti Mahajan) and she told me it's a Neeraj Pandey production, and that it's with Akshay Kumar.
You don't have to think twice about it after that.
When I was told that I wasn't (paired) with Akshay, I was disappointed.
Still, I went to the director, and heard the narration, and I said, 'Yes, I am going to be Priti Makhija (Esha's character). I am 100 percent doing it'.
The character is a strong, bold one. Mainstream heroines usually do no want to take the chance of being negative. But I have made it in this industry on my own. I took that chance. So I decided to take another chance, and do a negative role.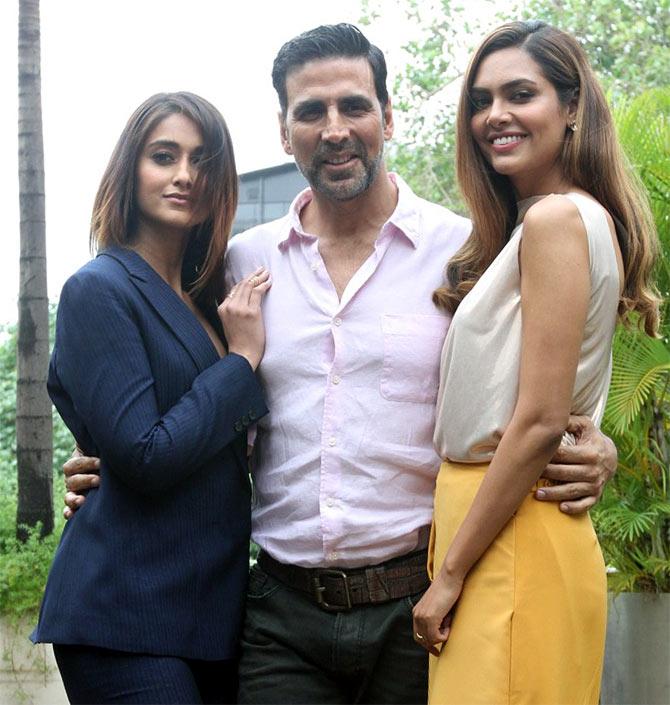 IMAGE: Ileana D'Cruz, Akshay Kumar and Esha Gupta during Rustom promotions. Photograph: Pradeep Bandekar
Did you fear being typecast in the negative mould?
No. PeeCee (Priyanka Chopra) did Aitraaz, Aishwarya (Rai Bachchan) did Khakee, they weren't typecast.
You will fall in love with PeeCee after watching Aitraaz.
There are so many Hollywood films where actresses turn out to be negative. They don't get typecast.
The industry is changing.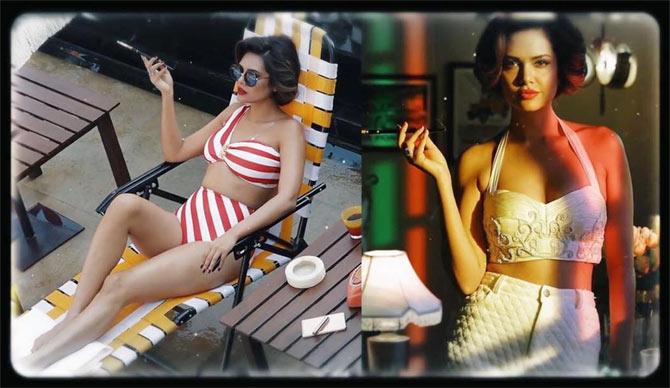 IMAGE: Esha Gupta in Rustom
We are going to see you in a film after almost two years. Where have you been?
It's because Humshakals did not do well.
Until Humshakals, it was all good. Then, that film did not work and after that, the offers weren't good.
That's when you wish you were from the industry, that someone would be producing or directing you, or if nothing else, funding you.
It was a big drawback for me. If I am not earning, who will pay my rent? How will I do my dance class and weight training?
When you get a toothache, even a dentist in Mumbai is so expensive.
Luckily, even though my first film (Jannat 2) was four years ago, the songs were popular. That's the beauty of Emraan Hashmi's films. So I have been making money from that. I have been doing events.
There were a few films, which were willing to pay me a lot of money but not investing much in the director and producer. I didn't want to do such a film. I would rather do good films, than bad films for money.
I was very clear why I came to this industry -- for a name. Not money.
When I die, I want people, who don't know me, to cry for me. I think I have achieved that.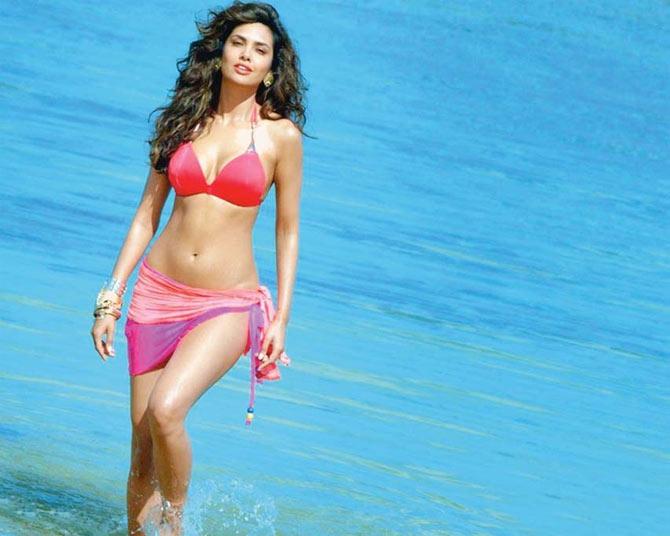 IMAGE: Esha Gupta in Humshakals
Do you regret doing Humshakals?
Honestly, I have no regrets.
I went with my full heart and Sajid (Khan, director) also gave his everything.
While you are making a film, at times you don't see if it's doing well or not, as it's your baby.
When we saw it, we thought it was going well. It was funny. But people didn't agree.
It's my film and I will love it, no matter what.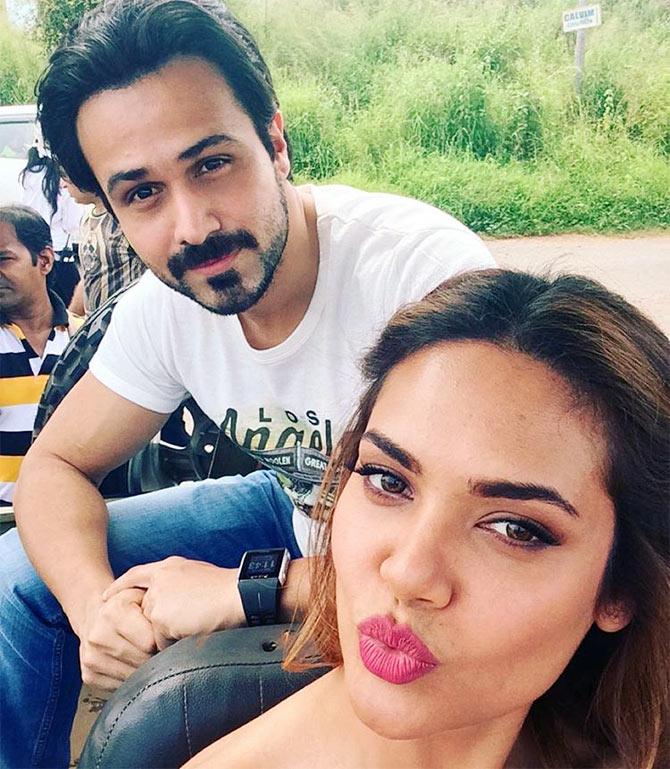 IMAGE: Emraan Hashmi and Esha Gupta. Photograph: Esha Gupta/Instagram
How excited are you to reunite with Emraan for Baadshaho?
Very excited.
The moment I got to know of it, I messaged him, 'Yay, we're working together again!'
I even said, 'I am so going to get bored' because he is always to himself.
When I used to have porridge, he would say, 'Aisa lag raha hai ke mere bacche ki potty hai' (it looks like my son's potty) and then I wouldn't feel like eating it!
He is reserved but opens up to a few people. I think I got lucky. He opened up to me during Raaz. He has a sense of humour and is well read.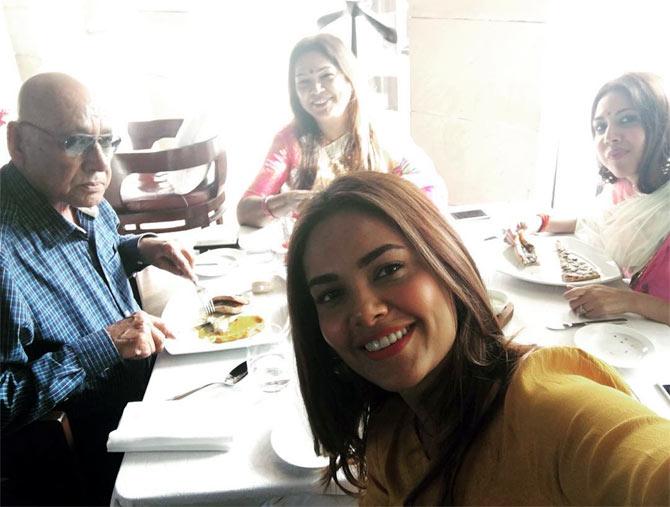 IMAGE: Esha Gupta with her family. Photograph: Esha Gupta/Instagram
What has been the biggest learning from your parents?
Persistence, perseverance and patience.
I am very close to my family. My parents are really cool. My dad has a dark sense of humour, while my mother is loud like me.
I didn't want to move to Bombay; I never thought of acting and modelling. There were times when I wondered if I would ever make it in this industry. Why didn't I pursue law?
But then I would think about it, and that there had to be a reason for me to end up in this industry.
I think I met the right people. I got lucky.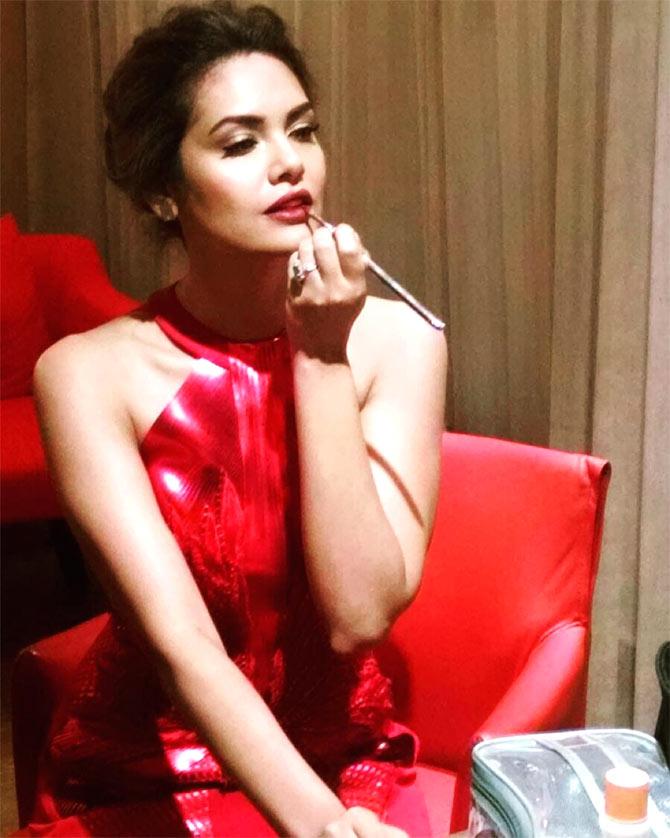 Photograph: Esha Gupta/Instagram
Are you comfortable in the industry now?
Yes, very comfortable.
I know I have some people, who will help me out if I ask for it. Akshay sir (Kumar) is one of them. Even Ileana (D'Cruz) can say that about him because that's the kind of person he is.
But I don't have friends in the industry.
What films are you working on next?
Commando 2 and Baadshaho.
A third film will be announced in December.