'For a film like Haseena, which is made for Rs 11 crore, the publicity budget was Rs 8 crore. I think it's a waste because that could have gone into the film and I could have done something bigger and better.'
Director Apoorva Lakhia looks back at his latest release, Haseena Parkar.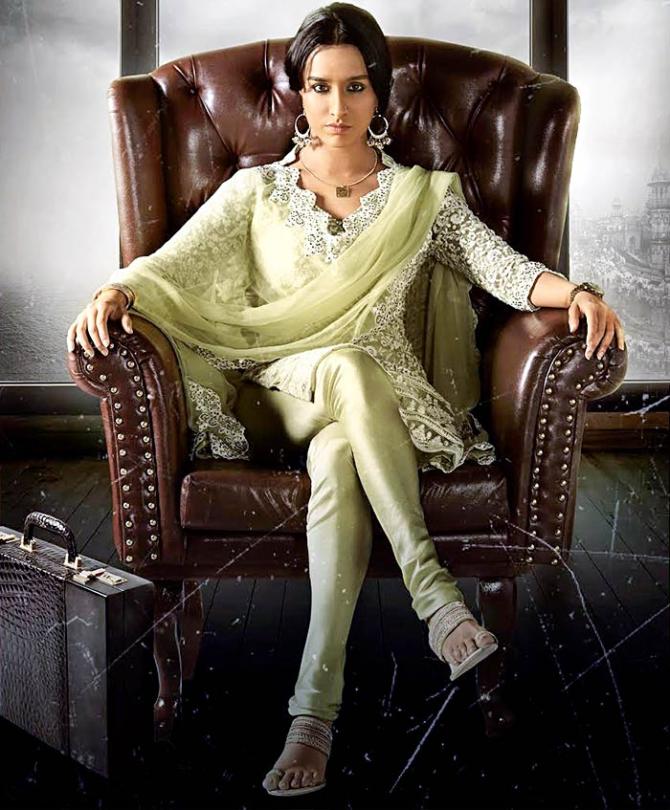 IMAGE: Shraddha Kapoor in and as Haseena Parkar
Apoorva Lakhia speaks in a deep baritone.
His voice may be intimidating but he has a humorous demeanor and cracks the occasional joke.
Lakhia, though, doesn't think he's funny.
His film Haseena Parkar, which released last week, has an impressive first half. The second half, though, left our reviewer severely disappointed.
Apoorva tells Jahnavi Patel/Rediff.com why he simply *had* to make a film on Dawood Ibrahim's gangster sister.
You have directed only eight films since 2003. Why is that?
I like my average -- two-and-a-half years for a film.
I have many other interests in life too.
Like what?
After Shootout At Lokhandwala, I took a year off to do a culinary course in New York.
After Zanjeer, I took six months off to become a professional skydiver.
I took four months off after a film to learn how to kitesurf.
I like to do different things like read books, watch movies and travel; but, obviously, the process of the next script is always happening.
How did you decide to make a movie on Haseena Parkar?
I was actually offered a film on Dawood Ibrahim, but I felt the subject was done to death. Then they asked me to meet his sister and her family.
So we set up a meeting with Haseena Parkar.
When we met, she started talking about her life with Dawood when they were young.
Halfway through, I realised Dawood's life was quite boring; her life was more interesting.
My dialogue writer, Chintan (Gandhi), was with me. We looked at each other and told her we'd like to make a movie on her.
It took them just a week to okay the project.
Was it difficult to convince her?
I don't think it is difficult to convince anyone to make a movie on them, whether you are a gangster or a cop.
Who doesn't want to be a part of a film? Bollywood is big.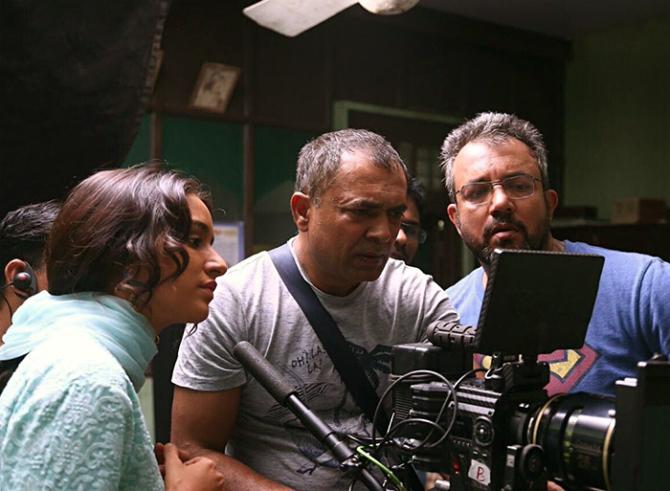 IMAGE: '

The Maker and Its Making'.

Photograph: Kind courtesy, Apoorva Lakhia/Twitter
How did you think of Shraddha in the role? Nobody could have imagined her playing such a character.
When I cast her, everyone abused me!
When the first look came out, everyone said genius!
The reason we cast Shraddha is because Haseena's journey starts when she was 17 years old, when she got married.
(If not Shraddha) I would have had to cast someone for the age of 17-25. Shraddha would easily fit in as a 75-year-old as well.
That was predominantly my thought process.
Casting her was just a fluke.
I met her for the first time when I was invited to her house to give a narration.
By the end, she said she was doing the film and we just had to figure out the dates.
Also, the Kapoor family looked forward to Siddhanth and Shraddha working together in a film. I think, in the history of cinema, this is the first time that a real life brother and sister are playing siblings on celluloid.
Though that was not the bait... He (Siddhanth) was cast first.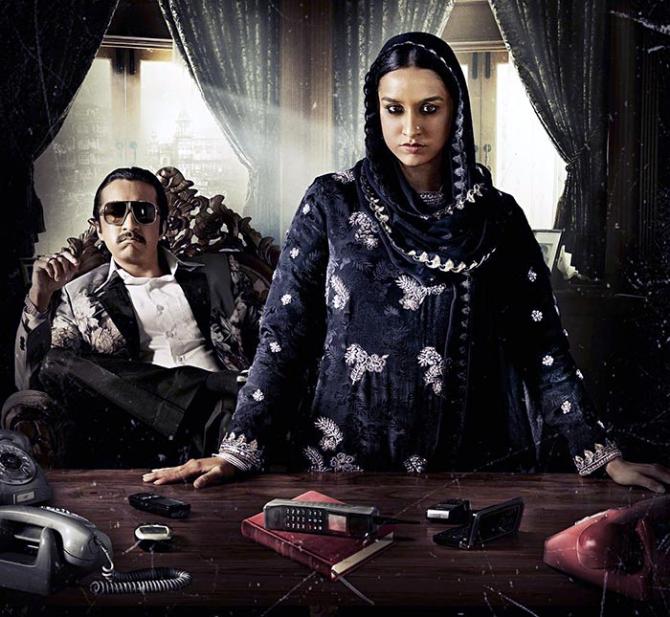 IMAGE: Siddhanth and Shraddha in Haseena Parkar
How did Siddhanth come on board?
He's a friend of mine; I play cricket with him.
We were chatting and he said 'Sir, aap toh mereko lete hi nahi ho koi bhi picture mein (you never cast me in your films).'
So I told him, 'Chal Dawood ka role hai, tu mere ko dikha ke kar sakta hai (Okay, Dawood's role is available. Why don't you show me what you can do?).'
So he went home, wore his dad's clothes from the 1970s. They have a bar, which looks like a 1970s bar. He took some photographs and sent it to me. (click here to see pictures of Siddhanth and Shraddha's home)
I was blown looking at the first photograph.
We have seen so many actors play Dawood before. How easy or difficult was it to make this Dawood stand out?
It was very easy because no one has seen Dawood when he was 22.
We have taken cinematic liberties from the time he was 22 to when he became 'Dawood'.
After that, we have shot in the same close ups, where he talks less and stuff like that.
You have worked in Hollywood in films like Flawless, A Perfect Murder, Addicted To Love and The Ice Storm as a set production assistant. Did that experience come in handy?
What I brought with me was professionalism.
I think I was the first assistant director to get a call sheet in India, when I was hired on Lagaan.
There are advantages and disadvantages. Here, we work on a friendlier basis, where I can simply call up Shraddha. There, you have to go through agents.
Filmmaking is the same process. They make musicals while all our films are musicals.
But the film is the same na -- do camera lagta hai, do stuntman lagta hai, hero lagta hai, heroine lagti hai aur paise lagte hai (You need two cameras, two stuntmen, a hero, a heroine and money).
Sonakshi was originally cast for Haseena.
Sonakshi actually fit the posture of Haseena. When we started shooting with her, we had hired another heroine to play the earlier (younger) version.
But then, the dates didn't work out.
We decided that there was no point in waiting because the script was good and we wanted to make the film.
That's when I approached Shraddha.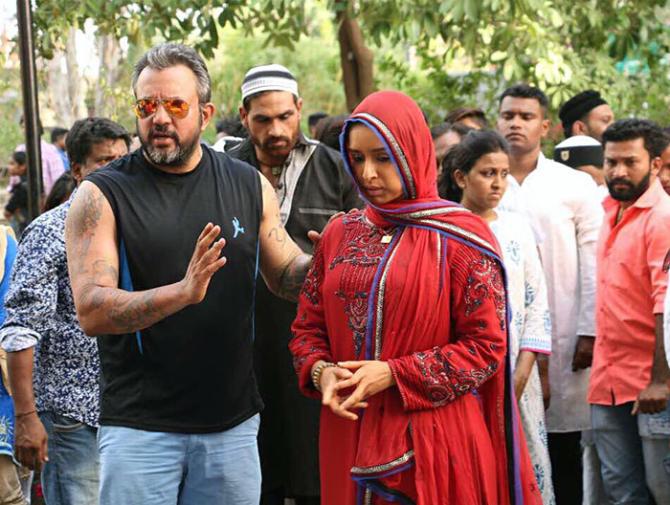 IMAGE: Apoorva directs his Haseena. Photograph: Kind courtesy, Apoorva Lakhia/Twitter
You have done intense films. Would you like to direct a comedy?
I am not a very funny person, I don't think I can do it.
I tried it with Mumbai Se Aaya Mera Dost. I thought it was funny, even the public thought it was funny. But no one came (to the theatres)!
I don't think I can pull off a comedy but I can pull off a romantic film.
It's not easy to shoot a comedy.
Which was the toughest scene in Haseena?
There was a scene -- it wasn't difficult, but it took a really long time to shoot.
It's the scene where Dawood tells Haseena he is leaving the country for good because the police are after him.
That's the last time they meet.
I don't think Haseena has met Dawood after that, even in real life.
When the scene was happening, they were crying for 45 minutes because they started imagining what if something like that actually happened to them.
I had to empty the entire set. We were losing time. It was late night, but it was very important they bring that emotion to the film.
They were quite emotional so it was really difficult to motivate them and keep them in the scheme of things.
They are very close. They really look after each other; Shraddha definitely looks after Siddhanth. She will call him in the morning and tell him to rehearse. She would come an hour earlier and call the other actors to rehearse her lines.
Do you plan to make a film on any other gangster?
Not straightaway but if there is an interesting subject, I will do it -- irrespective of whether the movie is about a gangster or a waiter.
It has to appeal to me, someone has to give me the money to make the film and someone has it act in it.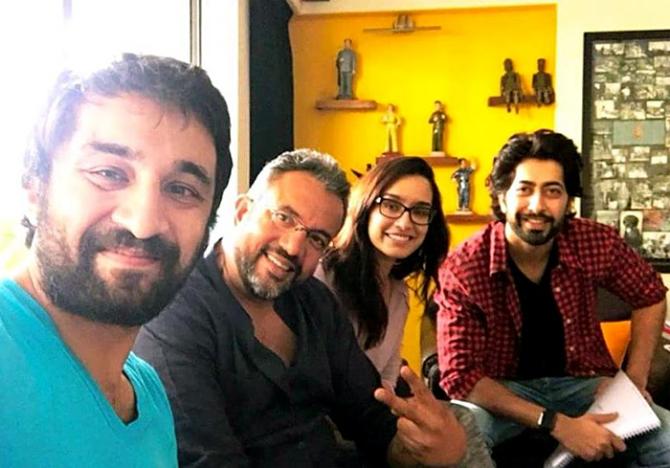 IMAGE: A Haseena team selfie... Siddhanth, Apoorva, Shraddha and Ankur Bhatia. Photograph: Kind courtesy, Haseena Movie/Instagram
Movies are failing at the box office. Why do you think this is happening?
It's the inflated budgets.
People are paying huge prices for territories.
We have to spend so much money on publicity; it kills!
They have a cap in south India -- you can't spend more than Rs 2 crore on publicity. That's why their films do really well.
Here, we first decide the publicity budget. For a film like Haseena, which is made for Rs 11 crore, the publicity budget was Rs 8 crore. I think it's a waste because that could have gone into the film and I could have done something bigger and better.